BTN.com staff, BTN.com staff,

March 16, 2015

Whether for business or pleasure, not too many Americans are traveling to Iran these days. Grabbing headlines for its government?s suspected support of international extremist movements and secret attempts to develop nuclear weapons, the country isn?t exactly a hotbed for tourists.

Despite all that, Indiana University professor Asma Afsaruddin, who?s also chair of the Department of Near Eastern Languages and Cultures, recently went there to accept Iran?s World Book Prize for her book, titled ?Striving in the Path of God: Jihad and Martyrdom in Islamic Thought.? And media coverage notwithstanding, she enjoyed the trip a great deal.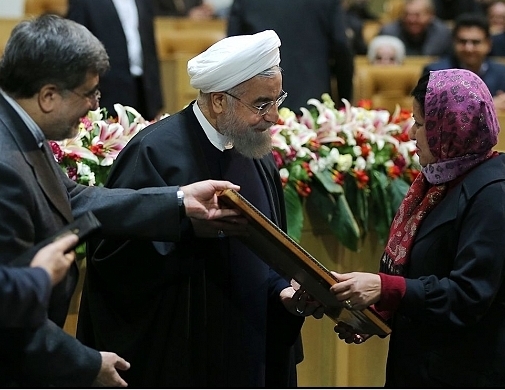 ?I was a little hesitant about going there at first,? Afsaruddin said. ?But it was great. Iran is very hospitable.?
It?s perhaps fitting that she found her perception of Iran changed by the experience, as much of her career has been spent trying to clear up commonly held, yet mistaken, beliefs. She saw a need for someone to speak up on behalf of Islamic thought and the concept of Jihad in particular based on the heated policy and academic debates that took place immediately after 9/11.
?I discovered to my dismay that there were books released after 9-11 that did not do justice to the complexity of the topic [of Jihad],? said Afsaruddin, and added that she wrote her book ?as a way to move away from the more popular and misleading opinion of Jihad,? she expressed.
?Striving in the Path of God? is described by Afsaruddin as a ?historically sound and academically researched account of the term ?Jihad,? and the related term ?martyrdom,? from beginning of Islam to modern day.? She said Jihad is a complex term with many meanings that changes in different contexts.
One of those meanings - and perhaps the one that resonates most with the majority of individual Muslims - refers to an internal, personal struggle to resist evil and strive to lead a good and spiritually meaningful life.
[btn-post-package]Winning the World Book Prize definitely came as a surprise to her, not just because of where the award program is based, but also how she was told the news. Afsaruddin didn?t even know she was in the running when she received an e-mail in January notifying her ?Striving in the Path of God? had won in the category of Islamic Studies. Her book was only one out of 10 winners selected from a field of about 1,700 works.
?I did not know that I had been nominated, and I do not know to this day who nominated me,? she added.
The award ceremony took place in a grand conference hall in Tehran, Iran?s capital and largest city. A number of prominent intellectuals attended, including the nine other winners of The World Book Prize, each of whom was presented a plaque by Iranian President Hassan Rouhani.
Though she?s happy her work found admirers on the other side of the world, Afsaruddin hopes the book and its message will get more notice in her home country.
?I?m hoping that the book will attract attention not just across the world, but in the U.S. as well,? she said. ?There is so much popular misconception about Jihad, and the book challenges these misconceptions.?
By Peter Coffey