BTN.com staff, BTN.com staff,

March 12, 2015

Students at Big Ten universities aren?t waiting until they get out into the ?real world? to make a difference. Find out how they?re working together to create positive, meaningful change in this BTN LiveBIG series: the Student Section.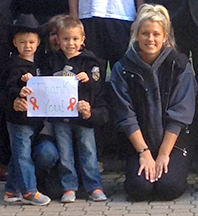 Chris Kowal, assistant professor of consumer science and director of Purdue University?s Center for Professional Selling, gave his sales management class a daunting challenge: Raise $3,500 for a charity in one week. Not only did his students meet this goal, they well surpassed it - by raising over $6,000 for their charity of choice, iCaleb & Co.
?I must admit, I was and am very proud of what the students accomplished,? Kowal said. ?It was amazing to see them pull together so quickly and creatively.?
The charity, iCaleb & Co., provides iPads - for entertainment and communication purposes - to kids receiving active cancer treatment at children?s hospitals in South Bend and Fort Wayne, Ind. It?s named after Caleb Hoppe, a four-year-old who?s in the maintenance phase of his treatment for leukemia, which he?s been battling since he was 17 months old.
Rachael Franko, a senior in the sales management class, suggested iCaleb & Co. as the class?s charity project because of its mission and the personal connection that she had with Caleb.
?I?m a cheerleader at Purdue and [he?s my] teammate?s nephew,? she said. ?Over the last few years, I?ve seen their family go through ups and downs. Times where he would be doing really well, and then he would be in the hospital the next second. I saw their struggle and thought it would be a good way to help them and their charity.?
Franko?s classmates were inspired by Caleb?s story. When he was first diagnosed, he had port placement surgery, chemotherapy, a spinal tap, a bone marrow biopsy and a blood and platelet transfusion. All within six days.
?He went through more in one week than I could imagine going through in a lifetime,? Franko said. ?He?s kind of like a little hero to all of us. We look up to him for being able to go through all of that and when we see him, he?s so energetic and fun.?
Motivated by Caleb?s spirit and determination, Franko and her group quickly got to work by creating a website to collect donations, and then used social media to promote it. They also came up with a drink called ?The Cancer Shot? that was sold at local bars, and a portion of the proceeds went to iCaleb.
?As sales management majors, you have to be able to figure out a way to persuade people to get on your team,? Franko explained. ?We only had one week to get the word out, persuade people and network. That?s what we?re going to have to do, in a sense, for our jobs one day.?
When the fundraising week was up, everyone was surprised by the end result - especially Andrea Hoppe, Caleb?s mother and founder of iCaleb.
?I expected they would raise a couple hundred dollars,? she said. ?I was shocked when they told me the total. I was like, ?Come again?? To think that some kids would help us this much and they didn?t even know us, I was really shocked.?
[btn-post-package]The class was able to purchase and donate 12 iPads, and each gift package included a protective case and a $100 iTunes gift card. Grateful for the generosity of the students, Hoppe brought Caleb and his twin brother, Carson, along to Purdue to surprise the class and thank them for all of their help.
?When Caleb and his family came into class, I think at one point every student had a tear growing,? Kowal said. ?They were touched by the strength and innocence of Caleb.?
By Lindsay Wickman