BTN.com staff,

March 5, 2015

Inspired by their experiences in college and elsewhere, these Pathfinders are passing by the typical, well-trod career paths and blazing their own trails. We?ll explore the unconventional approaches these Big Ten alums are taking to work.
The Ojibwe tribe - the fourth-largest among the remaining Native American nations in the United States - has more than 200,000 members that reside throughout the Midwest. But only a small portion of its elders can actually speak the language of the tribe.
At the University of Minnesota, assistant professor Erik Redix and his colleagues in the American Indian Studies department are on a mission to help save this endangered language. Redix has been teaching Ojibwe language courses at the university for the past few years and was recently awarded with the prestigious McKnight Land-Grant Professorship for his work.
The American Indian Studies department offers specialized courses that teach the history and literature of the Ojibwe. There?s even a class that?s taught in the native tongue, which provides students with a unique, interactive learning experience.
?I have noticed there is a strong contingent of students who are really into language learning,? Redix said, but added that it takes a long-term commitment to truly master Ojibwe. ?It is something that has to be driven by the student. It?s a matter of them taking our three years of classes and sticking with it every day.?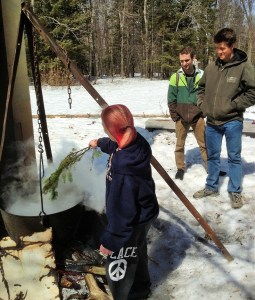 As with any language, the key to learning it is to use it consistently in various kinds of conversations and environments - including outside the classroom. To that end, field trips are included in the curriculum, and they typically involve talking with tribe members while participating in traditional practices such as extracting syrup from maple trees. And the department hosts quiz bowl competitions in the Ojibwe tongue to test the students? knowledge of the culture.
?Language is different from other academic skills,? Redix explained. ?Yes, you learn it in a classroom, but it is really just a very basic thing. All you have to do is sit down with a friend and talk about anything.?
In addition to his teaching, Redix supports strengthening Ojibwe linguistic and cultural practices by hosting tribe members on his monthly show on Radio K, the campus station. In these broadcasts, Redix and tribal elders discuss topics in both Ojibwe and English for their audience. Redix hopes to get all of the audio transcribed, which would expand the scope of teaching and preserving the language.
[btn-post-package]Another project Redix is involved with is the Ojibwe People?s Dictionary, an expanding online database funded by the Minnesota Historical Society. This website features an Ojibwe-English translator along with historical documents, photographs and more than 30,000 audio recordings of native Ojibwe speakers. The goal is to create multiple, accessible resources for current and future generations. One contributing tribe member, Eugene Stillday, spoke of the importance and urgency for the dictionary.
?As we lose our language, we lose the culture,? he explained. ?Your language, your native language, is the basis of any culture. If my community ever goes back to Ojibwe as a first language, I am afraid I will not be around to see it.?
Redix?s preservation efforts are similarly personal: While he has an academic interest in linguistics, his great-grandparents were Ojibwe - and the last generation in his family to speak the language exclusively.
?Language was always important to me, and I am still learning,? Redix said. ?I see language as important to who we are as Ojibwe people.?
By Kent McDill