BTN.com staff,

March 1, 2015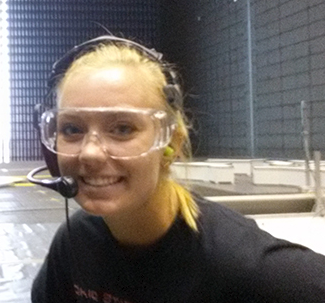 More than 30 years ago, Sally Ride became the first American woman and the youngest-ever astronaut to travel to space. Today, Jillian Yuricich, a junior majoring in aerospace engineering at Ohio State, wants to follow in the footsteps of Ride and 57 other women who?ve made that journey.
Though it?s a relatively small, exclusive group, Yuricich is confident that she?ll be joining their ranks soon. And thanks to their pioneering efforts, the trails she?ll be blazing will be mostly above the stratosphere.
?I never felt alienated from my interests because of my gender,? she said. ?I just follow my dreams. I do what I love, and that makes me radiate inspiration and success.?
Recently, she was named OSU?s first Astronaut Scholar. This honor, which included a $10,000 award funded by the Astronaut Scholarship Foundation, was created by six of the surviving Mercury 7 astronauts to encourage students across the nation to pursue scientific endeavors. Yuricich was nominated by her thermodynamics professor, Mei Zhuang.
?We are very proud of having her in our aerospace engineering program,? she said. ?The scholarship reflects well on Jillian, the aerospace program and the university.?
To move closer to her dream of becoming an astronaut, Yuricich embarked on a hard-charging networking effort that led to a slew of valuable working experiences.
?My networking attempts during the Ohio State?s annual Engineering Expo career fair paid off,? she said. ?Internships with Rolls-Royce in Indianapolis, NASA Ames Research Center in Silicon Valley and the U.S. Naval Air Systems Command in Maryland in just four semesters have changed my life forever.?
With that kind of background, Yuricich might seem like a shoo-in to get selected by NASA as an astronaut when she graduates. That?s hardly the case, she said.
?The main challenge in my career is that there?s no set path, no degree, to guarantee me a spot in space,? she explained. ?Competing for eight to 35 positions with 4,000 to 8,000 other applicants requires more than a bachelor?s degree in STEM. But if I really want it, I can find a way to do it.?
Yuricich?s unsinkable confidence comes from a couple of things. The first is her insatiable curiosity and the fact that she?s never felt limited in what she could try.
[btn-post-package]?I believe that curiosity is the most important trait for my career,? said Yuricich, who?s also an avid soccer player, equestrian, reader, music lover and cultural omnivore. ?My biggest advice to parents is to give your children the opportunity to do many things. Let them explore. And let them find the way back to their dreams.?
And Yuricich?s time in Columbus has definitely helped her pursue her dreams.
?I have such a great educational background,? she said. ?Ohio State did such a great job preparing me. I am blessed and forever indebted to my teachers.?
By Simona Novinec