BTN.com staff,

February 23, 2015
A series that covers the true revolutionaries, Game Changers explores how innovators from Big Ten universities - students, faculty and alums - are inventing or reinventing their chosen fields.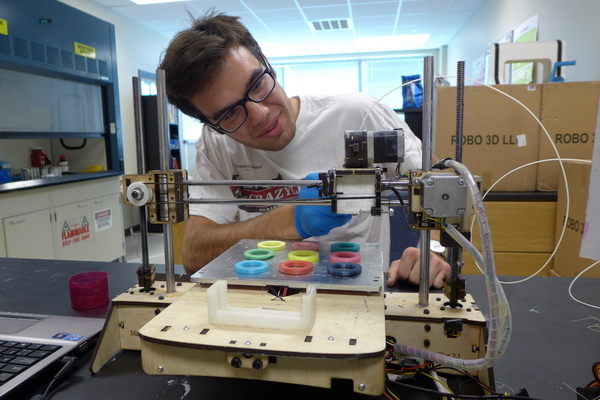 The 3-D printing industry has a great deal of financial, scientific and technological potential. And a group of former University of Wisconsin students are trying to tap some of that by adding a little color to the finished products.
They created a company called Spectrom, which provides color add-ons for 3-D printers - an enhancement that co-founder and 2014 chemical engineering graduate Cedric Kovacs-Johnson said is wholly new.
?The technology of 3-D printing lets you make anything on a desktop,? he explained. ?It?s come to the point where just about anybody can own them. But the problem is the things you make can only come out in one color. That?s what we?re trying to change. We?re in a position right now where nobody has really done color before. We keep asking ourselves, ?How can we set the standard???
Though it?s a small shop - it currently has just four full-time and three part-time employees - Spectrom has already made a significant impression. The company?s founders recently earned top honors at the Collegiate Inventors Competition, and took second place at the Wisconsin Governor?s Business Plan Contest.
Those achievements led them to Las Vegas last month for the annual International Consumer Electronics Show, where they made some important new contacts. And through it all, they?ve been earning funds to keep their work going, such as the Igniter grant from university?s Discovery to Product program.
?I can?t overstate how much the university and city has helped to support us with our projects,? Kovacs-Johnson said. ?Winning these competitions gave us a ton of credibility.?
It also earned them free use of office space just off Research Park Boulevard in Madison.
?It?s really encouraging, the start-up culture here,? he said. ?They made it very easy to transition from engineer to entrepreneur.?
So, they?ve got a solution that works and has a variety of possible commercial applications. Now the question is how they position that in the market.
?We have to figure out if we?re going to be a 3-D printer with color, or just an add-on,? he said. ?We can see all these companies as partners instead of competitors. We can work closely with these printers to see how we can make it compatible.?
They expect to make an announcement on the direction of the company later this year. It might involve a crowdsourcing campaign, or it might be a direct launch.
The larger question is how much this industry can grow. For Spectrom?s founders, the hope is that 3-D printers become a staple on everyone?s desktop.
[btn-post-package]?Right now, it serves a subset with hobbyists and hackers,? Kovacs-Johnson said. ?The new desktop version is [based on] an idea that it?s a personal-use device. A lot of people are buying into that notion. We really want to tap into that potential.
?Our goal is to grow this as a company,? he added. ?As entrepreneurs, we want to see this be something. Make a great product that?s universal ? we have that itch.?
By Matthew Wood