BTN.com staff,

February 21, 2015

Inspired by their experiences in college and elsewhere, these Pathfinders are passing by the typical, well-trod career paths and blazing their own trails. We?ll explore the unconventional approaches these Big Ten alums are taking to work.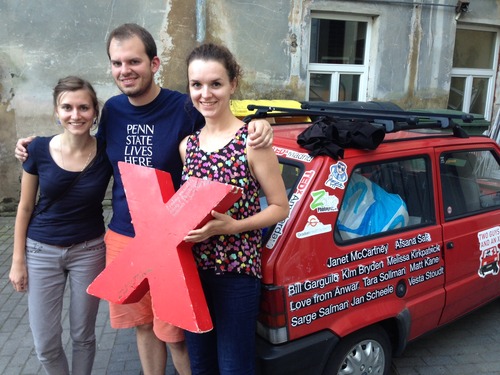 By day, Steve Garguilo, 2009 graduate of Penn State?s College of Information Sciences and Technology, is a senior manager at Johnson & Johnson who spends much of his time on engaging and developing thousands of the corporation?s employees.
But when he?s out of the office, he takes on some very unique side projects. Like racing across the steppes of Central Asia in a vehicle that?s marginally better than a skateboard mounted with a go-kart motor.
Garguilo recently participated in The Mongol Rally, an event that?s been described as ?10,000 miles of feral, unsupported adventuring chaos from the U.K. to Mongolia in cars the size of a lawnmower.? The race, which is organized by The Adventurists, starts in London and ends in Ulan-Ude, the third-largest city in Siberia. (The terminus was originally Ulan Bator, Mongolia, but was moved to the Russian Federation due to ?punitive costs and taxes associated with vehicle imports and disposal? in the former.)
The Mongol Rally would be demanding enough due to the course alone, but three rules make it especially challenging:
1. You must use a car with an engine of less than 1 liter.
2. Your team must go through the race on its own - that is, you can?t call any outside party for help if your car breaks down or you get lost.
3. You must raise a minimum of £1,000 for good causes. Half of the funds go to The Adventurists? official charity, Cool Earth, and the other half goes to an organization of your choosing.
Garguilo?s team consisted of himself and Nate Mook, an Indiana University grad and technology entrepreneur. The two met through the TED global conference program: Garguilo founded TEDxPSU and TEDxJNJ, and Mook started TEDxMidAtlantic. And their charity of choice was the African Prisons Project. The organization was founded by TED Fellow Alexander McLean and provides resources to administrators, guards and inmates to improve the often-dismal conditions in prisons throughout Africa.
?I am really attracted to the people and causes that are driven by someone who is really passionate and committed,? Garguilo said. ?And this is an organization where small donations can make a big impact.?
Around 200 teams participate in The Mongol Rally, and the outlandishness of many of the cars and their drivers can make it seem like a Burning Man road show. For example, Garguilo said one vehicle resembled the Ghostbusters car, and another was designed to look like an old ice cream truck. There was even a car with a boat strapped to the top.
?One of the goals of the rally is to make it as ridiculous and absurd as possible, because it is such ridiculous and absurd thing to do,? he explained.
But it?s a serious undertaking: Some spend a year preparing for the race, reading survival guides and mapping out their route. Others, like Garguilo and Mook, go in with a little less preparation.
?We only confirmed we were going about two months out,? Garguilo said. ?We scrambled to get visas for many of the countries.?
They also had to procure a vehicle. Fortunately, they found a 1992 750cc Fiat Panda offered on eBay by a seller in Germany, and Garguilo happened to be in that country for a TEDx event. He picked up the car, Mook flew over there, and they drove to London together for the start of the race.
The nearly two-month journey that ensued, much of it documented on their travelogue Web site, took them through 23 countries. The actual driving may have been the easiest part of the race: Throughout their trip, they dodged war zones in the Ukraine and had their visas turned away in Iran.
?The borders are the biggest hassle of the rally,? Garguilo explained. ?You?re dealing with largely lackadaisical people who are paid very little, wondering why there is a Westerner in a tiny car in front of them.?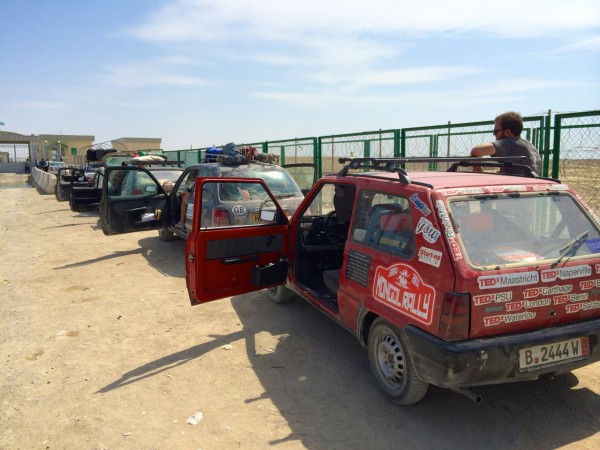 They also dealt with fuel rationing in Uzbekistan, where they had to buy petrol out of water bottles on the black market, and a couple of bribery ?requests? in Kazakhstan. And they lost three tires - two in one day - in the latter country, but otherwise found their car held up well through the entire trip, with just a few minimal fixes along the way.
?We got pretty good at diagnosing things on the fly,? Garguilo said. ?[The] nice thing about an old car like the Panda is that it?s a very mechanical car, so it was easy to fix.?
On Aug. 24, 2014, they completed the rally - a feat in itself, as about a third of the contestants don?t make it to the end. And anyone in remote Ulan-Ude who happened to see the Panda cross the finish line may have noticed the ?Penn State Lives Here? sticker on the car - an important ?design? feature for Garguilo.
?Anyone who knows me knows that PSU is a big part of my identity,? he said. ?I was a kid from a small town in central Pennsylvania. Before [going to] PSU, I?d visited four states. Now I have been in over 100 countries and 47 states, and lived in four countries. [I?ve] had a lot of mind-expanding opportunities that I attribute to my experience in Penn State.?
Garguilo earned a degree in information science technology from Penn State, but his participation in the school?s special certificate program in humanitarian engineering and social entrepreneurship helped give him a more global outlook.
?Thanks to that program, I spent a summer in India, did work in Kenya, Morocco and Hungary,? he said. ?It was those opportunities that really gave me the interest in the kind of stuff I am doing now, including the rally.?
[btn-post-package]Just six years after graduating, Garguilo has done a great deal to give back to his alma mater. In addition to starting the TED chapter at the school, he recently established the Steven D. Garguilo Endowment for University History at Penn State. Among other things, the endowment will establish a course dedicated to the history of PSU. He also sits on the board of the Nittany Valley Society, a cultural conservancy that aims to foster a sense of community around the history, customs and spirit of the university and State College, Pa.
Additionally, Garguilo stays in touch with many of his former classmates and friends, such as Tim, a TV meteorologist who?s reporting on major weather events, and Pedro, who lives in Peru and works to create more sustainable farming practices in that country.
?I see my Penn State network of people doing incredible things,? he said. ?All my friends around the world are making an impact.?
By Jorge Rivera