BTN.com staff,

February 20, 2015

Students at Big Ten universities aren?t waiting until they get out into the ?real world? to make a difference. Find out how they?re working together to create positive, meaningful change in this BTN LiveBIG series: the Student Section.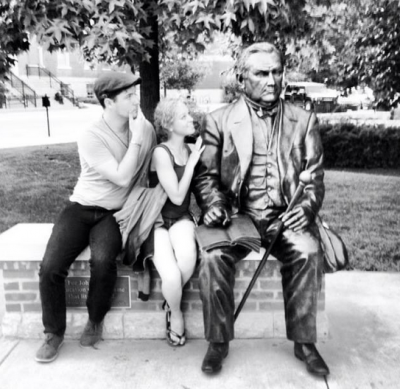 On the campus of Purdue University, there?s a place called The Anvil. It?s not a forge, but rather a co-working space available to anyone who has an idea and wants to work on it, and perhaps share it.
It?s also one of Conlin Durbin?s favorite things about attending Purdue. Durbin, 21, a junior from Greensburg, Ind., finds the energy of the collaborative workplace inspirational.
?The Anvil is hands-down the coolest thing we have on campus,? said Durbin, who has used the vast resources at Purdue University to launch his career before graduating. ?Freelancers or entrepreneurs come in and have a place to work with like-minded people. You find out what they are working on, and you can share your ideas as well. That kind of communication is one of the most crucial aspects of being an entrepreneur.?
Depending on who is asking, Durbin introduces himself as Purdue University student, a freelance developer or an entrepreneur. The last is a somewhat unofficial title, but it?s one he takes seriously.
?I think being an entrepreneur is broadly defined,? Durbin said. ?The best way to describe it is being someone who is constantly interested in applying a scientific mindset to solving problems. You find a problem in the world, you take a guess on how you might be able to fix it and then you test that theory.?
Durbin?s career as an entrepreneur has taken off since he switched his major from computer science to economics. (He?s now minoring in computer science and sociology.)
He?s combined his three academic interests into his varied entrepreneurial efforts. For instance, he?s worked as a front-end developer on a program to develop mobile-friendly Web applications to complement client work on a per-project basis; developed application management software for crowdfunding sites; and collaborated with the Chicago Police Department on a communication system that could aggregate criminal background information.
Additionally, Durbin won an award from Apple for his successful creation of a gaming app during the Purdue Hackathon, a 36-hour programming competition in which an idea is created and implemented in the short, day-and-a-half window.
[btn-post-package]He is also the founder and lead developer of Frosty LLC, developing software systems in line with business ideas that come his way in his engagements at The Anvil. Started with Purdue alumnus Mike Asem, Frosty develops Web sites for companies, including Tymora Analytical, a life-sciences company located in the Purdue Research Park in West Lafayette, Ind.
Frosty?s home office is in The Anvil, which is located in the Purdue Foundry, a start-up hub in the Discovery Park Burton D. Morgan Center for Entrepreneurship. Through the Foundry, Frosty placed first in the Schurz Innovation Challenge and received a $5,000 grant for funding future projects.
The time Durbin spent on those initiatives allowed him to discover his passion for starting businesses, and assisting others in doing so.
?Once I got here, I discovered I just wanted to be a different thinker,? Durbin said. ?I found I love helping other people talk about their ideas and building on their ideas while working on my own ideas at the same time.?
Durbin credits the atmosphere of open thinking and discussion at Purdue University with sparking his interest in entrepreneurship. His experiences at The Foundry, The Anvil and other business-related centers at the school have given him a positive outlook on his future.
?There are just so many people here, entrepreneurial-minded people, studying really cool things,? he said. ?When another student has a big venture go through, it gives us the sense that there is no reason we can?t do it as well.?
By Kent McDill