BTN.com staff,

February 18, 2015

In our latest ?5 Things I Know" with BTN women's basketball analyst Stephanie White, our analyst looks at that amazing night from Minnesota's Amanda Zaui B., Northwestern's winning streak, another milestone for Michigan State's Aerial Powers, and the best games in the coming days.

Here's what White has for us this week:

1. WOWIE ZAUI!

Last nights incredible performance for Amanda Zaui B. was one for the ages. Zaui has been consistent all season long and certainly under-publicized from a national media standpoint, but 39 points and 29 rebounds makes a statement.

[btn-post-package]

There was nothing Iowa could do to stop her or contain her. By the way, she also had four blocked shots (see the box score). It?s really tough to keep reminding myself that she?s just a sophomore and we get to continue to watch her for two more years. Sorry Big Ten coaches, you have to game plan for her for a couple more years too.

2. Northwestern's streak continues

The Wildcats continue their hot streak with two comeback wins on the road and have now won five straight. The Michigan game was the most thrilling as the Wildcats trailed the entire ball game until missed free throws by the Wolverines led to a rebound drive by Nia Coffey.

Speaking of Coffey she?s been terrific with five straight double doubles. She?s in the top 11 in the league in four different statistical categories (see the full women's stats pages) and should probably at least be in the conversation for Player of the Year.

Coffey is not alone as the Wildcats have six player that average at least nine points per game and four that average double figures. The upcoming schedule is a challenging one for Joe McKeown?s squad, but they've shown they are a team that prepares well.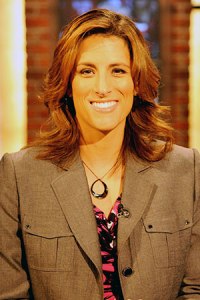 3. Powers reaches milestone
This week Aerial Powers became the fasted women?s basketball player in Michigan State history to 1,000 points. The sophomore has been carrying the Spartans through an challenging season and has been the primary focus of every opponents defensive game plan.
Despite the extra attention she has 19 double doubles, which is good for second in the country and ties a Michigan State single-season record that was set in the 1977-78 season.
The numbers have been exceptional; she has continued to grow and develop her game as proved by her eight games with three or more made three-point field goals. The three ball was not a consistent weapon in her arsenal last season, but she?s added it.
However, I think her greatest asset was revealed when Suzy Merchant talked about her competitiveness and her compassion, her enthusiasm and her toughness. She mentions that Powers is one of a handful of kids that she has coached that has changed her for the better. I think that statement says it all. Congratulations Aerial.
4. Speaking of Michigan State ?
I was very impressed with the display by the Spartans against Maryland. When you think about what Michigan State has lost and challenges faced this season
They showed great character and toughness and gave Maryland their toughest challenge in Big Ten play up to this point. They also had opportunities to win the game, but Maryland showed why they have been superior this season. Their depth wears teams down and they can capitalize at the end of the game. MSU had a one-point lead with ten minutes remaining and Maryland outscored the Spartans 26-19 to finish the game. They also continued to have great balance with five players in double figures.
5. Upcoming matchups
There are some great games coming up. It starts tonight with Nebraska at Northwestern (available on BTN Plus)as the Wildcats can gain some ground in seeding for the NCAA tournament and continue to prove themselves to the rest of the Big Ten.
Obviously, if Rachel Theriot isn?t on the floor that changes the game for Nebraska against at pesky defensive point guard in Ashley Deary, but Tear'a Laudermill and Natalie Romeo have been solid for the Huskers. This is a good matchup of two teams with similar weapons. The edge goes to Nebraska in terms of experience, but Northwestern?s young players are playing with great confidence and they can use their speed and athleticism to their advantage.
Iowa vs. Ohio State (Saturday on BTN/BTN2Go) has the potential to be a dangerous game for the Hawkeyes. Ohio State bounced back from a disappointing loss at Illinois to thrash Purdue and Iowa lost a tough one on the road at Minnesota. Both teams really need this win for NCAA tournament implications and for conference tournament seeding. It?s always tough to play against another explosive offensive team, but playing them on the road is even tougher. There should be lenty of points to see.
Rutgers at Michigan State has the potential to be a really good game. Rutgers is fighting for a double bye in the conference tournament as well as NCAA seeding while Michigan State is still competing at high level and playing to get better. In short, Spartans have a chance to be a spoiler. The matchup of Powers and Betnijah Laney will be terrific as both have been double-double machines as two of the most versatile players in the country.
Michigan State has to limit transition and second chance opportunities for the Scarlet Knights and Rutgers has to contain Powers and Tori Jankoska. If MSU can get some production like they had against Maryland (four players in double figures), they have a great chance to win at home.
***
| | |
| --- | --- |
| About Stephanie White | White, a member of Purdue's 1999 national championship team, is a BTN women's basketball analyst and head coach of the WNBA's Indiana Fever. Follow her on Twitter @swhitej2 |