BTN.com staff,

February 15, 2015
Every Big Ten school has produced leaders who have reached the pinnacle of their professions, whether business, government, science and technology, medicine or education. High Profile takes a look at how these alums rose to the top of their field.
From policy debates to plane crashes, Dave McConnell has been voice of record in the Beltway for decades.
Since 1965, McConnell has worked for Washington?s Top News (WTOP) radio station. Starting out as a general field reporter, he?s been the station?s congressional correspondent since 1981, and today he?s the only person on the radio doing that full-time.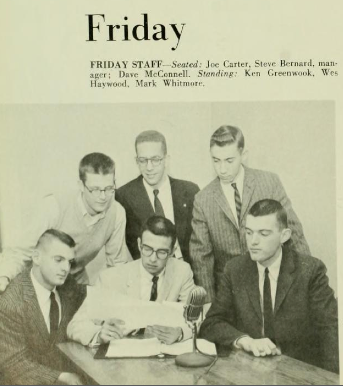 It?s somewhat surprising, then, that McConnell made his first forays into this field while studying English literature at the University of Maryland.
?My major, believe it or not, was the Elizabethan and Jacobean stage,? he said. ?My minor was history, which has always fascinated me. But then I began wondering if I should be more practical.?
McConnell was first exposed broadcast journalism when he started working at Maryland?s student-run radio station, WMUC. While pursuing his studies in literature, McConnell served as a staff announcer, DJ and news reporter, covering student government meetings and other campus events.
At one point, he even considered transitioning from English literature to solely focus on taking classes offered by the radio-TV department, but sound advice from a faculty member (and future boss) kept him on-course.
?He said, ?You may find that parsing poetry or getting into literature will help you in a practical way to be a reporter on the air,?? McConnell explained. ??Just strictly taking a nuts-and-bolts course might not be the best thing. You want to have a solid overall background if you want to be a reporter.? So I stayed where I was.?
However, his work at the university radio station led to his job at WTOP a few years after graduating from Maryland in 1959. And he?s been there ever since.
Over the course of his career, McConnell has covered elections, inaugurations, wars and disasters. One of his first assignments as a full-time congressional correspondent was reporting medical updates on President Ronald Reagan after the attempt on his life in 1981. He also attended the subsequent, infamous press conference in which then-Secretary of State Alexander Haig confused his role in the presidential-succession order.
But it was the following year that McConnell covered what was perhaps the most haunting tragedy of his career - though it?s one that?s largely forgotten among the general public.
?It was one of those days where I had left [Capitol] Hill to cover a Congress-related event at the National Press Club,? said McConnell. ?I got a call from an editor who said, ?What I need you to do is turn on the radio, and you?ll know what your assignment is.? With some trepidation, I listened and had a funny feeling it was going to be bad.?
And it was: Air Florida?s Flight 90 had struck the 14th Street Bridge in Washington, D.C., and crashed into the Potomac River. The resulting carnage affected him deeply.
?It was a grotesque, horrible, destructive scene, and I?ll never forget it,? he said.
However, dramatic events like those, while memorable, aren?t all that frequent. Most of McConnell?s time is spent covering the latest policy debates, votes and other Congressional activities that most of the public probably finds mundane.
Still, his excitement for that process is palpable: At the time of this interview, Congress was gearing up for a debate on the controversial Keystone XL pipeline, mulling giving President Obama broader authority to declare war on the Islamic State (or ISIS) organization and deciding on future funding for the Department of Homeland Security.
McConnell said covering a disaster is easy - all you have to do is describe it. But most of the time the news doesn?t have that inherent element of excitement. One of the keys to longevity in the business is being able to present that information in a way that makes people want to listen. That?s where his background in history, literature and the arts comes in handy.
[btn-post-package]?It isn?t so much that you learn dates and facts, but a perspective of events - a narrative - which is very important for a reporter,? he said. ?You have to think of a way to write or broadcast your story that grabs people attention. And a literary or historical background helps with that. When the rubber hits the road and you need to quickly write or produce a story, you have to have a frame of reference, or it?s just not interesting.?
That notion of crafting great narratives is what has helped McConnell and the radio business survive in the age of YouTube, hashtags and the Blogosphere. In fact, McConnell (who is active on Twitter) maintains there?s a distinct advantage for radio as a medium.
?Radio is the great narrative,? he said. ?It?s telling an interesting story only you can?t see the person telling it or even see footage of it. That gives the listener the opportunity to set the scene; no other medium has that.?
So what?s McConnell?s advice to those aspiring for similar success in the field of broadcast journalism? In short: Take opportunities to learn about the technology, but don?t spend too much time worrying about pressing the right knobs and buttons.
?These days, there are more choices available to those who want to do what I do than I was in school,? he said. ?But make sure to go beyond just a vocational approach.?
By Ben Warden