Brent Yarina, BTN.com Senior Editor,

February 14, 2015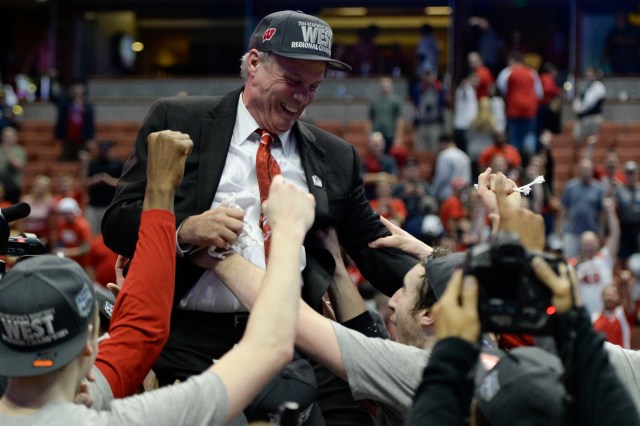 Wisconsin head coach Bo Ryan was named a finalist to be considered for election in the Class of 2015 for the Naismith Memorial Basketball Hall of Fame, as announced Saturday at NBA All-Star Weekend.
"I'm extremely humbled and honored just to be mentioned with the other names on the nominee list,? Ryan said. ?The Hall of Fame holds so many revered legends of basketball and many of the individuals who originally sparked my love for the game.?
Hall of Fame finalist recognition is a career highlight for many in the sport of basketball. This year?s list includes six elite players, five outstanding coaches and one iconic referee as finalists for the North American and Women?s committees to be considered for election in 2015.
?When I first planted my coaching roots years ago at the junior high level, I did so to be a teacher and help kids like my father did so selflessly,? Ryan said. ?I never had intentions or even thoughts of being on Hall of Fame lists, but it's quite an honor and I'm grateful to all of the players and coaches who have helped along the way.
?I have been blessed to work at some prestigious institutions that were willing to take a chance on me. I am thankful to so many individuals who granted me opportunities and trusted in me."
This year?s list includes nine first-time finalists, including Ryan, a four-time Division III national champion coach. Joining Ryan is 39-year NBA referee Dick Bavetta, two-time College Coach of the Year John Calipari, two-time NBA Coach of the Year Bill Fitch, all-time winningest boys high school coach Robert Hughes, eight-time NBA All-Star Dikembe Mutumbo, seven-time NBA All-Star Jo Jo White, the all-time winningest high school coach Leta Andrews and three-time WNBA MVP Lisa Leslie.
The Class of 2015 will be announced on Monday, April 6, at a press conference in Indianapolis prior to the NCAA Men?s championship game. A finalist needs 18 of 24 votes from the Honors Committee for election into the Naismith Memorial Basketball Hall of Fame. The Class of 2015 will be enshrined during festivities in Springfield, Massachusetts, September 10-11.
A native of Chester, Pennsylvania, Bo Ryan has coached to over 700 wins, 17 championships and countless conference and national coach of the year accolades, entrenching himself among the great coaches in college basketball history.
Ryan has been named the Big Ten Coach of the Year three times (2002, ?03?, ?13) since he began coaching at the University of Wisconsin in 2001. Prior to Wisconsin, he coached at UW-Milwaukee (1999-2000) and the University of Wisconsin-Platteville (1984-99), where his team won four NCAA Division III championships (1991, ?95, ?98, ?99). Ryan has led Wisconsin to three Big Ten regular season championships (2002, ?03, ?08), two Big Ten tournament championships (2004, ?08) and most recently the NCAA Final Four in 2014.
It was during his 15-year tenure at UW-Platteville that Ryan firmly established himself as one of the nation?s top coaches. Ryan guided the Division III program to a phenomenal 353-76 (.822) overall record. In his final 12 seasons, the Pioneers won four national championships (1991, ?95, ?98, ?99), were the winningest NCAA men?s basketball team of the 1990s (all divisions) with a 266-26 (.908) record, won eight WIAC titles, compiled a 30-5 NCAA Division III tournament mark, and never won fewer than 23 games.
Before coming to Wisconsin, Ryan coached for two seasons at UW-Milwaukee. There, he coached the Panthers to their first back-to-back winning seasons in eight years. UWM also experienced a 161-percent home attendance increase in his first season.
Ryan's coaching career began in the fall of 1972 at Brookhaven High School in Delaware County, Pennsylvania, where he was hired as a history teacher and head basketball coach. After just one year at Brookhaven, Ryan began his collegiate coaching career in 1973 at Dominican College of Racine (Wisconsin) as an assistant under Bill Cofield.
In 1974, Ryan moved back to the Philadelphia area to serve as the head basketball coach at Sun Valley High School. Ryan would move back to the collegiate coaching ranks for good in March of 1976 when Cofield again hired him as an assistant, this time at Wisconsin. Ryan spent eight seasons (1976-84) working under Cofield and Steve Yoder before taking over at UW-Platteville in the spring of 1984.
Hired as the head coach at Wisconsin in 2001, Ryan has elevated the program to heights previously unseen in Madison. In 2014, Ryan and the Badgers climbed even higher, reaching the program?s first Final Four since 2000 after winning 30 games for just the third time in school history.
Currently in his 31st season as a head coach in 2014-15, Ryan owns the most wins in Wisconsin annals (343). With 167 career Big Ten wins, Ryan also set UW?s all-time record for conference wins, surpassing Hall of Famer Walter Meanwell to break a record that had stood for 80 years. Ryan became the 34th NCAA coach to reach the 700-win plateau and is one of just seven active Division I coaches to reach that hallowed ground.
— UWBadgers.com