BTN.com staff,

February 11, 2015

In our latest ?5 Things I Know" with BTN women's basketball analyst Stephanie White, the former Purdue star and current WNBA head coach takes a closer look at the Big Ten's guard play. Plus, White tells us how Rutgers coach C. Vivian Stringer has set the bar in the Big Ten.

Here's what White told us this week:

1. Guard play is strong
Seven Big Ten point guards were named to the Nancy Lieberman Award watch list in February. This award recognizes the top point guard in Division I college basketball that demonstrates floor leadership, play-making and ball-handling skills. Four players were also selected to the Dawn Staley Award Watch list. This award is given to the most outstanding guard in the country that exemplifies ball handling, scoring, ability to distribute the basketball and the will to win!

[btn-post-package]

We have all heard the saying that guard play wins championships and the recognition of these players with two of the premier awards for perimeter plays show that guard play in the Big Ten is strong. Both of these awards are given away at the women?s Final Four, so stay tuned!

2. Nebraska more than just Theriot
Injuries have been an issue for multiple teams this season in the Big Ten and throughout the country. I have to admit that when I saw Rachel Theriot was injured, I thought the Huskers were in serious trouble. They were about to face Rutgers and Maryland on the road, which is a tough stretch anyway, let alone playing them with out your All American. After watching both of the games, I came to conclusion that while Nebraska is certainly better with their floor general, they have plenty of pieces to remain a top contender.

It?s true that when a teammate goes down it gives others the opportunity to step up. Players like Chandler Smith and Natalie Romeo both got more minutes and more experience that will pay dividends down the line. Tear?a Laudermill averaged 16 points per game the last two games and has been solid in the last seven, averaging 17.1 points. Emily Cady and Hallie Sample continue to be consistent for the Huskers and if Theriot can recover quickly, Nebraska can begin to gel again heading into the conference tournament.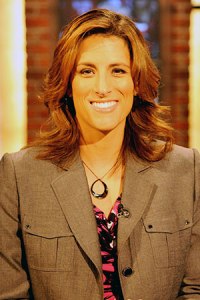 3. Northwestern looking for 4 straight
Northwestern has quietly been chipping away, winning three straight and positioning itself for its first NCAA tournament bid since 1997. After starting the conference season 2-0, the Wildcats only won two of the next seven before this mid-February push. They have three players averaging double figures and three more just under 10 points per game.
Nia Coffey is quietly putting together an all-league performance, ranking in the Top 15 in points, rebounds, steals and blocks. As a team, Northwestern has been much more consistent on both ends of the floor. The Wildcats have a tough stretch to finish the season with three of their last six on the road, as well as finishing with Rutgers and Maryland at home. I wouldn?t count Joe McKeown?s team out; the Wildcats look like a tournament team to me.
4. C. Vivian Stringer sets the bar
As a former Big Ten player and someone who grew up watching Big Ten women?s basketball, it was really neat seeing Coach Stringer become the Big Ten?s all-time winningest coach. I watched her Hawkeye teams every time they came to Purdue and those were certainly some battles. I first met Coach Stringer at the 1993 Atlanta Final Four, in a hotel lobby while she was speaking with Wilma Rudolph, which was equally exciting for me! I rudely interrupted them both by asking for an autograph on my ticket, and they willingly signed.
Of course, throughout my playing career, I played against Coach Stringer?s teams, first at Iowa and then at Rutgers. They were always tough, hard-nosed, competitive teams that resembled the personality of their coach. In my mind, Coach Stringer is really synonymous with Big Ten basketball, and as a Big Ten graduate it?s fun to see her continue to set the bar in this league.
5. The Game of Life
This weekend, I was reminded of one of the reasons why sports are great. We all love the game, have a passion for winning and all strive to be the best we can be. But sports also gives us the platform to focus on things bigger than the game. Maryland had their fifth annual Team Tyler game to support leukemia awareness. For those who don?t know, Tyler is the 6-year-old son of Maryland coach Brenda Frese, and he was diagnosed with pre-B cell Acute Lymphoblastic Leukema in 2010.
Four of the five starters from the 2006 National Championship team formed the Team Tyler Foundation to support the Johns Hopkins Pediatric cancer unit. Prior to, and during the game, Maryland-based organization There Goes My Hero was on hand to swab fans who wanted to join the National Marrow Donor Program. There were children and families who have been affected by pediatric cancer in attendance as well as representatives from other organizations on hand to receive donations and provide education on the fight against cancer.
In addition to the many breast health awareness games and events we will attend this month, this event should remind us that we have a responsibility to continue to bring awareness to issues that affect each and every one of us. We all enjoy the game of basketball and sometimes we need reminders that it does, in fact, teach us a lot about the game of life.
We could all use a little perspective now and then.
***
| | |
| --- | --- |
| About Stephanie White | White, a member of Purdue's 1999 national championship team, is a BTN women's basketball analyst and head coach of the WNBA's Indiana Fever. Follow her on Twitter @swhitej2 |