BTN.com staff,

February 11, 2015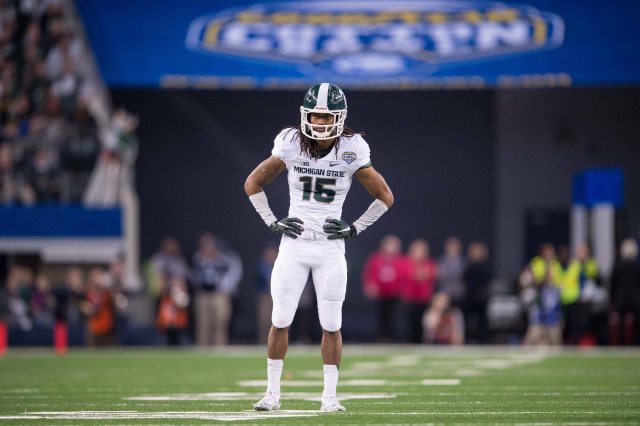 Michigan State's Trae Waynes is one of the top cornerback prospects in the 2015 NFL Draft.
In fact, many mock drafts predict Waynes to follow in ex-teammate Darqueze Dennard's footsteps and give Michigan State back-to-back first-round cornerback picks.
Waynes, an unanimous 2014 All-Big Ten first-team performer, tallied 46 tackles, including two tackles for loss, three interceptions, eight break-ups and 11 passes defended as a junior.
Before Waynes leaves Michigan State for the NFL, he wanted to say thank you to his school, coaches, teammates and fans. He did so by writing a letter in the school paper, The State News.
Read it below.
Dear Spartan Nation:
As I leave Michigan State to pursue my childhood dream of playing in the National Football League, I thank all of you who made my East Lansing experience so incredible.
Thank you coach Dantonio for molding me into the player and man I am today. I came to Michigan State with great dreams and goals and was able to attain most of them through your guidance and leadership. I was blessed to have played for you and know you prepared me both for my future in the NFL and life in general.
I am also so grateful that coach Narduzzi and coach Barnett invested so much time and effort in me as a player and as a person. I wish coach Narduzzi all the best at Pitt, where I know he will be a success. To coach Barnett, you were a father figure and tremendous role model to me and a true blessing to my family. Your candor and expectations of me were big reasons why I chose Michigan State, and our experience together exceeded all expectations. The Waynes family is eternally grateful.
The Spartan experience was so special because of my teammates - past and present. We gave our blood, sweat and tears to this program and, as a team, we certainly lived up to the high standards of Michigan State football. A special ?shoutout? to former and current members of the ?No Fly Zone? for setting such a high bar for me as a cornerback. Finally, thank you to the ?Boyz? - and you know who you are. The mutual support we enjoyed on and off the field helped mold each one of us, and our friendships will continue long beyond Michigan State.
Thank you to our entire coaching staff as well as the trainers, managers and football operations staff, all of whom made valuable contributions to our football team?s success. We had a fantastic team at Michigan State and all of you helped me develop as a football player. I will miss seeing all of you on a daily basis.
The Michigan State experience goes far beyond football. As such, I also want to express my gratitude to the professors, academic advisers, fellow students and friends, all of whom made Michigan State feel like my home away from home. I also want to assure all of you who helped me so much academically that I will earn my degree as soon as possible, and that will be as important to me as all of our great accomplishments on the field. I look forward to being a graduate of this great academic institution.
Finally, to the fans who packed Spartan Stadium every Saturday, I thank you for the unwavering support and love you have shown me throughout my career at Michigan State. You embraced and cheered for me always, and I?ll never forget the feeling I had running onto that field. I was so fortunate to meet so many fantastic Spartan families and fans across the country and you will always hold a special place in my heart. Although I hope to soon be drafted by an NFL team, I will always remember your special support and look forward to our paths crossing again. It was an honor to wear the green and white, and I will definitely be an active member of this community moving forward.
Go green! Go white! Spartan for life!
Trae Waynes #15