Brent Yarina, BTN.com Senior Editor,

February 11, 2015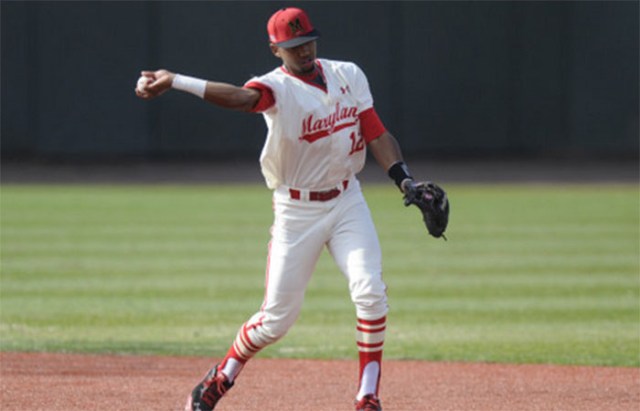 Maryland was voted the preseason favorite to claim the 2015 Big Ten Baseball Championship, as voted on by the conference coaches and announced on Wednesday.
The coaches voted on the top six teams and also selected three student-athletes from their own squads to a Players to Watch list.
The Terrapins were followed in the preseason poll by Nebraska in second place, No. 3 Illinois, Indiana in fourth place, No. 5 Michigan and Ohio State in sixth place.
Maryland is coming off its first Super Regional appearance in program history and returns All-American infielder Brandon Lowe and pitcher Mike Shawaryn. Lowe batted .348 last season and tied for the team lead in RBI (42). Shawaryn set the program record with 11 wins last season. Kevin Mooney, who notched a program record 13 saves in 2014, also returns for the Terrapins. Lowe, Mooney and Shawaryn were named Maryland?s Players to Watch.
The 2015 Big Ten baseball season is set to begin on Friday, Feb. 13.
The top-six preseason poll and complete Players to Watch list can be found below.
2015 BIG TEN BASEBALL PRESEASON POLL (top six teams)
1. Maryland
2. Nebraska
3. Illinois
4. Indiana
5. Michigan
6. Ohio State
2015 BIG TEN BASEBALL PLAYERS TO WATCH
Kevin Duchene, Jr., SP, Illinois
Tyler Jay, Jr., RP, Illinois
Adam Walton, So., SS, Illinois
Scott Effross, Jr., SP, Indiana
Ryan Halstead, Sr., RP, Indiana
Scott Donley, Sr., OF, Indiana
Jake Mangler, Sr., 2B, Iowa
Tyler Peyton, Jr., 1B/SP, Iowa
Eric Toole, Sr., OF, Iowa
Brandon Lowe, So., 2B, Maryland
Kevin Mooney, Jr., RP, Maryland
Mike Shawaryn, So., SP, Maryland
Jacob Cronenworth, Jr., IF/RP, Michigan
Jackson Glines, Sr., OF, Michigan
Travis Maezes, Jr., SS, Michigan
Jeff Kinley, Sr., RP, Michigan State
Blaise Salter, Sr., C, Michigan State
Mick VanVossen, Sr., SP, Michigan State
Ben Meyer, Sr., SP, Minnesota
Dalton Sawyer, Jr., SP., Minnesota
Connor Schaefbauer, Jr., 2B, Minnesota
Ryan Boldt, So., OF, Nebraska
Kyle Kubat, Sr., SP, Nebraska
Chance Sinclair, Sr., SP, Nebraska
Scott Heelan, Sr., C, Northwestern
Brandon Magallones, Sr., RHP, Northwestern
Kyle Ruchim, Sr., IF, Northwestern
Ronnie Dawson, So., OF, Ohio State
Travis Lakins, So., RHP, Ohio State
Tanner Tully, So., LHP, Ohio State
James Haley, So., SS, Penn State
Christian Helsel, So., 3B, Penn State
Taylor Lehman, Fr., LHP, Penn State
Kyle Johnson, Jr., CF, Purdue
Brandon Krieg, Sr., 3B, Purdue
Kyle Wood, Jr., 1B/RP, Purdue
Howie Brey, Jr., SP, Rutgers
Mike Carter, So., OF, Rutgers
Vinny Zarrillo, Sr., OF, Rutgers
— bigten.org