BTN.com staff,

February 10, 2015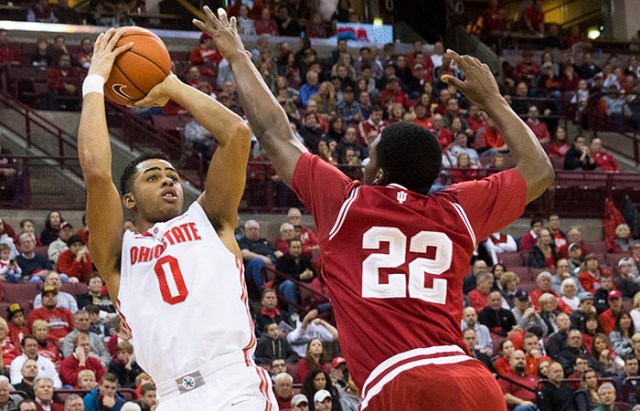 DraftExpress.com lists seven Big Ten players on its latest mock draft, including five first-rounders.
[ MORE: Power Rankings | Player Rankings | National polls ]
To the surprise of no one, Ohio State freshman D'Angelo Russell, the two-time reigning Big Ten Player of the Week, paces the conference, coming in at No. 2, behind only Duke's Jahlil Okafor.
If Russell went No. 2, he would be the Big Ten's third player to go with the second pick in the last six seasons (Ohio State's Evan Turner, 2010; Indiana's Victor Oladipo, 2013).
As for the other Big Ten players in the first round, the site lists Wisconsin's Frank Kaminsky (No. 13), Michigan's Caris LeVert (No. 15), Wisconsin's Sam Dekker (No. 19) and Maryland's Jake Layman (No. 30).
See the full list below.
FIRST ROUND
No. 2 D'Angelo Russell, Ohio State
No. 13 Frank Kaminsky, Wisconsin
No. 15 Caris LeVert, Michigan
No. 19 Sam Dekker, Wisconsin
No. 30 Jake Layman, Maryland
SECOND ROUND
No. 38 Yogi Ferrell, Indiana
No. 57 A.J. Hammons, Purdue