Ryan Sullivan,

February 6, 2015

BTN continues its coverage of Big Ten men?s and women?s gymnastics at noon Saturday with the telecast of the men?s dual between Ohio State and Penn State. In all BTN is televising 11 gymnastics events in 2015.

In addition, the network returns four-time Olympic and six-time National Champion Shawn Johnson for her second year as a BTN analyst.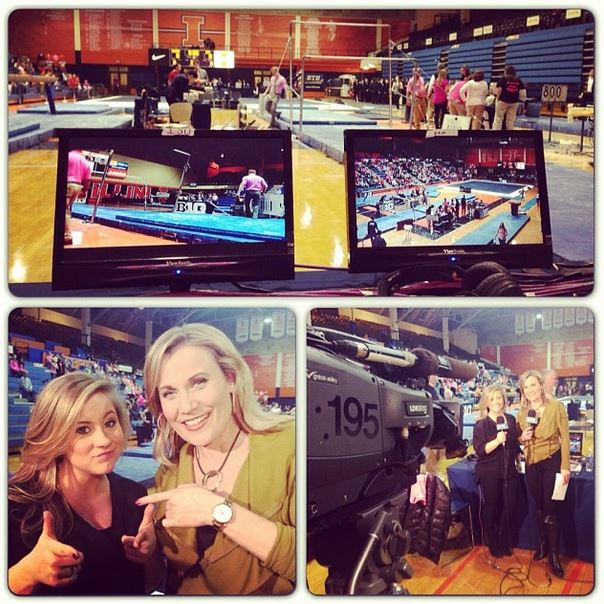 Johnson took the nation by storm during the 2008 Summer Olympics, when she captured four medals, including gold on the balance beam and three silver medals in the team, all-around and floor exercise events. She is the 2007 Individual World Champion in the all-around and floor exercise.
Bob Lanning is BTN?s senior coordinating producer for live events, including the network?s gymnastics coverage. ?I am delighted that Shawn is rejoining our broadcast team, because she brings the perspective of having competed at the very highest levels,? he said. ?I look for Shawn to bring her effervescent personality, passion and love of the sport to BTN?s broadcasts.?
Johnson will be joined by BTN newcomer and former Illinois gymnast Alina Weinstein. Weinstein was a NCAA Championship finalist in the floor exercise, two-time All-American, Big Ten Medal of Honor winner and a finalist for the Honda Award which is given annually to the best collegiate female athlete. Weinstein has won 43 career titles.
Returning on the men?s side are analysts John Roethlisberger and Rob Brown, both of whom competed at the University of Minnesota. Roethlisberger is a three-time Olympian, four-time National All-Around Champion, four-time National Pommel Horse Champion, and four-time B1G All-Around Champion. In 1993, Roethlisberger won the prestigious Nissen Award which is college gymnastics highest honor. Brown is an NCAA All-American, former USA National Team Member and a Big Ten team and individual champion.
The BTN men?s and women?s gymnastics television schedules are below.*
BTN 2015 Men's Gymnastics Television Schedule
Event Date
Matchup
Location
Time (ET)
Coverage Details
2/6/15
Ohio State at Penn State
University Park, PA
7:00pm
Airs on Delay – 2/7/15 at 12pm ET
2/14/15
Minnesota/Nebraska at Iowa
Iowa City, IA
8:30pm
Airs on Delay – 2/15/15 12pm ET
3/15/15
Illinois at Michigan
Ann Arbor, MI
1:00pm
Airs on Delay 3/17/15 at 7pm ET
3/27/15
B1G Championships – Team Competition
University Park, PA
7:00pm
Airs Live
3/28/15
B1G Championships – Individual Competition
University Park, PA
7:00pm
Airs Live
BTN 2015 Women's Gymnastics Television Schedule
Event Date
Matchup
Location
Time (ET)
Coverage Details
2/20/15
Oklahoma at Michigan
Ann Arbor, MI
7:00PM
Airs on Delay – 2/21/15 at 9pm or 9:30pm ET
3/14/15
B1G Five – Illinois/Ohio State/Michigan State/Maryland/Nebraska
Lincoln, NE
1:00PM
Airs Live
3/14/15
B1G Five – Iowa/Michigan/Penn State/Rutgers/Minnesota
Minneapolis, MN
5:00PM
Airs on Delay – 3/15/15 at 3:30pm ET
3/21/15
B1G Championships – Session 1
Ann Arbor, MI
11:30AM
Airs Live
3/21/15
B1G Championships – Session 2
Ann Arbor, MI
4:30PM
Airs Live
*BTN also aired the dual between Penn State and Nebraska on Jan. 17