BTN.com staff,

February 4, 2015

In our latest ?5 Things I Know" with BTN women's basketball analyst Stephanie White, the former Purdue star and current WNBA head coach discusses the role of spoiler, the Iowa-Northwestern shootout, Michigan State's Aerial Powers recent play and more.

Here's what White told BTN.com this week:

[btn-post-package]

1. Beware of the middle of the pack

Even though the middle of the Big Ten is five or six games out of first place in the conference race, they certainly have opportunities to spoil things for those at the top and increase the possibilities of winning the conference tournament. Teams in the league have proven that they can win any given night and the difference between the top and the middle has been consistency. Teams like Northwestern, Minnesota, Ohio State and Michigan weren't expected to contend for the regular season title, but these have been scary matchups for opponents.

I think these teams have an opportunity to make a lot of noise the last month of the season. It now becomes about getting better everyday, minimizing those lulls of inconsistency and positioning themselves for seeding in the conference tournament. I certainly wouldn?t be surprised if any of these teams were playing for the Big Ten Tournament Championship.

2. Sorry I wasn?t there for the Iowa-Northwestern shootout

Are you kidding me? Both teams shooting over 50 percent on field goals and both teams combining for 32 three-pointers?! Now that?s what I call a shootout and it would have been a fun game to watch. One of my favorite statistics is the assist-to-made-field-goals ratio and these teams had a combined 60 assists on 69 made field goals for a whopping 87 percent! I can?t wait to go back and watch this game.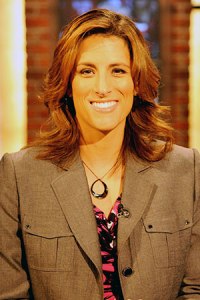 3. Speaking of Iowa
Iowa has played incredibly consistent basketball leading into Sunday?s battle with Maryland. It seems like we rarely discuss their potential to win a championship yet they are always right in the hunt. Sunday?s game against Maryland, even though it was a loss, proves that the Hawkeyes have what it takes to compete with the best teams in the nation.
This team learned a lot from their non-conference loss to Louisville, especially when it comes to playing faster and more athletic teams. They went into a tough environment and had an opportunity to steal a win away the conference leading Terps. I?m sure if we asked Lisa Bluder and company they would prefer to fly under the radar, but they are certainly not out of sight out of mind any longer!
4. Powers continues to … power through
Despite the frustrations in East Lansing with the Spartans battling a lot of uncontrollable elements, Aerial Powers has been not only solid, but dominant. She is the focal point of every team?s defense yet she continues to put up huge numbers night in and night out. She?s second in the league in scoring at 21.9 points per game, first in rebounds at 12 per game, fifth in steals averaging 2.4 per game.
She certainly has some help with reigning Big Ten Player of the Week Tori Jankoska, but let?s think for a minute about what Power?s is asked to do. Not only does she have to score 20 for her team to have a chance to win the ball game, but she also has to defend an opposing team?s top player, rebound on both ends of floor and play 35 plus minutes a game. That?s a lot of responsibility for one player to have and she wears that responsibility like a badge of honor. It would be easy for Powers and the Spartans to play the ?Woe is me? card, but that?s not in Suzy Merchant?s DNA and it?s certainly not in Ariel Power?s either. This team continues to compete and both the Spartans and Powers will be better for it, if not this year then most certainly in the year?s to come.
5. Big-time games this week
There are some huge games this week for teams near the top of the Big Ten standings. Nebraska certainly has a tough road ahead as they have to face to both Maryland and Rutgers on the road. It will be the only meeting between the Scarlet Knights and Huskers, which makes it an important game from a tiebreaker standpoint.
Rutgers not only plays Nebraska at home, but go on the road next Tuesday to play at Maryland. Maryland has a short turnaround as they will face Nebraska at home Sunday, and then Rutgers on Tuesday. The other intriguing game to me is Ohio State at Iowa. Ohio State is one of those dangerous team that can upset the apple cart, so important for the Hawkeyes to take care of home court.
***
| | |
| --- | --- |
| About Stephanie White | White, a member of Purdue's 1999 national championship team, is a BTN women's basketball analyst and head coach of the WNBA's Indiana Fever. Follow her on Twitter @swhitej2 |