Tom Dienhart, BTN.com Senior Writer,

February 3, 2015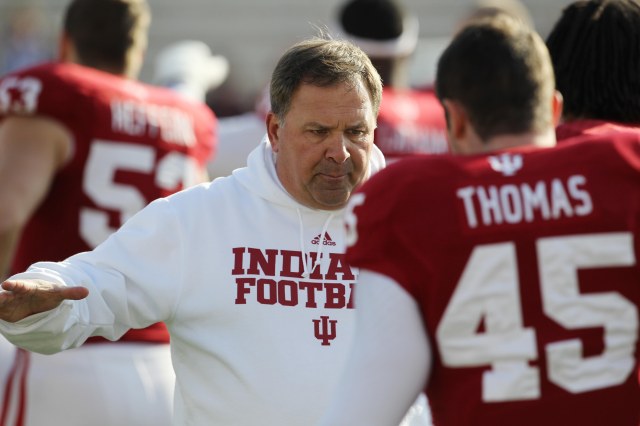 Signing Day is like Christmas Day for fans across the nation. It?s a day when possibilities seem endless, when every recruit who signed a letter-of-intent has potential that could translate into stardom and help lead the team to greatness.
Reality will set in over time, as typically just half of each school?s recruiting class ends up being contributors. But let?s still celebrate the process. Signing Day is a fun day when seemingly every school fills all of its needs.
I caught up with Kevin Ryan, the Big Ten editor for 247Sports.com, to get his views on Big Ten recruiting and a few other subjects.
[ MORE: One old signing day photo for every Big Ten team ]
Q: Is the Big Ten making up any ground on the SEC?
A: I think the top of the Big Ten is. I don?t think the conference as a whole compares. But Ohio State and Penn State are right there. Ohio State has a top-10 class. James Franklin has recruited in the SEC and knows what it?s all about. He has Penn State going well and hanging with the big boys. Then there is a bit of gap between Ohio State and Penn State down to Michigan State, Nebraska and Wisconsin. They are still recruiting in a Top 25 range but they will be behind all of the SEC schools with the exception of Vanderbilt.
Q: What impact has Jim Harbaugh had at Michigan?
A: It has been hard for him to have much of impact because of the timing of his hiring. He got on board so late in the process that he is scrambling and trying to play catch-up. They also are being smart, and not just taking kids to take them. They want to make sure who they get are legitimate Big Ten players.
Q: How has Mike Riley been doing at Nebraska?
A: Whenever there is a coaching change, there is an uptick in recruiting. It is a weird phenomenon. The interest level increases as opposed to decreases. You?d think if a program wasn?t doing well and had a coaching change that kids may be leery. But often schools sell a new beginning and there is a need for immediate playing time. The new staff has no favorites and doesn?t know the roster, so all the players are starting at Square One. It?s a good opportunity for new players.
Q: Have you seen any changes in recruiting philosophies at Michigan, Nebraska and Wisconsin with the coaching changes?
A: Nebraska has always had to recruit nationally. There isn?t much in-state talent. Nebraska, Iowa, Kansas ? those states aren?t filled with a lot of talent. So Nebraska has always had to go to where the talent is-California, Texas or even Alabama, where they got Ameer Abdullah. New Jersey and Florida are other areas Nebraska goes to. I don?t think that philosophy will change with Mike Riley as coach. Wisconsin is similar. There isn?t a bunch of FBS talent in the state of Wisconsin, so Paul Chryst may have to rely on Eastern connections.
Q: Is Ohio State getting a big lift from its national championship season?
A: They are, but they didn?t need much of a lift, recruiting-wise. Urban Meyer has had the No. 1 recruiting class in the Big Ten every year he has been there. They can be much more selective and have a much more focused and targeted approach. Others like Nebraska or Iowa have to have more of a buckshot approach, throwing out a wide net to see who they can grab. Ohio State is in as talent-laden a state as there is. That?s a benefit. They also are close to Pennsylvania and Illinois, which have lots of talent. And they can pick and choose nationally to go get a guy like a Joey Bosa from Fort Lauderdale, or a J.T. Barrett from Texas. They can recruit nationally and focus on who they want.
Q: Has any team surprised you?
A: Maybe Indiana. They have the No. 7 class in the Big Ten coming off another season in which they missed a bowl. They are recruiting surprisingly well for a program that hasn?t done a lot on the field.
Q: Has any team underperformed?
A: It?s hard to say Michigan because of the late start Harbaugh got and the fact they will have a small class. So I would say Iowa. Kirk Ferentz has been there a long time. He?s well-regarded. That?s a program and fan base that?s yearning for more. But their recruiting class is lagging behind schools like Northwestern, Rutgers and Indiana. If you are an Iowa fan and you see yourself behind those schools, that?s a bit of a disturbing thing. Still, Iowa is right around where they typically are in national rankings, in the 50s. It hasn?t been a huge drop for the Hawkeyes.
Q: How about Michigan State? It seems like no school does a better job of cultivating talent.
A: They don?t care about rankings at all. Not that many coaches do. They do an amazing job looking at the kids they want-five star or two star-and turning them into productive players. They do it year after year. Some kids come into Michigan State as a three-star and leave as a four- or five-star. Mark Dantonio gets his share of talented guys. But they seem to do the best job of taking a two- or three-star commits-or even a walk-on like offensive lineman Jack Conklin–and making them into really good players.
Q: Is there a big difference between three-star players and four- and five-star guys?
A: There is a perception that a three-star player is an Average Joe. That couldn?t be the furthest from the truth. If you are a three-star, that means you are one of the top high school players in the country. If you get a three-star or higher ranking, that means you are one of the top 500 players in the nation. Even a two-star is a good player, a FBS player. The industry needs to do a better job of letting people know that a three-star recruit is an elite player.
| | |
| --- | --- |
| About Tom Dienhart | BTN.com senior writer Tom Dienhart is a veteran sports journalist who covers Big Ten football and men's basketball for BTN.com and BTN TV. Find him on Twitter and Facebook, read all of his work at btn.com/tomdienhart, and subscribe to his posts via RSS. Also, send questions to his weekly mailbag using the form below and read all of his previous answers in his reader mailbag section. |
And if you want to leave a comment on this post, use the box below. All comments need to be approved by a moderator.