BTN.com staff,

January 28, 2015

In our inaugural ?5 Things I Know" with BTN women's basketball analyst Stephanie White, the former Purdue star and current WNBA head coach discusses the Big Ten women's basketball season to date as well as what might lie ahead.

Here's what White told BTN.com this week:

[btn-post-package]

1. Rachel Banham returns to Minnesota
It's huge news for the Gophers that Rachel Banham has decided to use her medical redshirt and return next season. I have been pleasantly surprised at how this team has rallied since her injury on Dec 10. Amanda Zaui B. has been terrific anchoring the interior and Minnesota is benefiting by playing through her. Shae Kelley has been sensational and became a go-to player after Banham went down. Not that I?m overlooking the rest of this season, but by retaining Banham and having a year in Coach Stollings system, this team is a Final Four contender next season.

2. Maryland dominance
The Terps have been the deepest, fastest, most balanced and most consistent team in the league in its inaugural season. This is a team that lost arguably the best player in school history in Alyssa Thomas. They have forged a new identity in terms of their balanced attack. Brionna Jones? work has allowed her to become a go-to player inside.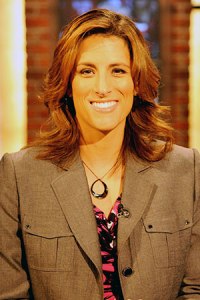 Jones is surrounded by great guards, led by PG Lexie Brown, who has been an outstanding floor general. Maryland?s pace is a change for a lot of Big Ten teams, so figuring out how to slow them down has been a challenge. However, it?s their depth that separates them. They have 11 players that average double-figure minutes and this allows them wear down their opponents and break away in the second half of games.
3. Change of pace
I mentioned above how Maryland?s pace is different from traditional Big Ten basketball. Well, we are seeing a few other teams change it up, too. Minnesota and first year coach Marlene Stollings has come in with an up-tempo, fast-paced style that is fun to play and watch. As has second-year Buckeyes coach Kevin McGuff. He has the players this season to utilize his style of pushing in transition, playing with pace and getting early shot opportunities.
Iowa has always been perimeter oriented, but even more so and much more free flowing. These are just a few examples of how the pace is changing. This creates higher-scoring games with greater efficiency because teams are getting higher percentage looks. If you look at the top 3 scoring teams in Big Ten women's hoops the last three years and their points per game, the numbers are showing that pace is increasing and scoring is up!
2012-2013: 73 ppg, 69.4 ppg, and 68.9 ppg
2013-2014: 78.2 ppg, 75.6 ppg, and 75.1 ppg
2014-2015: 82.8 ppg, 81.0 ppg, 78.1 ppg
4. Kelsey Mitchell is better than advertised
Everyone expected Mitchell to come in this season and have a good year on a team that had many unknowns. After all, Ameryst Alston had to shoulder the scoring load a season ago and the Buckeyes were limited in terms of talent. There was certainly talk about the incoming freshman and the transfers, but there were still many question marks.
Let me tell you: Mitchell has erased any question regarding the impact she would make on the team. After a career debut of 26 points against Virginia, she has looked comfortable and mostly unstoppable since. It?s a tough jump from high school to college. Players are bigger, faster, and stronger; longer practice times, longer season, time management becomes a priority, handling new academic challenges, etc.
With all of these things, Mitchell has maintained incredible consistency on the court. She has only been held to fewer than 20 points in four games. FOUR GAMES! She has five 30-point games and seems to just continue to dominate with the ball. She also averages four assists per game, which makes her responsible for 42 percent of Ohio State's point production (and that?s assuming each assist is only a two-point bucket).
She is Top 12 in the league in seven statistical categories, leading the league in scoring, three-pointers and free-throw attempts. She leads the NATION in scoring as a freshman!
I have always thought in order to be a player of the year in the league you have to elevate your team's success, not just have great numbers. If Ohio State continues to get better and hang with the pack, Mitchell could be the second player in Big Ten men?s and women?s basketball history to be a four-time Player of the Year (Ohio State's Jantel Lavender was the other).
5. Big Ten Rising
I truly believe the Big Ten is as deep and strong as it?s ever been. Top to bottom, there are no ?gimme games." The strength of this conference, from top to bottom, has vastly improved and the additions of Maryland and Rutgers has taken the league to another level. There are seven teams in the top 50 RPI and the Big Ten has the No. 1 strength of schedule in the nation.
We have seen an improvement in teams scheduling tougher non-conference opponents, and, now that the league is a challenge night in and night out, I truly believe we will begin to see more teams begin to make deep runs in the NCAA tournament. Within a few years, there is no reason that the Big Ten shouldn't be making regular appearances in the Final Four.
***
| | |
| --- | --- |
| About Stephanie White | White, a member of Purdue's 1999 national championship team, is a BTN women's basketball analyst and head coach of the WNBA's Indiana Fever. Follow her on Twitter @swhitej2 |