Brent Yarina, BTN.com Senior Editor,

January 27, 2015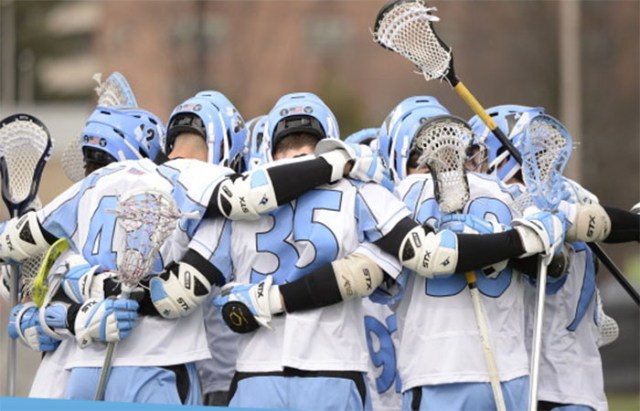 With the inaugural season of Big Ten men?s lacrosse less than two weeks away, Johns Hopkins was selected as the preseason favorite to claim the first Big Ten Championship.
[ MORE: Maryland women unanimous pick to win first Big Ten crown ]
Johns Hopkins, the first sport affiliate member in conference history, was followed in the preseason poll by Maryland in second place, Penn State in third place, Ohio State in fourth place, Rutgers in fifth place and Michigan in sixth place.
Johns Hopkins made its record 42nd NCAA Tournament appearance last season and advanced to the quarterfinals. The Blue Jays are ranked No. 5 in the Nike/Lacrosse Magazine Preseason Top 20 poll.
The preseason poll and complete Players to Watch list can be found below.
2015 BIG TEN MEN?S LACROSSE PRESEASON POLL
(1) Johns Hopkins
(2) Maryland
(3) Penn State
(4) Ohio State
(5) Rutgers
(6) Michigan
2015 BIG TEN MEN?S LACROSSE PLAYERS TO WATCH
Ryan Brown, Jr., A, Johns Hopkins
Michael Pellegrino, Sr., LSM, Johns Hopkins
Wells Stanwick, Sr., A, Johns Hopkins
Kyle Bernlohr, Sr., G, Maryland
Matt Dunn, Jr., D, Maryland
Charlie Raffa, Sr., M, Maryland
Ian King, So., A, Michigan
Gerald Logan, So., G, Michigan
Mikie Schlosser, So., M, Michigan
Carter Brown, Jr., A, Ohio State
Robby Haus, Jr., D, Ohio State
Jesse King, Sr., M, Ohio State
JP Burnside, Sr., D, Penn State
Drake Kreinz, So., M, Penn State
TJ Sanders, Jr., A, Penn State
Scott Bieda, Jr., A, Rutgers
Brian Goss, Sr., M, Rutgers
Joe Nardella, Sr., M, Rutgers