BTN.com staff, BTN.com staff,

January 18, 2015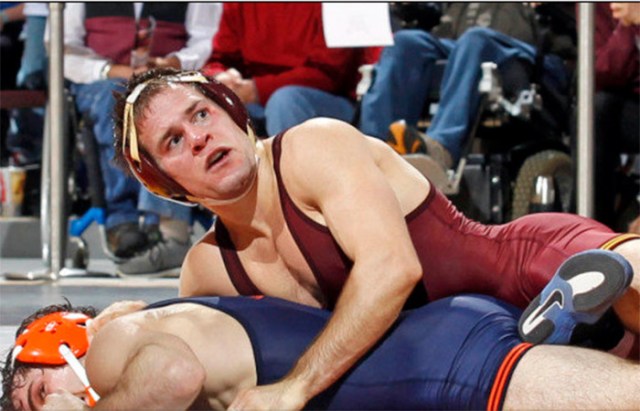 Bonus points in a pair of matches before the halftime intermission put the Gophers in position to win Sunday afternoon's dual, but an extraordinary comeback by No. 1 Chris Dardanes in his bout at 133 proved essential in top-ranked Minnesota holding off a late charge from No. 9 Illinois to win, 20-19.
The win keeps Minnesota undefeated this season, now 9-0 overall and 5-0 in the Big Ten. With the win, the Gophers have now won 28 of their last 29 duals, including their last 16.
Minnesota heads east for the second time this season for its next contest, a date with the four-time defending national champions, No. 6 Penn State, in State College next Sunday at 1 p.m. CT. The dual will be streamed live on BTN Plus, which requires a subscription. Updates will provided throughout the dual on the Gopher Wrestling Twitter feed and a full recap will be shared on GopherSports.com following the event's conclusion.
Read full GopherSports.com recap.
Match Results
165: No. 8 Jackson Morse (Ill) maj. dec. No. 17 Nick Wanzek (Minn), 12-1 / Minnesota 0 – Illinois 4
174: No. 3 Logan Storley (Minn) dec. No. 6 Zac Brunson (Ill), 7-3 / Minnesota 3 – Illinois 4
184: No. 11 Brett Pfarr (Minn.) dec. No. 20 Nikko Reyes (Ill), 6-2 / Minnesota 6 – Illinois 4
197: No. 1 Scott Schiller (Minn) maj. dec. Jeff Koepke (Ill), 14-4 / Minnesota 10 – Illinois 4
285: No. 12 Michael Kroells (Minn) maj. dec. Brooks Black (Ill), 9-1 / Minnesota 14 – Illinois 4
125: Dominic Olivieri (Ill) maj. dec. Jordan Bremer (Minn), 13-4 / Minnesota 14 – Illinois 8
133: No. 1 Chris Dardanes (Minn) dec. (SV-1) No. 5 Zane Richards (Ill), 12-10 / Minnesota 17 – Illinois 8
141: No. 4 Nick Dardanes (Minn) dec. No. 13 Steven Rodrigues (Ill), 9-4 / Minnesota 20 – Illinois 8
149: Kyle Langenderfer (Ill) fall (0:51) Seth Lange (Minn) / Minnesota 20 – Illinois 14
157: No. 5 Isaiah Martinez (Ill) tech fall (3:10) Brad Dolezal (Minn), 19-4 / Minnesota 20 – Illinois 19
NORTHWESTERN 37, INDIANA 9: Jason Tsirtsis improved his win streak to 40, Pierce Harger beat the fourth-ranked wrestler in the country by tech fall, and Northwestern (9-4, 1-3) received dominant performances across the board on its way to a 37-9 conference win at Indiana. Read full NUSports.com recap.
OHIO STATE 25, MICHIGAN 15: Four bonus-point victories, including each of the first three matches, lifted the fourth-ranked Ohio State wrestling team (7-3, 3-1) to a 25-15 victory over 16th-ranked Michigan (3-3, 1-2) in front of a sellout crowd at Cliff Keen Arena in Ann Arbor, Mich. Read full OhioStateBuckeyes.com recap.
PENN STATE 26, PURDUE 9: The Penn State Nittany Lion wrestling team, ranked No. 7 in the latest Intermat Tournament Power Index, took down Purdue for a Big Ten dual meet in front of yet another Rec Hall capacity crowd. The Lions, under the guidance of head coach Cael Sanderson, won seven of ten bouts to post a 26-9 victory in front of the 23rd straight home sell-out for Penn State. Read full GoPSUSports.com recap.
RUTGERS 24, MARYLAND 11: Four-straight wins to start the dual got No. 22 Rutgers rolling before redshirt sophomore 184-pounder Anthony Pafumi put a stamp on the first Big Ten win in program history, 24-11, Sunday afternoon against Maryland. Read full ScarletKnights.com recap.