Brent Yarina, BTN.com Senior Editor,

January 18, 2015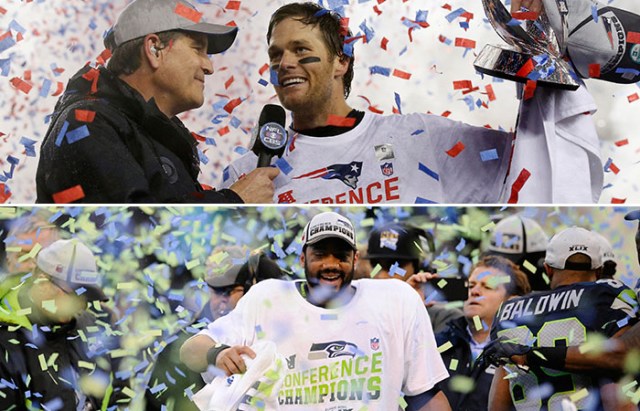 Super Bowl XLIX is set, and it will be Seattle vs. New England battling Feb. 1 in Glendale, Arizona.
That means we'll be treated to the first all-Big Ten quarterback Super Bowl, as Russell Wilson (Wisconsin) leads the Seahawks vs. Tom Brady (Michigan) and the Patriots.
Together, the two quarterbacks have won four Super Bowls, with Wilson claiming his first last season.
Wilson threw the game-winning touchdown in overtime to send Seattle past Green Bay in the NFC Championship Game on Sunday, while Brady threw three touchdowns and became the NFL's all-time postseason passing yards leader to help New England rout Indianapolis in the AFC Championship Game.
The Big Ten, which has had a quarterback in 16 of 49 Super Bowls, has put at least one quarterback in nine of the last 15 Super Bowls.
BIG TEN QBS SUPER BOWL BERTHS
6: Tom Brady, Michigan
3: Bob Griese, Purdue
2: Len Dawson, Purdue; Russell Wilson, Wisconsin
1: Earl Morrall, Michigan State; Tony Eason, Illinois; Kerry Collins, Penn State; Drew Brees, Purdue
Maryland's Boomer Esiason and Neil O'Donnell each made one Super Bowl.
See how all former Big Ten players performed on NFL Championship weekend.
SEATTLE
Cliff Avril, DE (Purdue): 3 tackles, 1 sack
Gary Gilliam, OT (Penn State): 1 rec., 19 yards, 1 TD
Tony Moeaki, TE (Iowa): N/A
O?Brien Schofield, DE (Wisconsin): 2 tackles
Russell Wilson, QB (Wisconsin): 14-29, 209 yards 1 TD, 4 INT; 7 car., 25 yards, 1 TD
Watch Wilson's overtime game-winning TD pass in the tweet below.
NEW ENGLAND
Tom Brady, QB (Michigan): 23-35, 226 yards, 3 TD, 1 INT
Alan Branch, DL (Michigan): 2 tackles
Jonathan Casillas, LB (Wisconsin): 2 tackles
Nate Ebner, DB (Ohio State): N/A
Duron Harmon*, DB (Rutgers): N/A
Michael Hoomanawanui, TE (Illinois): 1 rec., 6 yards
Devin McCourty*, DB (Rutgers): 1 tackle, 1 PD
Rob Ninkovich, DE (Purdue): 3 tackles, 2 PD
Logan Ryan,* CB (Rutgers): 2 tackles
James White, RB (Wisconsin): N/A
Tavon Wilson, DB (Illinois): 1 tackle
Tim Wright*, TE (Rutgers): N/A
GREEN BAY
Bryan Bulaga, OT (Iowa): N/A
Mike Daniels, DT (Iowa): 3 tackles
Bruce Gaston, DT (Purdue): N/A
A.J. Hawk, LB (Ohio State): 1 tackle
Micah Hyde, DB (Iowa): 1 tackle; 1 KR, 18 yards; 3 PR for 40 yards
Corey Linsley, C (Ohio State): N/A
Mike Neal, LB/DE (Purdue): 2 tackles
Andrew Quarless, TE (Penn State): 1 target
Scott Tolzien, QB (Wisconsin): N/AINDIANAPOLIS
Vontae Davis, CB (Illinois): 4 tackles, 1 PD
Boom Herron, RB (Ohio State): 10 car., 51 yards; 2 rec., 11 yards
D?Qwell Jackson*, LB (Maryland): 9 tackles, 1 PD
Jack Mewhort, OL (Ohio State): N/A
Shaun Phillips, LB (Purdue): 3 tackles
A.Q. Shipley, C (Penn State): N/A* — Denotes player who played at Maryland and Rutgers before they were a member of the Big Ten