Brent Yarina, BTN.com Senior Editor,

January 17, 2015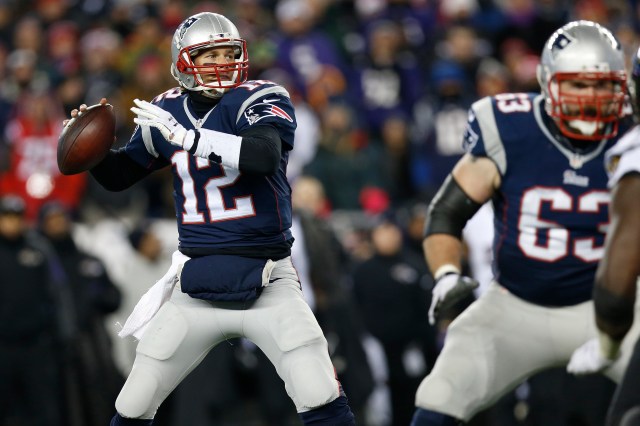 Twenty-seven former Big Ten football players are listed on active rosters for the AFC and NFC Championship games Sunday, according to team web sites.
New England quarterback Tom Brady (Michigan) and Seattle quarterback Russell Wilson (Wisconsin) highlight the list that includes representatives from seven Big Ten schools, not including Maryland and Rutgers, which don't boast any pros who played in the Big Ten.
Green Bay (9) and New England (8) feature the most ex-Big Ten players, while Indianapolis and Seattle both have five.
Seattle hosts Green Bay at 3:05 ET (FOX), and New England entertains Indianapolis at 6:40 p.m. ET (CBS).
See the full list below.
GREEN BAY (9)
Bryan Bulaga, OT (Iowa)
Mike Daniels, DT (Iowa)
Bruce Gaston, DT (Purdue)
A.J. Hawk, LB (Ohio State)
Micah Hyde, DB (Iowa)
Corey Linsley, C (Ohio State)
Mike Neal, LB/DE (Purdue)
Andrew Quarless, TE (Penn State)
Scott Tolzien, QB (Wisconsin)
NEW ENGLAND (8)
Tom Brady, QB (Michigan)
Alan Branch, DL (Michigan)
Jonathan Casillas, LB (Wisconsin)
Nate Ebner, DB (Ohio State)
Michael Hoomanawanui, TE (Illinois)
Rob Ninkovich, DE (Purdue)
James White, RB (Wisconsin)
Tavon Wilson, DB (Illinois)
INDIANAPOLIS (5)
Vontae Davis, CB (Illinois)
Boom Herron, RB (Ohio State)
Jack Mewhort, OL (Ohio State)
Shaun Phillips, LB (Purdue)
A.Q. Shipley, C (Penn State)
SEATTLE (5)
Cliff Avril, DE (Purdue)
Gary Gilliam, OT (Penn State)
Tony Moeaki, TE (Iowa)
O'Brien Schofield, DE (Wisconsin)
Russell Wilson, QB (Wisconsin)
Not to be ignored, Maryland's D'Qwell Jackson (Indianapolis) and Rutgers' Duron Harmon (New England), Devin McCourty (New England), Logan Ryan (New England) and Tim Wright (New England) also are on active rosters, but none played in the Big Ten.
BIG TEN PLAYERS BY SCHOOL
Illinois: 3
Indiana: 0
Iowa: 4
Maryland: 1
Michigan: 2
Michigan State: 0
Minnesota: 0
Nebraska: 0
Northwestern: 0
Ohio State: 5
Penn State: 3
Purdue: 5
Rutgers: 4
Wisconsin: 5