BTN.com staff,

January 15, 2015

As part of honoring Martin Luther King Jr. Day in 2015, Michigan State University will celebrate the one-year anniversary of Project 60/50.

Finding its title in the 60th anniversary of Brown v. Board of Education and the 50th anniversary of the Civil Rights Act of 1964, the goal of Project 60/50 was to engage the MSU campus and greater community in a broad range of civil and human rights conversations.

During the past 12 months, the program has featured more than 200 events, thousands of participants and over 20 corporate sponsors and community partners. Here's a breakdown of the first year of the program from the university: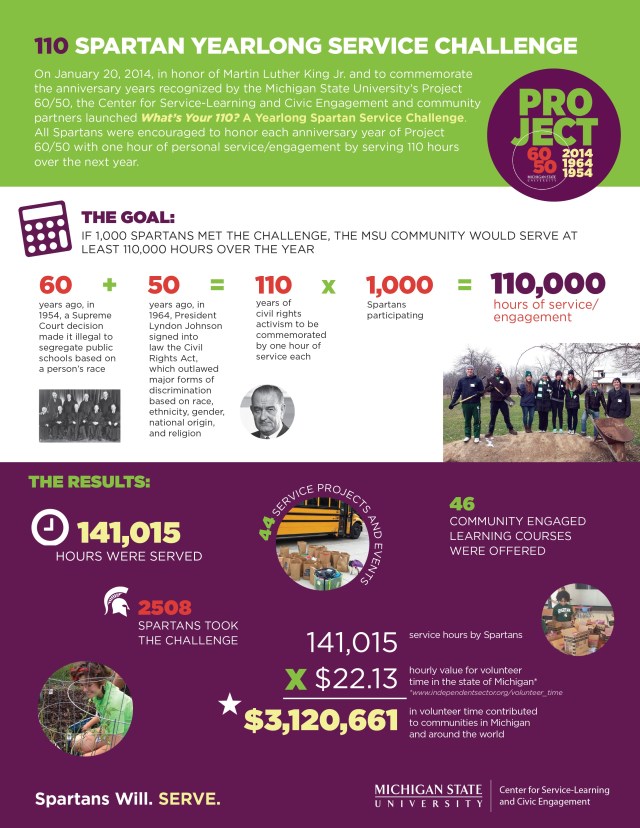 [btn-post-package]This weekend will also feature a number of special events to celebrate King's legacy. Below is a list of highlights. For a complete list, click here.
Saturday, Jan. 17
Project 60/50 Gala (by invitation only)
6 p.m., Huntington Club, Spartan Stadium
?Speaking Like King? slam poetry open mic night
9 p.m., International Center
Doors open at 8:30 p.m.
Sunday, Jan. 18
?Jazz: Spirituals, Prayer and Protest? concert with special guests Take 6
5 p.m., 8 p.m., Fairchild Theatre, MSU Auditorium
Tickets required
Monday, Jan. 19
?Acting Like King? Martin Luther King Jr. Student Leadership Celebration Conference
9 a.m. – 3 p.m., MSU Union
On-site service learning projects
9 a.m. to 2 p.m., Room 50, MSU Union
Service projects will take place honoring U.S. military active duty and veterans who have served our country.
Community resource fair
9 to 11 a.m., second floor, MSU Union
The fair will feature MSU and off-campus departments, organizations, community agencies and nonprofits.
?The Pursuit of Happyness?
11 a.m., Ballroom, MSU Union
Partial screening of film and community discussion.
Commemorative March for Justice
3 p.m., Ballroom, MSU Union
MSU Museum exhibits and special tour
3:45 p.m., MSU Museum
?Seeing China: Photographic Views & Viewpoints? and ?Growing Up Digital in Michigan and Morocco?