Jess Settles, BTN Basketball Analyst,

January 14, 2015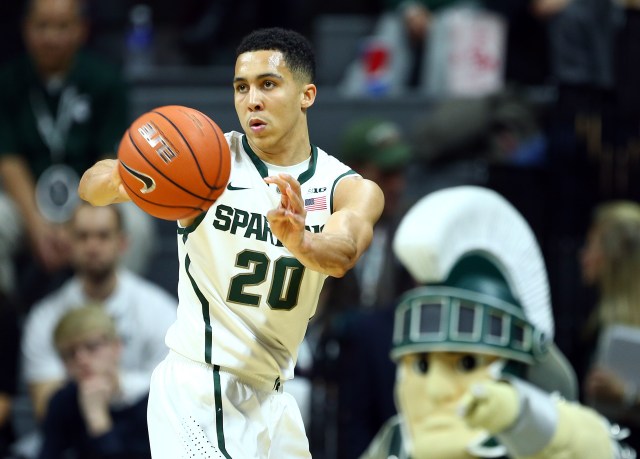 This week, I take a look at the white-hot Travis Trice, assess the many injuries across the Big Ten and provide a preview to a couple of Big Ten rematches.
[btn-post-package]
1. The Trice is right for Michigan State
I wasn?t the fan sitting courtside for the Michigan State-Iowa game who disrespected Spartans' senior guard Travis Trice. I was in the front row of the television table, center court, watching the game unfold at Carver Hawkeye Arena.
But I never saw Trice flinch from any kind of verbal abuse. He claims that the fan got him going. I did see Izzo bark at him a few times for missing an assignment and Trice shake his head as if to say, ?I?m tired of being criticized.?
Trice has been getting disrespected and criticized his entire career. It goes with the territory when you play guard for a high profile school like the Spartans. Magic Johnson played there. So did Mateen Cleaves, Eric Snow, Shawn Respert, Steve Smith, Garry Harris, Scott Skiles and an entire host of other elite players.
Trice doesn?t look like any of them physically. He?s been sick, injured, discouraged, and benched over his career, but like a true Spartan, he keeps coming back for more.
In Michigan State?s opening conference loss vs. Maryland, Trice was the closest defender to Dez Wells when Wells hit the 3-pointer to send the game to overtime. Against Indiana, the next game, he came off the bench. Against Iowa he, along with the rest of the Spartans, played what Tom Izzo described as the ?worst 10 minutes of basketball we played? to end the first half. During Michigan State's last victory, Northwestern?s Tre Demps had a 3-pointer at the end of regulation that would?ve won the game for the Cats.
But?s that?s only a very small piece of the story for Trice over the first four games of the conference season. It wouldn?t be far-fetched to say that he has been the Big Ten?s best player in conference play. Against Maryland, Trice erupted for 26 points and dished out six assists. In a beatdown of Indiana, he pulled down five rebounds and tallied seven assists. On the road against Iowa, he went ?Steph Curry? on us and put on one of the best shooting displays I?ve ever witnessed in person. Trice split the nets on four triples in a 3:12-spurt that put Michigan State ahead to stay, 58-51, after being down 11 points at halftime. Trice finished 7-of-8 from downtown on his way to 25 points. Against Northwestern, he once again led his team with 18 points while handing out 10 dimes.
Trice has played brilliantly. Since the start of Big Ten play, he is second in the league in scoring and first in assists, assist-to-turnover ratio, 3-point field goals and steals. The Spartans are 3-1 in the Big Ten and Trice was just named USBWA national player of the week. He may not look like the prototypical Spartan guard, but when he steps on the court, everyone now knows his name.
***
2. Injuries, and more injuries, across the Big Ten
It?s still early in league play, but the injury reports are beginning to resemble gridiron lists. Key players in the league have missed games or aren?t quite themselves this year, and it is beginning to alter the landscape of conference play.
Obviously, Frank Kaminsky?s concussion and Treavon Jackson?s foot injury contributed to the Badgers' loss at Rutgers, but it?s Jackson?s foot that now makes Wisconsin vulnerable. Jackson has been a big-time play maker down the stretch for Wisconsin over the last few years and may be gone for the season.
The Illini lost their steady point guard Tracy Abrams at the beginning of the year, and now with the loss of superstar Rayvonte Rice, Illinois is behind the 8 ball. Rice has an impact at both ends of the court. John Groce?s team will battle as hard as anyone, but those are tough losses to overcome.
Indiana?s Hannah Mosquera-Perea is out for Indiana, and although the Hoosiers have lots of firepower, it?s tough to win on the road when your bigs aren?t at full strength.
Speaking of bigs, Tim Miles and Nebraska can finally have a complete practice, with the return of insiders Leslee Smith and Moses Abraham. They should take a ton of pressure off of Terran Petteway and Shavon Shields.
Maryland star Dez Wells continues to gain confidence after his hand injury, but Michigan?s Derek Walton Jr. and Minnesota?s Andre Hollins continue to be inconsistent with foot injuries.
Northwestern?s Jershon Cobb played exceptionally well at Michigan State as he battles through injuries, and that is really good news for Cat?s fans. Chris Collins? team looked like world beaters with Cobb making plays. Michigan State?s entire team reads like a M*A*S*H* unit, but Branden Dawson?s wrist appears to be getting better, and he is the game changer for them.
The injuries have tightened the separation in an already close conference race.
***
3. Looking ahead to a couple of rematches
There are a couple of must-see revenge road games looming this weekend.
Over the previous two seasons, Iowa has had a 2-12 record against Big Ten foes in games decided by five points or less. This season, the Hawkeyes have already won two down-to-the-wire games at Minnesota and Ohio State. The Buckeyes get a chance for revenge Saturday in Iowa City. Sam Thompson and Shannon Scott are turning defense into offense as well as anyone in the Big Ten, and Iowa?s Jarrod Uthoff has been clutch of late, including the game-winner Tuesday at Minnesota.
Michigan State has had a week to rest, and now it takes on a talented Maryland team on the road. The Terps survived two overtimes to pull off an impressive road win at East Lansing in the Big Ten opener. Since then, the Spartans have rolled to three straight and Branden Dawson appears to be feeling better. Melo Trimble, Dez Wells and Jake Layman are difficult to stop, but it could be the bruisers Damonte Dodd and Gavin Schilling who decide this slugfest. Look for a lot of hard fouls, free throws and raw emotion as two of the league?s top two teams battle to keep atop the Big Ten.