Tom Dienhart, BTN.com Senior Writer,

January 14, 2015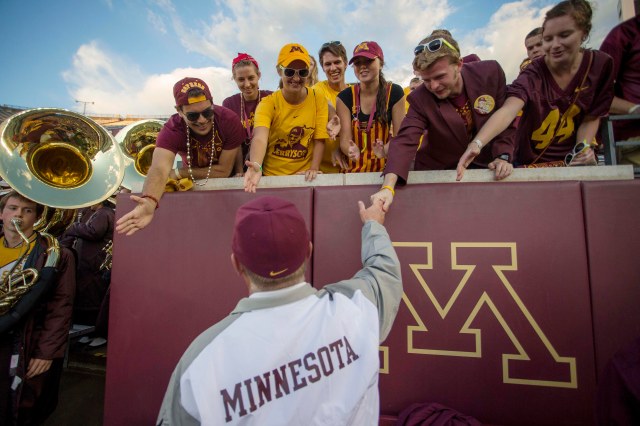 It?s never too early to look toward 2015 schedules, right? The Minneapolis Star Tribune took a gander at Minnesota's slate for next season. And, let?s just say that it?s mighty tough–maybe one of the most difficult in the nation.
It opens at home on a Thursday night vs. a TCU team that crushed Minnesota, 30-7, in 2014 and is projected by some to be the preseason No. 1 club. Wait, it gets tougher: There also is a date at defending national champ Ohio State, which also could be a preseason No. 1.
In addition to the tilt with the Horned Frogs, Minnesota also has a non-con visit to Colorado State, which was 10-1 and ranked 21st in the nation in 2014 before suffering two season-ending losses. And Frank Solich always has a salty team at Ohio, which has been to five bowls in the last six seasons.
As for Big Ten play, Minnesota may be favored in just three games-tops-in a league slate that has a cross-division game with Michigan and new coach Jim Harbaugh in addition to the visit to Columbus. Oh, and the Buckeye-Wolverine games are back-to-back.
Bottom line: Winning eight games for a third season in a row may be very difficult for Jerry Kill and Co.
Feel free to stick your head in a snow drift, Goldy.
Minnesota 2015 schedule
Sept. 3* vs. TCU
Sept. 12 at Colorado State
Sept. 19 vs. Kent State
Sept. 26 vs. Ohio
Oct. 3 at Northwestern
Oct. 10 at Purdue
Oct. 17 vs. Nebraska
Oct. 24 Off
Oct. 31 vs. Michigan
Nov. 7 at Ohio State
Nov. 14 at Iowa
Nov. 21 vs. Illinois
Nov. 28 vs. Wisconsin
*Thursday