Tom Dienhart, BTN.com Senior Writer,

January 11, 2015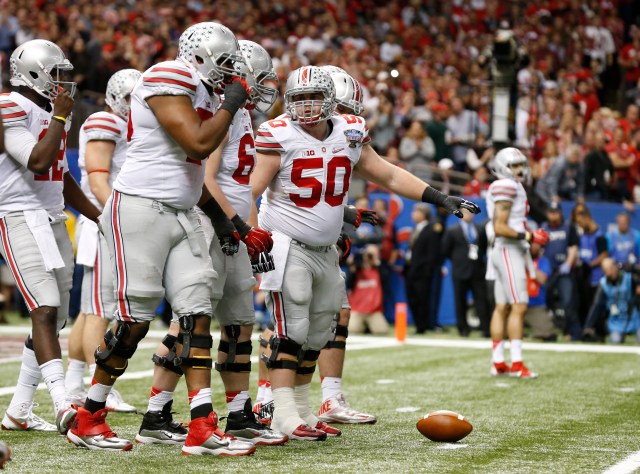 DALLAS — Ask most any Ohio State player or coach about what unit has progressed the most this season, and they?ll likely point to the offensive line.
The unit had to replace four starters from 2013. And there was some rough sledding early in the season. Witness the 35-21 home loss to Virginia Tech in the second game of the season.
But now, the front has come together to be a bona fide strength. Left tackle Taylor Decker has been the anchor all season as the lone returning starter. Pat Elflein has emerged as a star at right guard, with Billy Price at left guard, Darryl Baldwin at right tackle and Jacoby Boren at center for an offense that is No. 1 in the Big Ten in scoring (45.0 ppg) and yards (509.7 ypg).
I sat down with Boren, the 6-1, 285-pound junior, and asked him to break down his o-line buddies-in a fun sort of way.
[ MORE: Jacob Jarvis photo | OSU hype video | Ezekiel Elliott feature ]
[btn-post-package]
Tom Dienhart: Who is the toughest guy on the line?
Jacoby Boren: We all are pretty tough. But if I had to choose one, I?d probably give it to Pat (Elflein).
TD: Who do you want in a back-alley brawl?
JB: Probably Pat. He?s a blue-collar guy. I?d take him in a street fight. He might fight a little dirty. He?s a truck driver. I?m a snow-plow driver. We both listen to Bob Seger in the weight room. That?s how we do things.
TD: Who?s the strongest lineman?
JB: Darryl (Baldwin) has a pretty good bench. But overall, it?s Billy (Price). Their benches are pretty similar, but Billy overall is the strongest.
TD: What does he bench? In the 500-pound range?
JB: Probably. You can ask him. I will. Billy, how much do you bench?
Billy Price: A lot.
JB: There you go.
TD: Who is the fastest lineman?
JB: That one is Darryl for sure. Show him your ?speed? calves, Darryl. (Baldwin lifts a pant leg to reveal a bulging calf. It is impressive.) Looks a little ashy. But he runs about a 4.7.
TD: If the staff wanted to put the ball in the hands of one lineman to run a play, who would it be?
JB: If anyone could scheme up a play, it would be Billy at quarterback. He?s like a skill guy at heart but has a lineman?s body. If he could, he?d wish to be a skill player.
TD: Who?s the biggest lady?s man?
JB: I?d say Taylor (Decker) or Darryl. But I guess I?d go with Darryl. He?s the biggest lady?s man.
TD: Who is the nerd of the group?
JB: Billy, for sure. He has Calculus classes. I?d say he?s the biggest nerd of the bunch.
[ MORE: Chris Ash Q&A | Ohio State gallery | See title game uniforms ]
TD: Who eats the most?
JB: I don?t think you can give that to anyone specifically. That will be pretty even across the board. We all eat a lot. We go out once or twice a week as a group. Get a nice steak, Chipotle or Five Guys.
TD: What is your favorite place to dine?
JB: Chipotle or Five Guys is our most common spot.
| | |
| --- | --- |
| About Tom Dienhart | BTN.com senior writer Tom Dienhart is a veteran sports journalist who covers Big Ten football and men's basketball for BTN.com and BTN TV. Find him on Twitter and Facebook, read all of his work at btn.com/tomdienhart, and subscribe to his posts via RSS. Also, send questions to his weekly mailbag using the form below and read all of his previous answers in his reader mailbag section. |
And if you want to leave a comment on this post, use the box below. All comments need to be approved by a moderator.