Tom Dienhart, BTN.com Senior Writer,

January 11, 2015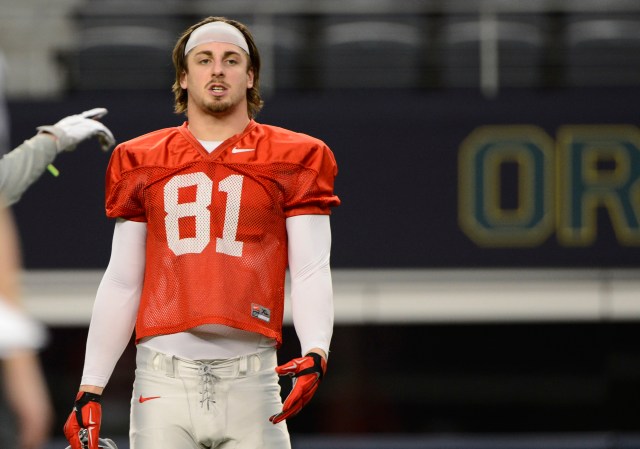 DALLAS - The X-factor.
Every game has one. The X-factor can be the determining ingredient in the outcome of a contest. What?s the potential X-factor for Ohio State in its quest to beat Oregon on Monday night and win the national championship?
[ MORE: Jacoby Boren Q&A | OSU hype video | Ezekiel Elliott feature ]
[btn-post-package]
The tight ends: Jeff Heuerman and Nick Vannett.
?I think so,? said Vannett. ?There are areas we can expose in their defense, especially in the second level. But you never really know what to expect, like the defense Virginia Tech played against us. If it?s there, me and Jeff will be ready to expose it.?
Few teams have not just one-but two-tight ends of this ilk. They are mismatches waiting to happen for most defenses. Linebackers typically can?t keep pace with Heuerman and Vannett-and defensive backs lack the size and strength to deal with them.
?They both are good football players,? said tight ends coach Tim Hinton. ?They both do their job well. And they are tremendously selfless. We have asked them to do a lot of protections that tight ends don?t normally do. But it got us to the game.?
The 6-5, 255-pound Heuerman, a senior, is a physical freak who has the second-highest vertical on the team (36.5 inches). He has 17 catches for 207 yards and two touchdowns this season. His best game in 2014 was vs. Indiana, when he had five receptions for 74 yards and a score. But it?s not known how big of a role he?ll play vs. Oregon after hurting an ankle vs. Alabama in the Sugar Bowl. Vannett stepped in and played well.
The 6-6, 260-pound Vannett, a junior, is as freaky as Heuerman from a physical standpoint. He has 17 grabs for 211 yards and four scores. Vannett?s top game was a four-catch effort for 40 yards vs. Kent State.
In its last game, Oregon did a good job in the Rose Bowl containing standout Florida State tight end Nick O?Leary, who had just one catch for four yards. He entered the game with 47 catches for 614 yards and six touchdowns.
?They did a nice job vs. O?Leary last week,? Hinton said. ?They did a good job taking him out of the game. You could tell they game-planned to do that.?
What has Hinton seen on film from Oregon when it comes to defending tight ends?
?The one thing you know about game-planning, you don?t know what you are getting,? Hinton said.
So, stay tuned.
But how can the Ducks possibly deal with Ezekiel Elliott, Michael Thomas, Jalin Marshall, Devin Smith, Evan Spencer and Cardale Jones-among other weapons? In addition to these tight ends?
?There are some games when (our tight ends) had seven or eight catches-because that?s what the game presented,? Hinton said. ?In every defense, you draw up 11-on-11. There is a strength and weakness to the defense. If the weakness of that defense dictates that the tight end will get the ball, let?s go. If the defense calls for the guys to block, let?s block ?em.?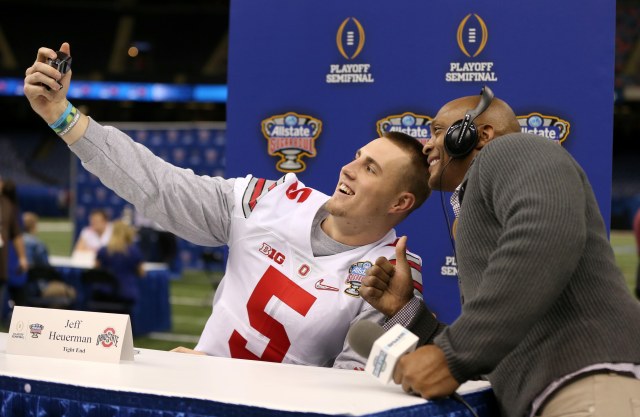 So, Ohio State will have to wait and see how Oregon will choose to defend its offense. In the meantime, Hinton will have his tight ends ready.
?Jeff is a really good in-line guy,? Hinton said. ?He?s good with his hands. He?s a strong run blocker and outstanding in pass protection and is good on the underneath throws. He is kinda struggling to get some of his speed back from a year ago because of his injury, but he will have it.
?Nick is more of a vertical threat down the field. He runs a little better and is getting better every day at point-of-attack blocking but has not been as good as Jeff.?
So, on Monday, keep an eye on No. 5 (Heuerman) and No. 81 (Vannett). They could be primed to play key roles for the Buckeyes-especially in the red zone and on third downs to move the chains as underneath options for Jones.
?We will be ready,? Vannett said.
| | |
| --- | --- |
| About Tom Dienhart | BTN.com senior writer Tom Dienhart is a veteran sports journalist who covers Big Ten football and men's basketball for BTN.com and BTN TV. Find him on Twitter and Facebook, read all of his work at btn.com/tomdienhart, and subscribe to his posts via RSS. Also, send questions to his weekly mailbag using the form below and read all of his previous answers in his reader mailbag section. |
And if you want to leave a comment on this post, use the box below. All comments need to be approved by a moderator.