Tom Dienhart, BTN.com Senior Writer,

January 11, 2015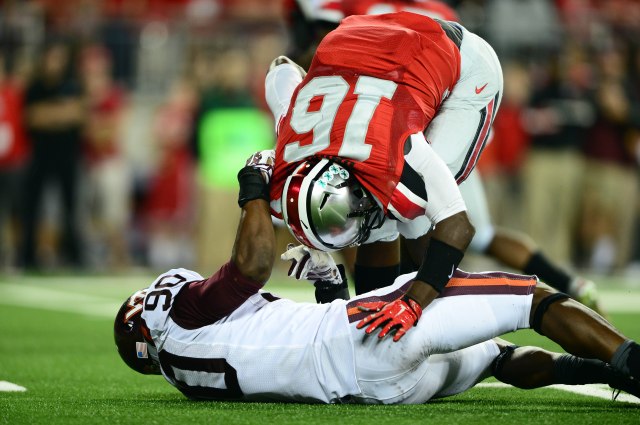 DALLAS - The sting still rings. It won?t go away. It is the game that almost kept Ohio State from landing a playoff spot. It?s the game that the Buckeyes still don?t like to discuss. It?s the 35-21 loss to Virginia Tech in the second game of the season.
?That was the turning point of the season,? said Ohio State wideout Devin Smith.
[ MORE: Jacob Jarvis photo | OSU hype video | Ezekiel Elliott feature ]
The Buckeyes' surprsing loss to Virginia Tech in the infancy of this season is a big reason why the Buckeyes are here playing for the national championship.
[btn-post-package]
?It is hard to talk about,? said Ohio State?s Jalin Marshall. ?You never wanna talk about a loss. But if it wasn?t for that, we wouldn?t be where we are. We had a young team and made some young mistakes. It had a lot to do with us getting here. It was in the back of our mind all season.?
Let?s travel back to Sept. 6. It was a night game. The Hokies were in Columbus to face a 1-0 Ohio State squad that had opened the season with a win vs. Navy under first-time starting quarterback J.T. Barrett.
Barrett was filling in for Braxton Miller, who was lost for the season with a shoulder injury suffered in August. Could Barrett really lead this team?
He looked solid vs. the Midshipmen, hitting 12-of-15 passes for 226 yards with two touchdown passes and an interception, to go along with a team-high 50 yards rushing. But Virginia Tech would figure to be a tougher test. It was.
Barrett floundered vs. the Hokies, hitting just 9-of-29 passes for 219 yards with one touchdown and three interceptions-the last of which was returned 63 yards for a touchdown to ice the game for Tech after the Buckeyes had forged a 21-21 tie early in the fourth quarter.
Barrett also ran 24 times for 70 yards and a score, averaging just 2.9 yards per carry as he was sacked seven times and pressured numerous others.
?What happened?? asked Smith. ?They beat us. They played harder than us.
?I don?t think there was doubt. We just had a bunch of players who were young and didn?t understand what it took. We didn?t take things for granted, but we weren?t very good at that time.?
The statistics in this game were pretty even, as OSU out gained Virginia Tech, 327-324. The big difference was on third downs. The Hokies converted 9-of-17. The Buckeyes converted just 4-of-16.
"I'm a little bit surprised. I thought our skilled guys would perform better, I thought we'd protect a little better," Ohio State coach Urban Meyer said at the time. "Coaches don't get surprised, we get disappointed. Obviously, we've just got to work a little harder."
Credit Tech quarterback Michael Brewer, who completed 23-of-36 passes for 199 yards with two touchdowns and two picks. He was a big difference in this contest.
"It's not the last game of the season," Ohio State tight end Jeff Heuerman said afterward. "There's a long way to go to finish out. Coach Meyer's message after the game is there's a lot to accomplish but we have to accomplish it at 11-1."
[ MORE: Rich Rodriguez on how to beat Oregon | Michael Bennett on No. 53 ]
What made the loss even more maddening over time was the fact the Hokies were an average team at best. In fact, Virginia Tech lost the next week at home to East Carolina on the way to finishing the regular season 6-6.
"There are some weaknesses right now on our team and it was rather obvious what (they are)," Meyer said in the aftermath. "We can play better on both sides."
OSU did play better. A lot better. The Buckeyes wouldn?t lose again, winning 12 in a row and getting stronger week by week. How on god?s green earth did Ohio State lose that game?
?We had four new offensive linemen,? said Ohio State tight end Nick Vannett. ?That was the one position group we were most worried about back in the spring. We started slow in that area. But that unit really came together. They have great chemistry.?
The team seemingly has formed a bond that will make it difficult for Oregon to beat on Monday night in Cowboys Stadium.
?I think you learn the most when you lose, more so than when you win,? said Vannett. ?We sat back and looked at what we needed to work on if we were gonna win out. The attitude was great after that, the will to work and improve. That?s how we got here.?
| | |
| --- | --- |
| About Tom Dienhart | BTN.com senior writer Tom Dienhart is a veteran sports journalist who covers Big Ten football and men's basketball for BTN.com and BTN TV. Find him on Twitter and Facebook, read all of his work at btn.com/tomdienhart, and subscribe to his posts via RSS. Also, send questions to his weekly mailbag using the form below and read all of his previous answers in his reader mailbag section. |
And if you want to leave a comment on this post, use the box below. All comments need to be approved by a moderator.