BTN.com staff,

January 11, 2015

Inspired by their experiences in college and elsewhere, these Pathfinders are passing by the typical, well-trod career paths and blazing their own trails. We?ll explore the unconventional approaches these Big Ten alums are taking to work.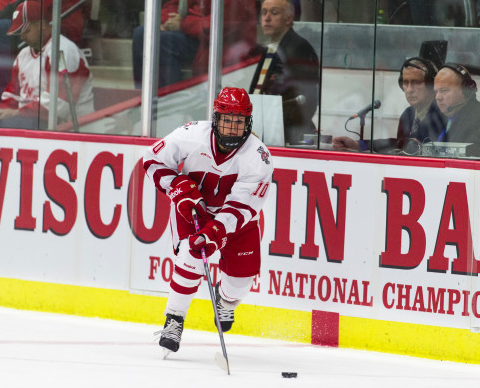 In Swahili, the phrase nikumbuke means ?remember me.? When Brittany Ammerman, a student-athlete at the University of Wisconsin, traveled to Kenya to be part of Health by Motorbike, she had no idea she would do something that would make many women in that country remember her.
Health by Motorbike, a non-profit founded by Wisconsin professor Dr. Araceli Alonso, provides health education and services to women in rural Kenya. Ammerman, a senior and women?s hockey player for the Badgers, went on a trip to that nation in 2013 to volunteer with the organization and fulfill requirements for her minor in global health
To help pass the time, Ammerman bought a soccer ball to play pick-up games with fellow volunteers and anyone else who might want to join in. What she didn?t foresee was the degree to which many of the Kenyan women would take to the sport. They quickly picked up the rules and fundamentals and got into the fast-paced, competitive contests.
As the popularity of the game spread from village to village, a few women eventually asked Alonso if Health by Motorbike could help them establish a soccer team. Ammerman stepped up to raise money for equipment and supplies, and the Nikumbuke Women?s Soccer League was born.
Two teams currently play once a month, but five other villages have asked to be a part of the league. That went beyond the existing scope and resources of Health by Motorbike, but Ammerman pledged her support and began working to raise enough money for seven total teams.
To do that, she decided to aim high.
?I just basically cold-called or e-mailed a bunch of these women that played on the 1999 [U.S.] Women?s World Cup [championship] team,? Ammerman said. ?They were my idols growing up.?
Soccer star Julie Foudy responded to Ammerman?s e-mail, and now the two are in regular communication regarding fundraising efforts for the league. Foudy helped reach out to her network of contacts, and she also hosted an auction on Twitter. With a high bid of $3,600, the winner took home a signed U.S. women?s national team jersey and other sports memorabilia.
The main effort, however, is a 45-day fundraiser via crowdfunding site Indiegogo that ends on Jan. 15. Ammerman?s initial goal was to raise a minimum of $10,000, and at press time, she?d exceeded $15,000.
Supporters have the option to donate at different levels. A $72 contribution provides one player with a jersey, soccer ball, cleats, socks and shorts. A $108 donation provides one player with those items plus a soccer bag, shin guards and improved field conditions. The funds raised will also help Ammerman return to Kenya during Spring Break in March.
[btn-post-package]?The ideal plan is to go there for that week, give them all their stuff, have them play each other and then crown a Nikumbuke World Cup champion,? Ammerman said.
Additional funds will help the league provide transportation and, hopefully, equipment for future teams.
?Say Health by Motorbike picks up more villages,? Ammerman said. ?Then we?ll add it, or maybe we?ll go to a new area of southeastern rural Kenya and get another group of tribes and villages involved, and then we can have different parts of the league. That?s how we envision it.?
Ammerman will graduate in May with a degree in women?s studies. Her plan is to apply to medical school while continuing to support the Nikumbuke league.
?I?m obviously very connected to it,? she said. ?I don?t think I could ever see myself just giving it up or passing it along. Hopefully, whatever I go on to do - [becoming] a surgeon is the plan - I?ll be able to continually go back to this area and keep the soccer league going.?
By Laura Depta