Jess Settles, BTN Basketball Analyst,

January 7, 2015

This week, I'm taking a look at Maryland's talented trio of stars, the Big Ten's top sixth men and Ohio State's resurrected defense.

Get my latest takes below.

[btn-post-package]

Go ahead, try and pick Maryland's top player

Who is Maryland?s best player? Think hard about this. Who is Maryland?s most valuable player? In whose hands do you want the ball with the game on the line? Who would you choose to take the last shot? Who is their hardest player to defend? Is there one player Maryland can?t afford to lose?

If you answered Dez Wells more than once, you would probably be right. He hit the biggest 3-point shot of the young Big Ten season, sending Maryland to overtime and to a victory in its Big Ten debut at Michigan State.

Wells, averaging 14.9 points, 4.9 rebounds, 3.3 assists and 1.6 steals, is a combination of quickness, confidence and power, and he puts a ton of pressure on defenses every game. He can posterize any lackadaisical defender.

That being said, Maryland won a tournament in Kansas City against Iowa State with Wells struggling from the floor and sitting with foul trouble. It also won at Oklahoma State with Wells injured and in street clothes.

If Melo Trimble gets your vote, your reasons would be legit. The freshman point guard has been better than advertised and is one of the top young guards in the country. He parades to the free-throw line, leading the nation in made free throws (106).

Trimble leads the team in scoring (16.2) and is a great rebounder for a guard (4.1). But he has been struggling with his shot to start league play, going 7-of-28 from the field (25 percent), including a broken 2-of-16 (13 percent) from 3.

If Jake Layman fits your criteria, you wouldn?t be wrong. He has been brilliant at times, averaging 14.7 points and 6.3 rebounds. Layman has led Maryland in scoring four times, and topped it in rebounds six times. When Wells fractured his wrist, everyone thought Maryland would struggle, but Layman thought otherwise. Few had heard of him before the season, but we all have now. He was named the Big Ten?s Player of the Week after his incredible 21-point, 11-rebound performance in a win at Oklahoma State.

Big Ten play has been another story, though. At Michigan State, he only took four shots on his way to four points, and vs. Minnesota he took seven shots, scoring 12 points. Maryland has to find a way to keep him aggressive with the return of Wells.

And so it goes. All three guys have been on my weekly player rankings at some point this season. I?m as confused as the rest of you!

No matter who you pick, all three have played a significant role in guiding Maryland to a 14-1 record, including a 2-0 start in Big Ten, and its No. 9 ranking.

This team has taken the college basketball world by surprise because they are talented, deep and playing great defense. The Gophers were 3-of-22 from downtown against Maryland; the Spartans were 5-of-22

Against Minnesota, it was center Damonte Dodd?s nine points and 12 rebounds that stood out. Against Iowa State, it was the length of Michal Cekovsky that bothered the Cylones forwards at the defensive end.

This team can beat opponents in so many ways. Consider this: Maryland?s already had 5 different leading scorers, and seven different leading rebounders in only 15 games. When was the last time you watched a great team do the latter?

Mark Turgeon is my early favorite for National Coach of The Year.

***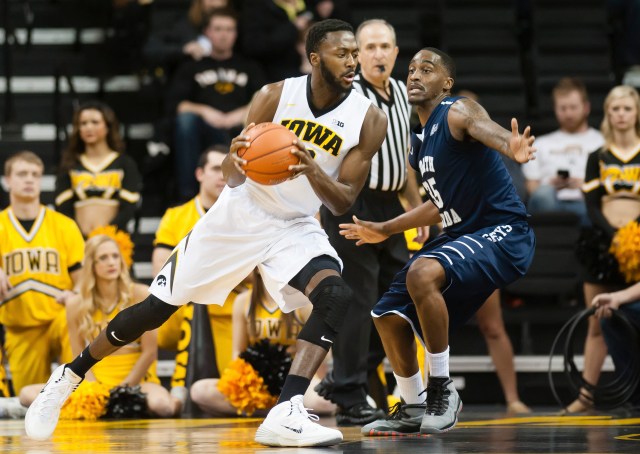 Time to start looking at the Big Ten's top sixth men
In honor of the defending Sixth Man of the Year, Wisconsin?s Nigel Hayes, I want to put a quick spotlight on four guys coming off of the bench for current undefeated Big Ten teams who have had a sudden impact to open Big Ten play.
The list includes: Wisconsin?s Duje Dukan, Iowa?s Gabe Olaseni, Purdue?s A.J. Hammons, and Maryland?s Evan Smotrycz.
While Hayes has worked hard to become one of the top players in the league, Dukan, a fifth-year senior, has remained patient and is rewarding Bo Ryan with a stellar season. He scored 14 points in the Badgers' blowout of Northwestern, in only 23 minutes, and is adding more gray hairs to opposing assistant coaches who have to game plan for the 4th-ranked Badgers.
I had two opposing assistant coaches tell me that if they could steal one player off Iowa?s team it would be Olaseni.
?He changes the game at both ends of the floor,? one said. Olaseni has already stated publicly that his goal for this season is to win Sixth Man of the Year. His career-high 18 points against Nebraska sent a message that he is serious.
It?s weird to think of Hammons as a Sixth Man of the Year candidate, but that?s how Purdue is currently using him. Hammons has 60 career starts, but he has been backing up freshman Isaac Haas, and the results have been a 2-0 start in Big Ten play. Hammons went "old school" against Michigan, with 15 points and 11 rebounds, his 11th career double-double.
Smotrycz continues to get in shape after missing eight games with a foot injury. He was supposed to be one of Maryland?s top offensive weapons this season, but has settled in nicely as the sixth man. The dangerous stretch-four scored nine points in Maryland?s win at Michigan State and will play a larger role for the Terps as the season continues.
***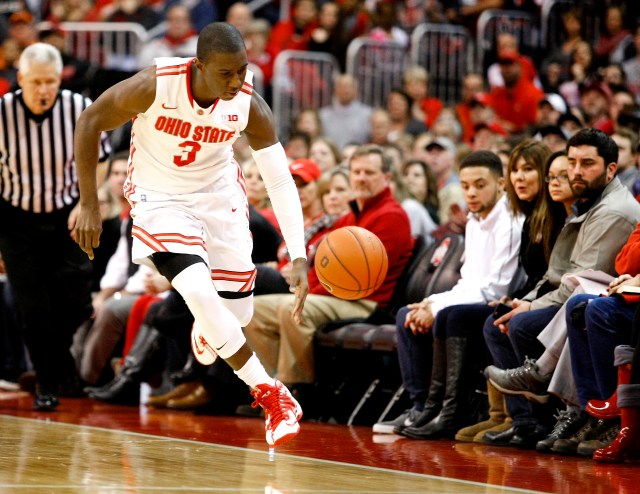 The Resurrection of Ohio State's defense

When Ohio State was dominated at Louisville, I chalked it up as ?a tough road game where most visiting teams will get exploited.? When I saw on the BTN highlights that the Buckeyes had fallen behind North Carolina by 18 points on a neutral court, I wondered if a key Ohio State player was inactive.
North Carolina, a team with only one decent shooter, All-American candidate Marcus Paige, was lighting up the Buckeyes, only a few games after Iowa had held UNC to 27.9 percent from the field on its own court. Michael Jordan?s Tar Heels, they are not. Yes, Aaron Craft, the best defensive guard the Big Ten had witnessed in years, had finally graduated, but Shannon Scott and Sam Thompson are no slouches.
What happened? The tape doesn?t lie, so I hit the film room to find the answer. As a player, assistant coach, head coach, and now analyst, I sometimes have a Peyton Manning-type addiction to breaking down game tape. I am my own video coordinator (My daughters are still upset with me for recording a game over their beloved ?Frozen?).
It took me a few minutes to diagnose the problem. In all the years I?ve spent studying, I have never witnessed a more vulnerable and lethargic 2-3 zone defense than the one the Buckeyes were playing. Arguably the league?s best defensive team from a year ago was getting picked apart defensively. It was just too easy.
Zone defense is very challenging to execute, and if all five defenders aren?t guarding as one, it breaks down quickly. The guards at the top of the zone have to work harder and smarter in the zone on many possessions than they do playing man-to-man. With the mad bombers floating around the perimeter that most teams now have, the days of "resting" your guards in a zone are long gone. Guards have to keep the ball out of the high post as well as close out on shooters. They have to stay in a defensive stance, consistently keeping their numbers to the baseline, communicate, and keep their heads on a swivel at all times, while at the same time keeping their hands active.
With all due respect to freshman sensation D'Angelo Russell, he is a major liability at the top of the zone. I doubt he has ever played zone in his life before this year.
And what about rebounding? The idea that it is difficult to rebound in a zone is partially true, but how do you explain not checking out the man standing right next to you? The Buckeyes rarely check out. There really are no excuses for not checking out, whether you're playing zone or man.
Russell doesn't block out on most possessions, and although Amir Williams has improved, he doesn?t play hard on every possession and likes to tip balls instead of fundamentally blocking out and pulling in rebounds. Any center who runs hard is going to beat him down the floor.
There are times against Louisville and UNC when it appears Ohio State is playing defense with only three defenders. On Louisville?s first basket, it easily passed the ball to the high post and then dumped the ball to the block for a layup. On its second basket, it tossed an alley-oop behind the zone for an And-1 dunk. On Louisville?s third basket, Scott and Williams forgot to block out, and on its fourth score, Russell is so far out of position in the lane, Chris Jones hit a wide open 3-pointer.
Against North Carolina, starting 1:30 into the first half, Ohio State played it worst defensive possession of the season. Off of a fastbreak, J.P. Tokoto pulled up and missed a wing jumper. Scott makes a half-hearted effort to block out on the opposite block, Williams turns around in the paint and makes little effort to block out, Marc Loving doesn?t block out, either, and Loving and Williams play the tip drill game. Russell stands and watches the action, and Thompson starts to cherry pick instead of staying home to see if Ohio State secures the rock.
Carolina comes up with the rebound, kicks it out and starts to break down the leaky zone. UNC easily gets the ball to the high post, as Russell takes his eyes off of Paige, who slips to the top for an open 3-pointer. Russell and Williams once again have no interest in blocking out and even though the loose ball bounces toward Russell, he begins to move toward the offensive end, expecting Williams to grab it and throw to him to start the fast break. Williams doesn?t get to the ball. Offensive rebound No. 2 for Carolina.
Tokoto once again ends up with the ball on the wing, but this time he lobs it to Brice Johnson, who catches it in the air and dunks on Scott. Welcome to SportsCenter?s top 10, Johnson, and welcome to another prime-time loss for Ohio State.
With conference play opening up at home against Iowa, it was obvious what Ohio State needed to do to the Hawkeyes to shut them down: play aggressive half court man-to-man, harassing their guards and forcing them into bad shots on the road. This is a Hawkeye team that two games earlier made three baskets in the second half against Northern Iowa and who has struggled mightily to find quality shots.
It?s not that Iowa can?t shoot, but its offensive statistics were the worst in the league because it hates pressure and it couldn?t beat athletic teams off of the dribble. Dominant offensive rebounding and parading to the free-throw line have been their anchors so far.
The cure for their ailing offense? Play Ohio State?s zone defense. Iowa scored on nine of its first 10 possessions in the first half, shot 50 percent and came up with nine easy offensive rebounds. Jarrod Uthoff hit 4-6 wide open 3s on his way to being named Big Ten Player of the Week.
Once again, the Buckeyes high post was open for business, and the Hawkeyes put on an offensive clinic. Very late in the game Ohio State played man for the first time all season. Uthoff made a high-degree-of-difficulty fader, and the Hawks didn?t even get a shot off the second time. But it was too little, too late.
If Buckeyes fans could see a highlight film of their defensive transition, rebounding and breakdowns against Iowa, they would weep.
So, in a must win home game vs. Illinois, the Buckeyes once again found themselves in big time trouble. Rayvonte Rice and the Illini were teeing off on the Buckeye zone on their way to eight first-half triples and a 37-36 lead.
I?m going to go out on a limb and guess Ohio State has never trailed at half shooting 59 percent from the floor. And then something amazing happened. At halftime, Matta scrapped the zone. Without practicing man-to-man for most of the year, he adjusted his defense.
Defense became personal again. The Buckeyes were sprinting, attacking, hedging and competing like they were capable of. They went on a 15-0 run and shut down Illinois. And, while the rebounding wasn?t perfect, the energy went up tenfold.
A new season had begun for Ohio State, which crushed Illinois in the second half and took its ?new team? on the road and won an overtime thriller Tuesday night at Minnesota. Their defensive energy was outstanding, and they never played a possession of zone.
It was Scott, an excellent defender, who came up with the steal of DeAndre Mathieu to seal it late. That would?ve never happened in their zone.
Russell looked like one of the best players in America on his way to 27 points. His passion and passing is contagious. Thompson was jumping out of the gym at both ends of the floor. Williams played with a chip on his shoulder. Loving was attacking. The entire team was having fun and it looked like contenders.
That said, Williams and Russell have to continue to get better defensively, and Ohio State has to survive three out of its next four on the road.
Still, the improvement was obvious. Matta, one of the best coaches in the country, has the championship rings to prove his excellence. He will continue to add wrinkles to his potent offense, but the Buckeyes defense has been resurrected. That?s scary news for the rest of the league.