Tom Dienhart, BTN.com Senior Writer,

January 6, 2015

The breakdowns and analysis of the national championship game have begun in earnest. Who has the better offense? Defense? Special teams?

[ MORE: Bowl schedule | Mark May photo | Ex-Buckeye picked title game ]

If you have had your fill of the ?hard-core? analysis, check out this more whimsical comparison of Ohio State and Oregon.

For the record, the selections for each school, state, etc. are my favorites, not necessarily the most popular pick.

BIGGEST QB BUST
Oregon: Joey Harrington
Ohio State: Art Schlichter
EDGE: Ohio State. Schlichter is one of football?s all-time tragic figures, a gambling degenrate who has cut a destructive wake. Harrington's crime? He just couldn't play.

BEST MOVE FILMED IN-STATE
Oregon: ?Animal House?
Ohio State: ?Shawshank Redemption?
EDGE: Oregon. Bluto vs. Andy Dufresne. A fraternity vs. a prison. C?mon.

TV SHOW
Oregon: Portlandia
Ohio State: Family Ties
EDGE: Ohio State. A sketch comedy that parodies life in Portland or a comedy set in a Columbus suburb about 1960s flower children raising a Reagan-worshipping money loving son? I?ll take Alex P. Keaton and his tweed jacket. Thank you.

BEST RESTAURANT
Oregon: McMenamins
Ohio State: Frisch?s Big Boy
EDGE: Ohio State. The Big Boy Platter has no peer when it comes to delicious empty calorie, double-hamburger patty goodness. Go ahead and add a piece of coconut cream pie!

BEST UNIFORM TRAIT
Oregon: Chrome helmets
Ohio State: Buckeye helmet stickers
EDGE: Ohio State. A lean to the tradition of the Buckeye leaves, a part of college football lore. The chrome is a bit kitschy and should be left to Harley-Davidson bolt-on parts and tire rims.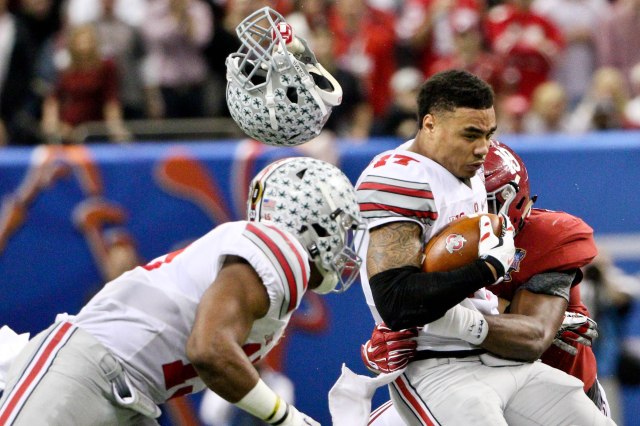 BEST SCHOOL SONG
Oregon: ?Mighty Oregon?
Ohio State: ?Carmen Ohio?
EDGE: This is a push. They both warm the soul and move the heart.
BEST RIVER
Oregon: Willamette
Ohio State: Olentangy
EDGE: Oregon. The Willamette is a tributary to the mighty Columbia River. Enough said. But it sure is fun to say "on the banks of the Olentangy" when at Ohio State.
TRADITION
Oregon: Making the ?O? gesture
Ohio State: ?Hang on Sloopy?
EDGE: Ohio State. The Shoe rocks when The McCoys anthem is blared by TBDBITL. You just HAVE to sing along.
STADIUM
Oregon: Autzen
Ohio State: Ohio
EDGE: Oregon. Autzen is a wall of sound on Saturdays, a cacophony of distortion and noise that unnerves visitors.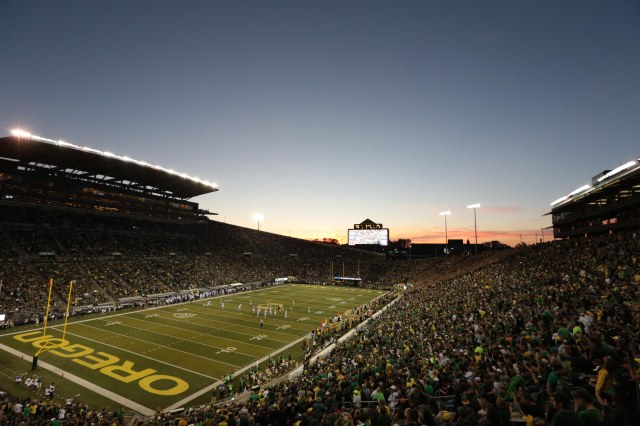 TOP COACH
Oregon: Rich Brooks
Ohio State: Woody Hayes
EDGE: Ohio State. The ?O? ball cap, the red windbreaker, the Clubmaster glasses. It?s Woody and his whistle.
CAMPUS
EDGE: Oregon. Situated amid the pine trees and not far from the rugged Pacific coast line and mountains, this place should be on a postcard.
MASCOT
Oregon: The Duck
Ohio State: Brutus
Edge: A Duck? Who fears a Duck? Even if it?s a fighting Duck? Brutus would take its lunch money every day.
ALUMNI
Oregon: Phil Knight
Ohio State: Jack Nicklaus
EDGE: Oregon. Knight takes this one based on his wrap-around shades and to-die-for collection of $100 sneakers.
| | |
| --- | --- |
| About Tom Dienhart | BTN.com senior writer Tom Dienhart is a veteran sports journalist who covers Big Ten football and men's basketball for BTN.com and BTN TV. Find him on Twitter and Facebook, read all of his work at btn.com/tomdienhart, and subscribe to his posts via RSS. Also, send questions to his weekly mailbag using the form below and read all of his previous answers in his reader mailbag section. |
And if you want to leave a comment on this post, use the box below. All comments need to be approved by a moderator.