BTN.com staff,

January 5, 2015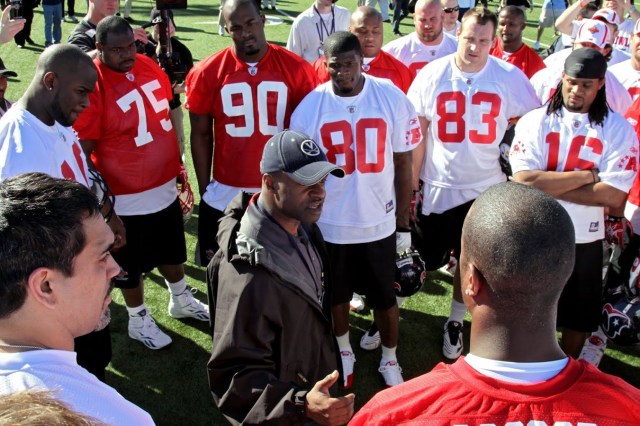 Decades ago, before there were collective bargaining agreements, television rights mega-deals and a galaxy of corporate sponsorships, players in the National Football League worked in other vocations during the offseason. Auto dealerships, real estate offices, corporate jobs - they went wherever they could leverage name recognition (even just a little bit) and make a buck for the half a year they weren?t playing football. And if they were lucky, those part-time gigs turned into full-time jobs when their playing days ended.
Most NFL players now earn sizeable salaries, relatively speaking, both in comparison to their pro football forebears and today?s workforce. Still, the majority don?t stay in the league very long. Many of them find themselves out of the game in four or five years - or perhaps just two or three - due to severe physical injury, wear and tear, or simply not panning out for one team and not getting picked up by any others.
With that in mind, the NFL Players Association recently partnered with Indiana University?s Kelley School of Business to offer a program designed to help former players find life after football. Through an NFLPA education fund that all active players contribute to automatically, former players are provided tuition reimbursement for Kelley School of Business courses.
?There are a series of offerings, from short program to full degree,? said Ashok Soni, executive associate dean of academic programs for the Kelley School of Business. ?Players have the option to choose their needs, whatever fits their particular agenda. But they still have to have certain GPAs or GMAT scores to advance.?
The initial short program, which kicks off this month, is an introductory set of classes designed to aim the former players in a particular direction. It?s usually conducted on campus in Bloomington (although the school will offer it in other locations). Following the completion of the short program, athletes will be urged to move on to online, non-credit programs on specialty topics like entrepreneurship, personal finance, real estate or wealth management.
After completing the online non-credit curricula, the next step is a four-course certificate program that eventually leads toward a Masters of Science or an MBA path. Those will be offered in a blended course load that includes online and resident classes. Additionally, there?s a component of the program that will put students together in a group that can work on projects that provide real-world experience.
Still, even though the overall path has been customized for participants, they ultimately attend the same classes as students who?ve never played a down of pro football.
?There is no special treatment,? said Don Davis, an NFLPA player advocate in the organization?s Player Affairs and Development department. ?The only advantage is we have eliminated some of the barriers where there is a specific deadline they have to meet to enroll. Otherwise, there [are] online and residency programs any person in America can go through.?
Professional athletes are frequently unprepared to transition from their chosen sport to a more standard career, Davis said. He added that it?s understandable, despite all the warnings they get these days about being prepared for the next step.
?There is a structure when you are an athlete,? Davis said. ?Everything is regimented. You know you can?t play forever, but when you?re in the mix of something, it is easy to get a myopic focus. It?s no surprise to me that athletes are still trying to figure out what they are going to do [next] at the end of their careers.?
One example is Tom Carter, a former football player and finance major at Notre Dame who also spent nine seasons in the NFL through 2001. Carter, who currently has the same job as Davis in the NFLPA, is aiming to go all the way through the Kelley School of Business program to get his MBA.
?I always thought about going back to it, but life catches up with you,? he said. ?You work, you have kids, and things like that get pushed to the backburner. This program allows me to direct my attention to returning to business education, and I am grateful. I am trying to better myself.?