BTN Communications,

January 5, 2015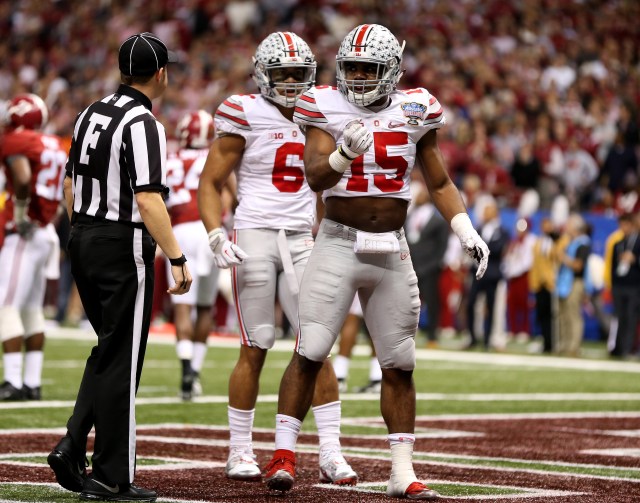 CHICAGO - BTN will provide extensive on-site coverage surrounding the College Football Playoff National Championship between Ohio State and Oregon.
BTN kicks off its coverage at 2:30 PM ET Tuesday with a live look at Ohio State?s on-campus media day. Coach Urban Meyer?s interview session will also stream live on BTN2Go.
On Saturday, Dave Revsine, Gerry DiNardo, Howard Griffith and Glen Mason will provide coverage of National Championship Media Day from the Dallas Convention Center, and be joined on set by a number of special guests during a 60-minute BTN Finale airing at 4:30 PM ET.
On Sunday, the same four return for the College Football Playoff Championship Preview Show at 5 PM ET to break down the matchup and discuss keys to victory. The show will originate from AT&T Stadium, with the BTN set located on the plaza outside of Gate H.
Monday?s coverage begins at 6 PM ET with BTN Live, followed by the College Football Playoff Championship Pregame Show at 7 PM ET. Revsine, DiNardo, Griffith and Mason will be live from the set outside AT&T Stadium, while Rick Pizzo, Stanley Jackson and Chuck Long anchor BTN?s coverage from the BTN Studio in Chicago. The pregame show will also include a pair of one-on-one interviews from earlier in the week in which Griffith spoke to Sugar Bowl MVP Ezekiel Elliot, and DiNardo sat down with offensive coordinator Ed Warinner.
Following the game, Revsine, DiNardo, Griffith and Mason will have highlights, analysis and interviews with select Ohio State coaches and student-athletes on the College Football Playoff Championship Postgame Show.
BTN.com senior writer Tom Dienhart will also be reporting live from Dallas with all the latest news and notes leading up to, during and after the game. Fans can follow BTN on Instagram for exclusive behind the scenes content.
About BTN: A joint venture between the Big Ten Conference and Fox Networks, BTN is the first internationally distributed network dedicated to covering one of the premier collegiate conferences in the country. With more than 1,000 events across all platforms, the 24/7 network is the ultimate destination for Big Ten fans and alumni across the country, allowing them to see their favorite teams, regardless of where they live. BTN2Go is the digital extension of the Big Ten Network, delivering live games and on-demand programming to Big Ten Network customers via the web, smartphones, and tablets. Events include football, men?s and women?s basketball games; dozens of Big Ten Olympic sports and championship events; studio shows; and classic games. Original programming highlights activities and accomplishments of some of the nation?s finest universities. The groundbreaking Student U initiative provides real-world experience for students interested in careers in sports television. The network is in more than 60 million homes across the United States and Canada, including carriage by all the major video distributors, such as DIRECTV, DISH, Verizon FiOS, AT&T U-Verse, Charter Communications, Comcast Xfinity, Time Warner Cable, Cablevision, Cox Communications, Mediacom, RCN, WOW!, and approximately 300 additional video providers across North America. For additional information, go to www.btn.com.
###