BTN.com staff,

January 2, 2015

?The most sincere thank-you is an easy transition.?

That?s the motto of the Home Base Iowa program, and it?s not hard to understand why. After coming home from dangerous, grueling combat deployments, many of today?s military veterans want nothing more than a speedy, straightforward return to the civilian life they left.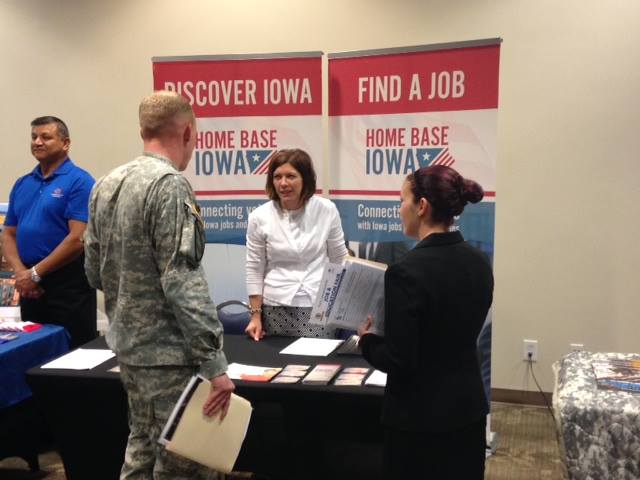 Home Base Iowa was established by the state governor?s office in 2013 to link job-seeking military veterans with ready-to-hire employers. But it?s recently expanded to include helping them obtain higher education at colleges and universities with significant on-campus resources just for them - financial and otherwise.
In this program, once a school?s vet-friendly status is confirmed, it becomes a Certified Higher Academic Military Partner (CHAMP). Recently, the University of Iowa received the designation, and the school?s leaders couldn?t be more excited about that process and what it means for its present and future veteran students.
?When we first received the [CHAMP] criteria, it became immediately apparent that we already met everything on the list,? said Georgina Dodge, chief diversity officer at the university. ?We were really thrilled to be able to throw our hat in the ring and become a CHAMP-certified campus.?
The program?s benefits and services include in-state tuition for vets no matter where they're from and a ?Life after Service? course designed to help with the ins and outs of college life and beyond, whether that?s graduate school or a career.
?We want help make those transitions possible,? Dodge said. ?If they?re interested in a certain field, we?ll put them in front of people who can help them. We?ll look at résumés, work on writing skills, and talk about some of the issues we know veterans may face and what resources can help them.?
Because education is two-way street between students and teachers, Iowa is developing a training program for faculty and staff on how to work with veterans effectively. The goal is to overcome common stereotypes in order to better connect with veteran students.
Additionally, many veterans are first-generation college students - i.e., the first person in their family to pursue higher education. Consequently, while they may be mature and experienced in other areas, they might not know how to navigate a university environment.
In fact, Dodge knows firsthand how that can feel.
?I?m a veteran myself,? she said. ?I went to college after the military and had no idea what was going on. I did not even know what the degrees were. I just knew I was going to college to get one. So I certainly understand the perspective of some of our vets who?ve never had exposure to higher education.?
From the minute a veteran lands on campus in Iowa City, they?re invited a special orientation on college life. They meet the staff of the university?s Military and Veteran Student Services Office, network with their peers and learn about the resources specifically designed for them.
?There might some veterans that don?t want to participate in the program,? Dodge said. ?But we still need to reach out to them and let them know that we are here and we can connect them should they ever need it.?
[btn-post-package]Currently, there are about 500 veterans, dependents and active-duty service members at Iowa. That number is expected to increase as the overseas military drawdown persists and the advantages of a CHAMP-certified campus continue to be publicized.
Iowa was designated as part of CHAMP in October, so it will take another year for all of the resources and services to be in place. But sustainability, not speed, is most important for future success.
?Lots of times with these types of programs, you can get ahead of yourself,? Dodge said. ?You put things in place and then either resources dry up or people lose interest. We don?t want that to happen. We want something in place that will benefit veterans for times to come.?
By Ben Warden