Jess Settles, BTN Basketball Analyst,

December 31, 2014

This week, I'm taking an in-depth look at Purdue's familiar struggles, Indiana's vastly improved offense and efficiency and [ADD THIRD AND FINAL TOPIC HERE]

Get my weekly Three Takes below.

SAME ISSUES PLAGUING PURDUE

For much of my childhood, I had the privilege of sitting on the second turn at the Indianapolis 500. My Uncle Larry Henss lived on Central Avenue in Indianapolis, and the journey east was an annual Memorial Day weekend trip for our family.

Like many race fans, we would diligently study the lineups in Sunday?s Indianapolis Star. All of us would put in a dollar, pick our top three drivers, and head to the track to enjoy cold chicken, listen to Jim Nabors sing ?Back Home Again in Indiana? and cheer for our picks. I would usually pick Al Unser Jr. or Rick Mears to win, but I won the pot one year with Emerson Fittipaldi. My dad, Steve Settles, picked Gordon Johncock to win. Every year!

After the race, my brother Jake and cousins Rick and Matt would do what most kids in the state of Indiana did with their free time: play hoops and talk Indiana basketball. The Hoosiers, Pacers, and Boilermakers were dissected, and dissected again. There is no better state than Indiana to get your hoop fix. Isiah Thomas, Scott May, Steve Alford, Keith Smart, Reggie Miller, Larry Bird, John Wooden, and Rick Mount were names I knew at a very young age.

Like every Hoosier in the state of Indiana, I was following the career of Damon Bailey starting in junior high. I read ?Season on the Brink? twice when I was 12. Some kids listened to rock music before tipoff in high school, but I always listened to the Hoosiers theme song to put myself in the right frame of mind.

I got chills reading about Indiana high school legends Alan Henderson and Glenn Robinson battling for the state championship, and was thrilled to compete against both of the first-round draft picks during my freshman campaign at Iowa. I?ve always kept a close eye on Hoosier Hysteria.

I know Indiana natives are proud of their basketball traditions and heroes, and even more proud of the ?Indiana Way? of playing the game. Quality shooting, making the extra pass, and fundamental ball handling are always expected. Year round there is a coaching clinic or basketball camp somewhere in the state. Coach Bob Knight?s coaching clinics became an international affair. The influence of Coach Knight, Coach Gene Keady, Coach Wooden and many other icons will always permeate the basketball mindset of young kids with a ball and a dream.

Last season, traditionalists like myself hardly recognized the Boilermakers. Ugly shooting, defensive breakdowns, missed free throws and unexplainable turnovers characterized both programs. The results were disastrous as the Boilers finished last and failed to make the postseason.

Muncie, Indiana, native and current Purdue head coach Matt Painter summed up his frustration to me at media day in Chicago.

?It got to the point last year that I wanted to scream at the guys: 'We wear white jerseys at home, and black jerseys on the road. Throw the ball to the guy with the same uniform on as you!' Painter said.

Painter played in three NCAA tournaments as a Boilermaker, and his Southern Illinois teams and successful Purdue teams were known for their tough defense and high basketball IQ. A program that only three years ago led the nation in fewest turnovers finished a dreadful 11th in the Big Ten last year. Purdue missed free throws in close games and poor passes lead to dunks at the other end.

?We have to have guys on the floor who understand the right way to play at both ends of the floor,? he said. ?Guys who value the basketball. We have that group this year.?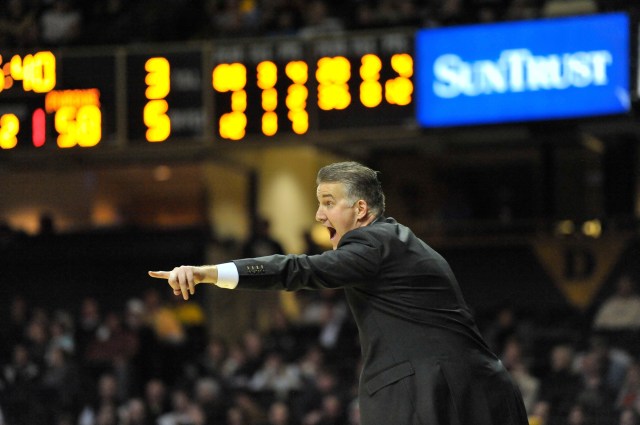 Last month, I attended an excellent Purdue practice, and there was a strong emphasis on protecting the ball. It was obvious that Purdue had a long way to go to compete for an upper division Big Ten finish, but there was a different vibe on this team than last year. Painter was able to sign Colorado St. transfer Jon Octeus to help run the show. Octeus has been a low turnover guy over his career and a lockdown defender. He is off to a solid start this season averaging only one turnover a game.
Sophomore Kendall Stephens continues to shoot the ball well at over 40 percent from downtown and he needs to have a monster conference season to help get things turned around. Senior forward Raphael Davis brings his lunch pail to work every practice and every game.
But the optimism has come from the attitude and inspired play of the freshman class, led by stars in the making Vince Edwards and Isaac Haas. Edwards is averaging 10.4 points a game on a blistering 57 percent from the field while at the same time leading the team in rebounding. Haas was supposed to be a project this year, but the 7-footer is country strong, has good hands and is leading the team in scoring.
Freshman guard P.J. Thompson is playing 20 minutes a game and has a very bright future. Painter has already called freshman Dakota Mathias ?the best passer we?ve had here in years.? Painter wasn?t totally convinced about signing him until a home visit fired him up. Painter had given Mathias a list of skills he needed to improve upon. When Painter visited Mathias? house in Elida, Ohio, Mathias had written the exact advice Painter had given him on the wall of his makeshift indoor gym to pattern his workouts after. Scholarship granted.
But with freshmen leading the way, growing pains are all too common. Purdue has shown much improvement compared to last year at the offensive end. The Boilers have increased their field goal percentage by 3.7 points since the end of last year and are averaging 76.2 points per game. They are tougher, more athletic and more unselfish than last season. But defensively, the last three games, they?ve returned to their old habits, giving up 88 points a game while committing 12 turnovers in three straight losses. They are cheating themselves defensively in transition, failing to find shooters, and giving up fast break dunks. Many times this is due to a poor turnover
Purdue is currently an unacceptable last in the Big Ten in 3-point percentage defense, and 12th in scoring defense. It?s just not the Purdue way to play. There is no reason Octeus, Stephens and the rest of the backcourt should be getting lit up like this, especially with Haas and junior A.J. Hammons protecting the rim.
The Boilers are going to have close out sooner and stay home more consistently, even if that means giving up contested drives once in a while to stop the 3-point bleeding. In Purdue?s final tune up before conference play, they gave up 14 triples to Gardner Webb!
Speaking of Hammons, this is what Coach Painter told me about his promising center before the opening game: ?Right now, his talent level is higher than his production. We have to change that.?
This is what I used for my surprise player in our nonconference wrap with my BTN teammate Stephen Bardo a few days ago: "Before the season started, if you would?ve told me A.J. Hammons was going to be one of the top three rebounders in the Big Ten, I would?ve agreed with you. If you would?ve predicted at this point in the season Hammons would be the third best defensive rebounder on his own team, I would have thought you were off your rocker."
He amazingly is in third place on Purdue, behind Edwards and Haas, in defensive rebounds, and yet he just became the third player in Purdue?s storied history to record at least 800 points, 500 rebounds and 200 blocked shots. He can dominate games at both ends and he can also disappear for a half. He is averaging 9.9 points, 5.3 rebounds and an impressive three blocks in only 20 minutes as Haas continues to eat some of his minutes. Some juniors would react negatively, but at the practice I attended, the humble Hammons continued to encourage the young players and that kind of attitude has been the biggest difference between this year?s team and last year's. I still believe Hammons will have some monster games over the next few months.
The most important game of the year so far for Purdue is today when red-hot Minnesota comes to town. For a variety of reasons, Purdue needs to have a competitive conference season this year, and home wins are critical. Minnesota plays pressure defense and leads the Big Ten in assists, because it knocks in open 3s, exactly the things Purdue has struggled with. The Boilers have had nine days off to prepare and fix their problems. Let?s see if the youngsters were listening. It should be a dandy.
***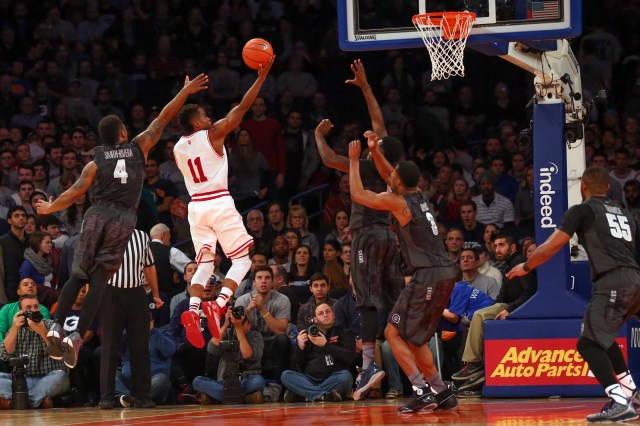 SPEAKING OF INDIANA?
Things weren?t much better in Bloomington, Indiana, last winter. A year after winning the Big Ten championship, the Hoosiers lost two lottery picks and also their ability to handle the basketball. Indiana finished a painful 12th in the Big Ten in turnovers at a very un-Indiana-like 15 per game.
As brilliant as point guard Yogi Ferrell was on most nights, he felt too much pressure to carry the team and forced too many plays. John Wooden famously said ?be quick, but don?t hurry,? but the speedy Hoosiers were usually in a hurry and it cost them several Big Ten wins. Even when the Hoosiers got clean looks at the basket, they struggled to knock down shots.
?Indiana couldn?t shoot last season,? said one rival Big Ten coach. ?Even when they got the open shot, they couldn?t knock it down.?
Those days are over, and Coach Crean and his staff deserve a ton of credit for developing their new roster and weathering a ton of off-court distractions. The Hoosiers have played very admirable in the non-conference and are a team on the rise. Yes, they have a tough home loss to Eastern Washington, but they also have quality wins over then-No. 22 SMU and then-No. 23 Butler. They played some great basketball at stretches against Final Four contender Louisville, and barely lost a heartbreaker a game ago to a tough Georgetown squad.
Unlike last year, they have firepower and swagger. Coach Crean signed one of the best shooters in the nation in McDonald?s All-America James Blackmon Jr. He has been sensational and I currently have him listed as the top freshman in the Big Ten and No. 7 on my Big Ten Player Rankings.
Fellow freshman star Robert Johnson has shown the ability to penetrate defenses and knock in the open shot. He has made 5 of his last 11 3s. Transfer Nick Zeisloft has been a pleasant surprise and is shooting 40 percent from downtown. Ferrell is back to playing at a very high level, averaging 17.2 points a game and making clutch plays when needed. Last week, he climbed to #2 in my Big Ten Player Rankings.
Due to the improvement of leaper Troy Williams, the Hoosiers may be hitting their stride at the right time. Williams scored a career-high 23 points against Georgetown and is averaging 15.4 points and 6.8 rebounds over his last five games.
The Hoosiers are currently fourth in the nation in scoring (86.4), seventh in 3-point percentage (41.7), 12th in field goal percentage (50.3) and 10th in effective field goal percentage (57.7). Compare this year?s non-conference performance to last year at this time, and IU has 202 assists and 161 turnovers this year as opposed to 160 assists and 207 turnovers last year! They have 121 threes this year, compared to 61 last season. Even Coach Knight would be happy with that turnaround.
With the loss of lottery pick Noah Vonleh, the key to this season?s conference success arguably falls on Hanner Mosquera-Perea. The often scrutinized power forward has shown some drastic improvement. Over the last five games, the junior has blocked 14 shots, including one to send the Georgetown game to overtime. He is fifth in the Big Ten in field-goal percentage and is playing tough defense. I would like to see him dramatically improve his 5.2 rebounds per game when conference play starts. He has to have ?Dennis Rodman mentality,? and rebound with a vengeance.
With all of the firepower Indiana has, if it can control the boards, it has a strong chance of returning to the NCAA tournament. They get a great chance to display their improvement tonight with a tough road test in Lincoln, Nebraska.
***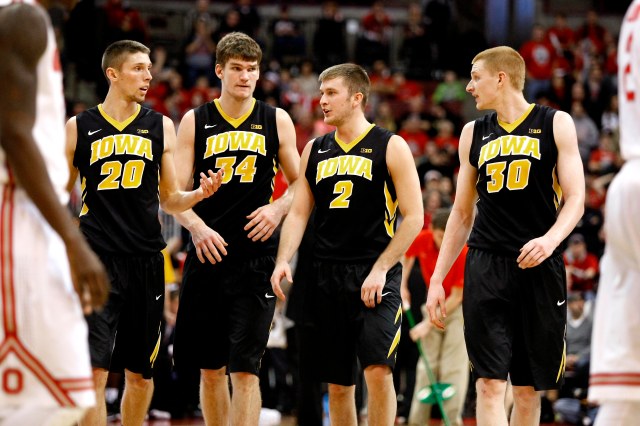 UTHOFF AND DAWKINS STEP UP
If there were ever two coaches heading into conference play who needed someone on their team to step up and hit open shots, it was Iowa?s Fran McCaffery and Michigan?s John Beilein. It has been a rough few weeks for both teams, somewhat due to the fact that capable shooters for the Hawkeyes and Wolverines can?t find the iron. Iowa made only three second-half field goals in a disheartening loss to in-state foe Northern Iowa two games ago, while Michigan averaged only 52 points on less than 40 percent shooting in losses to SMU and Arizona. Even reliable All-Big Ten selections Caris LeVert for Michigan and Aaron White for Iowa have been in a funk.
The beauty of conference play is that as a new season arises, nonconference success or failure is history and it is time to turn the page. Aaron White returned home to Ohio on Tuesday and played an all-around great game. He finished with 18 points and nine rebounds as the Hawkeyes beat Ohio State in Columbus for the second consecutive year. But it was the consistent and clutch shooting of 6?9 forward Jarrod Uthoff that led Iowa to the victory.
In three games prior to Ohio State, Uthoff averaged only 8.0 points on 35 percent shooting and recorded only seven total assists. He is shooting 39 percent from the floor and a bizarre 59 percent clip from the free throw line. BTN analyst Shon Morris wisely included Uthoff in his list of five under-the-radar players who could step up and make an impact in conference play. Uthoff must have been listening. He was by far the best player on the floor against the Buckeyes, hitting 4-of-6 3-pointers, pulling down seven timely rebounds, handing out five assists, making both of his free throws, blocking a shot, and hitting the clutch shots late on his way to 18 huge points and the Iowa victory. If Uthoff can bottle that performance, the Hawkeyes are a dangerous team.
And in Michigan, Aubrey Dawkins may have saved the season for the struggling Wolverines. On a day where all eyes were on newly hired football coach Jim Harbaugh, Dawkins stole the show. With 11:00 left in the second half and Illinois leading by 13 points, Michigan exploded for eight 3-pointers down the stretch and went on to a must-win victory in overtime. Dawkins, who averages only six minutes per game, scored 17 of his 20 points in the second half, and made 6-of-7 3-pointers on the day. Caris LeVert was clutch down the stretch as well and finished with 19 points. Game plans work so much better when shots are falling. It?s a new year and a new season.