Brent Yarina, BTN.com Senior Editor,

December 30, 2014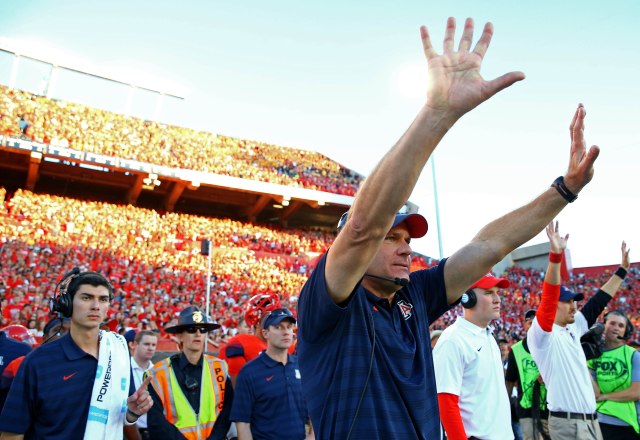 With Rich Rodriguez and Arizona having Fiesta Bowl media day obligations Tuesday, you knew someone would ask the former Michigan coach about Jim Harbaugh.
[ MORE: Dienhart: This is huge | 5 reasons to be excited | Twitter reaction ]
It happened, and he had a diplomatic and pro-Michigan response.
See his full response to the Harbaugh hiring below.
"I didn't hear that. Really? What's he getting paid? Gosh, you just caught me off-guard there. I didn't think I'd get a Michigan question. I'm happy for Jim. And Michigan has great support without question. They've got tremendous fan support, great resources, and it looks like that's why they targeted Jim from day one, and they're probably thrilled that he's coming back. I don't know him, but I know he wins. He had great success there as a player. He's had great success as a coach too, and I'm sure they're excited."
h/t: azdesertstorm.com
Rodriguez followed Lloyd Carr as Michigan coach in 2008 and spent three seasons in Ann Arbor, amassing a 15-22 clip, before being fired. He then spent a season as an analyst before becoming Arizona head coach in 2012.
Rodriguez and the Wildcats take on Boise State at 4 p.m. ET Wednesday.