Tom Dienhart, BTN.com Senior Writer,

December 29, 2014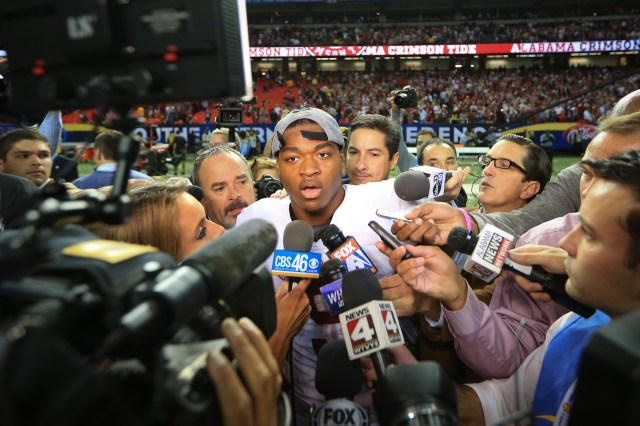 NEW ORLEANS — Stop Amari Cooper. Or at least slow him down.
That?s the goal of the Ohio State defense. Easy to say; hard to do. The Alabama receiver will be the best player on the field on Thursday night in the Mercedes-Benz Superdome when Buckeyes play the Crimson Tide in the Sugar Bowl with a trip to the national title game on the line.
Cooper arrived in New Orleans with a big rep. And if he hadn?t made enough waves prior to landing, he created a few earlier this week, saying he wasn?t a big fan of the Big Easy. Cooper says New Orleans smells bad. Says there?s too much going on. Says he just doesn?t like the place. Period.
[btn-post-package]
Well, he?s not here on a vacation. This is a business trip. And, for Cooper, his business is football ? and business is good.
The 6-1, 210-pound native of Miami, Fla., had a season for the ages in 2014, catching 115 passes for 1,656 yards with 14 touchdowns to win the Biletnikoff Award as the nation?s top wideout. He also finished third in the Heisman voting. His 115 catches set a school and SEC single-season records. He?s also the Crimson Tide?s career leader in yards and touchdown grabs. He may be the best wideout ever from the SEC. Ohio State defensive coordinator Luke Fickell is impressed.
?It's not just the catch to me; it's the runs after the catch,? said Fickell. These guys obviously can go up and make some big plays and catch the ball, but the ability to make something when there's nothing there. For a guy that cannot only have the deep ball, home run shots, but he can take an out screen and turn it into a touchdown long distance.
?He does the intangible things. He's going to block and do some things that sometimes you don't see the first-rounders or the truly top, top dogs do. So I think what we've seen one of the most complete players we've played against.?
Fickell no doubt has watched a sea of tape on Cooper. Probably makes his stomach roil. What type of coverages should Fickell use? Will it matter? Cooper has seen it all. Typically schools have tried to mute him with ?cloud coverage? in which a cornerback plays the flat and gets help from safeties.
"A lot of it is really ineffective sometimes due to the way that (offensive coordinator Lane) Coach Kiffin can move me around and stuff like that," said Cooper.
While Fickell has been studying Cooper, Cooper has been studying Ohio State.
"They play a lot of Cover 4 and Cover 7," Cooper said. "Their whole defense is really good. Their corners are fast. Their safeties are good, too."
Cooper says he watched Ohio State?s loss to Clemson in the Orange Bowl last season. That wasn?t a great day for the Buckeye defense, which got torched for 378 yards passing in a 40-35 loss. Tigers wideout Sammy Watkins had a big day, catching 16 passes for 227 yards and two touchdowns. The Buckeyes basically run the same defense this season, according to Cooper.
Uh-oh.
Fickell and the Buckeyes have their work cut out for them facing in some ways a very un-Nick Saban-type team that is more about offense than defense. And Saban?s offenses typically revolve around a running back. Not this year.
?There's many challenges, but as a whole I don't know we've seen an offense like this,? said Fickell. ?To be honest with you, the size of the offensive line, the tailbacks they can roll in there. Obviously, Amari Cooper gets most of the attention. The reality is we haven't seen a guy especially in our league that would warrant as much attention as he does.
?Kind of reminds you a little bit going back to the last bowl game and playing Sammy Watkins and things like that. But just as soon as you start focusing on one guy and one thing, there's a couple of other things that can really hurt you and the reality is you've got to play great team defense. Do some things obviously to limit what it is they do and try to focus on the guy.?
Ohio State cornerback Doran Grant is tasked with cover Cooper.
?He?s a great player,? said Grant. ?We?ve seen a lot of film on him. He?s a good route runner and has good speed. He?s a very, very good ball-catcher.
?I?m definitely looking forward to it, especially in a game like this. It?s an historical moment in college football and I?m looking forward to it.?
Cooper has had five games with double-digit catches in 2014. His best outing came vs. Auburn, when he grabbed 13 passes for 224 yards and three touchdowns.
If dealing with Cooper isn?t tough enough, Alabama?s attack also has a two-headed monster at running back in T.J. Yeldon (932 yards rushing) and Derrick Henry (895 yards) to go along with quarterback Blake Sims, who is No. 7 in the nation in passing efficiency with 3,250 yards passing, 26 TD tosses and just seven picks. This attack that ranks 15th in the nation overall (490.5 ypg). And make no mistake about it: This offense revolves around Cooper. Can the Buckeyes slow him down?
?In a playoff game like this, it?s what expected,? Grant said. ?You want to play the great players and great teams, so you will have matchups like this with teams going head-to-head with a lot of talent. A player like [Amari] Cooper, he?s able to make a lot of big plays happen for his team. This playoff is what it?s about. It?s going to have some exciting moments.?
| | |
| --- | --- |
| About Tom Dienhart | BTN.com senior writer Tom Dienhart is a veteran sports journalist who covers Big Ten football and men's basketball for BTN.com and BTN TV. Find him on Twitter and Facebook, read all of his work at btn.com/tomdienhart, and subscribe to his posts via RSS. Also, send questions to his weekly mailbag using the form below and read all of his previous answers in his reader mailbag section. |
And if you want to leave a comment on this post, use the box below. All comments need to be approved by a moderator.