Tom Dienhart, BTN.com Senior Writer,

December 27, 2014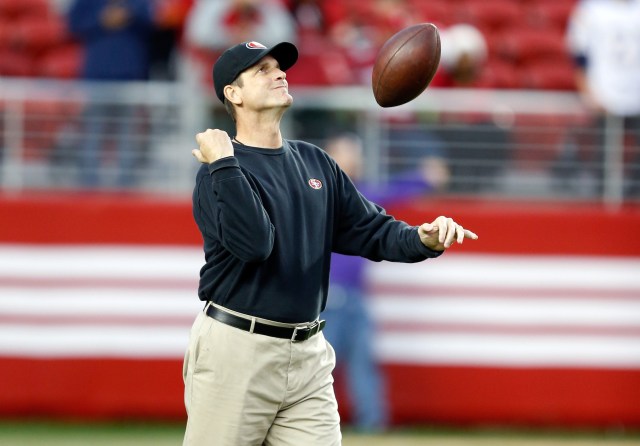 According to Bleacher Report, which cites two members of the 49ers coaching staff and a third NFL source, Jim Harbaugh is expected to become the next head coach at Michigan.
This would mark Michigan's biggest victory in years. And not one tackle was made or one block was thrown.
[btn-post-package]
That?s how huge this rumored hiring is for a beleaguered Wolverine football program.
Harbaugh immediately injects a megadose of attitude to a Wolverines program that is in desperate need of some mojo and swagger. This is a listing ship that has lost its way since Lloyd Carr retired after the 2007 season.
Enter Harbaugh, a bold, brash and brazen coach who knows he?s good. Just ask him. No one will have to teach Harbaugh the words to ?The Victors.? The former BMOC knows his way up and down State Street. He knows what Michigan football has been about, can be about and should be about. The losing to Ohio State and Michigan State has to stop for a program that hasn?t won the Big Ten title since 2004.
His job is simple: Make Michigan matter.
The pull of returning to his alma mater proved to be too much for Harbaugh, who many speculated would stay in the NFL. He was the Wolverines quarterback from 1983-86 under Bo Schembechler, taking Michigan to the Rose Bowl as a senior. Now, he?s back on campus and tasked with being the savior for one of the nation?s most-storied programs.
Michigan needs a ?cult of personality,? especially with Ohio State under Urban Meyer and Michigan State with Mark Dantonio in full beast mode and Penn State primed to take off behind James Franklin.
Michigan has become a Big Ten afterthought and drifted far off the national radar the last decade, relegated to the postseason sidelines this year for third time since 2008. The Wolverines never should miss a bowl.
Losses to Ohio State and Michigan State have become annual affairs. If that?s not bad enough, the Wolverines also have fallen to the likes of Toledo, Illinois, Northwestern, Rutgers, Maryland, Purdue and Utah (twice) since Carr left.
The hyper-competitive Harbaugh won?t stand for that. He has won everywhere he has been, including a standout 14-year career in the NFL as a star quarterback.
And his coaching career has been even more successful with a track record screams immediate success and quick turnaround.
Harbaugh took over the University of San Diego in 2004, a non-scholarship FCS program that he guided to a 29-6 mark and two first-place finishes in the Pioneer League in three seasons.
Stanford swooped him up from there, as Harbaugh made the Cardinal matter en route to going 29-21 overall and 21-15 in the Pac-10 with two bowl bids. Harbaugh?s final season was his best, going 12-1 and 8-1 with an Orange Bowl bid and No. 4 final ranking.
The NFL was the next stop for Harbaugh, who remained in the Bay Area by taking the San Francisco 49ers job in 2011. His first three seasons, Harbaugh led the 49ers to two NFC title games and a Super Bowl, going 43-19-1 in four seasons with things going astray this fall with a 7-8 mark entering Sunday.
Were there other targets for Michigan? There was scuttlebutt about LSU?s Les Miles, Mississippi State?s Dan Mullen, Utah?s Kyle Whittingham, ex-Rutgers? coach Greg Schiano and Oklahoma?s Bob Stoops. But the object of Michigan?s desire was Harbaugh the moment the door hit Hoke on the way out.
Michigan landed its man after failed experiments with Rich Rodriguez and then Brady Hoke.
Rodriguez was an outsider from West Virginia who never was embraced in Ann Arbor in going 15-22 overall and 6-18 in the Big Ten.
Then, the school turned to a ?Michigan Man? of sorts in hiring former Carr assistant Brady Hoke, who had resurrected programs at Ball State and San Diego State. But Hoke?s program was undone by a dysfunctional offense, going 31-20 overall and 18-14 in the Big Ten with each season getting progressively worse.
Worries about Harbaugh? He hasn?t lasted more than four years in any of his coaching stops. He?s a high-energy, high-strung coach who wears on those around him. Still, it?s difficult to argue with his results-or with his fit for this job.
It?s perfect.
The Big Ten just got a lot more interesting. This is gonna be fun.
| | |
| --- | --- |
| About Tom Dienhart | BTN.com senior writer Tom Dienhart is a veteran sports journalist who covers Big Ten football and men's basketball for BTN.com and BTN TV. Find him on Twitter and Facebook, read all of his work at btn.com/tomdienhart, and subscribe to his posts via RSS. Also, send questions to his weekly mailbag using the form below and read all of his previous answers in his reader mailbag section. |