Mike Wolf, BTN volleyball announcer,

December 21, 2014

For the sixth time in the past eight seasons, the Penn State Nittany Lions are national champions.

Saturday night in Oklahoma City, Penn State capped off another historic season by winning a record seventh NCAA title. No program in the country has had as much success in women?s volleyball as Penn State. The straight set win over BYU proved once again that the Nittany Lions had the best collection of players in the nation, as well as the greatest coach in the game.

[ MORE: View our NCAA title gallery | Relive action on the NCAA bracket ]

Nothing is ever a forgone conclusion, but after the national semifinal victory over No. 1-seeded Stanford on Thursday, winning title number seven was close to it. Thanks to a balanced effort against the Cougars, led by NCAA Tournament Most Outstanding Player Megan Courtney, the Nittany Lions swept BYU to cap off another miraculous run for a Russ Rose-coached team.

The all-time winningest coach in Division I has always placed the credit on the shoulders of his players, and rightfully so. But the 36-year veteran has created a trend that is staggering even to those who have never watched a volleyball match. More than half of the last decade has ended with a Nittany Lion championship. Winning national titles is no longer just expected at Penn State, it is the norm.

There is no secret to the continued success of Rose and Penn State; it is a simple formula that has paid dividends for years for the legendary coach: out-work every opponent on the schedule. Whether it is in practice, in a match, or while scouting, Penn State?s effort as a program is consistent, and to have success in Happy Valley, the players have to meet that standard.

Rose has an expectation for that level of effort at every moment for a player wearing the Blue and White, and if it does not meet his standard, Rose?s brutal honesty let?s them know. It can be difficult for some, but for those who can take it, it aids in molding them into players who can handle any pressure situation, even when a national championship is on the line.

?He?s always been hard on me and he knows that I want to push myself,? said Nittany Lion setter Micha Hancock last season. ?When he sees that in a player, he really wants to push them farther than they think they can go, and that?s one of the best things about him.?

That motivation from Rose drove Hancock to finish off her already iconic career with a season that garnered her the National Player of the Year award and a second NCAA title at an arena just 15 minutes from where she grew up.

Those two titles as a Nittany Lion may have never happened for Hancock and Penn State if not for a coaching change at the University of Tulsa in 2011. Hancock was set to join her sister, Kelsey, at Tulsa that year before then-Hurricane head coach Ed Allen decided to leave. Hancock looked elsewhere and, in March 2011, decided to join the then four-time defending national champion Nittany Lions.

Five months later, the Edmond, Oklahoma, native would be running the offense for Penn State in the AVCA Showcase against No. 2 USC in the second match of that season. Her debut as the starting setter included six service aces and a .298 team hitting percentage for Penn State against the Trojans in a five-set victory in front of 6,100 fans. It was a beginning that foreshadowed the next four years for a player who would become the national face of collegiate women?s volleyball.

?She took the game by storm and she was fresh and she was crushing the ball from the end line,? said Rose. ?I?ve been hard on a lot of players, but I?m sure I was especially hard on her development. We had a good love-hate relationship and I think she achieved what she wanted to achieve when she came to Penn State.?

Four years later, Hancock owns every Big Ten and Penn State service ace record, but more importantly developed into one of the top setters in the nation. Facing the best blocking team in Saturday?s title match, Hancock spread out the Penn State attack and held the Cougar block long enough to set up favorable matchups for her hitters. This was a clear development in her game, going from a player who was called a hitter learning to set by her head coach in her first season in University Park.

It was a fitting end to Hancock?s four years with Rose and the Nittany Lions, winning the title in front of her family and friends, a few miles from her home. The emotions flowed after the match and one of the lasting images of the night was a hug between the long-time coach and his star setter.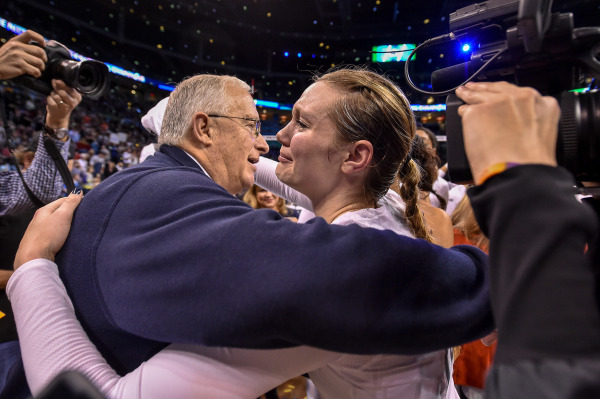 The departure of Hancock and her fellow seniors, Nia Grant, Dominique Gonzalez and Lacey Fuller, would seem to be an appropriate conclusion for the Penn State volleyball dynasty; the rest of Division I volleyball is not that lucky. This season was only the beginning of another chapter of continued success for the now most-decorated program in the sport.
Penn State entered this fall with the top recruiting class in the nation, a class that has been called by some, the greatest group of freshmen in the history of the NCAA women?s volleyball. Winning the 2014 national title was just year one for the Nittany Lion freshman class that featured five of the top 15 recruits in the country. Could this group be headed for the same four-year title run that 2010 seniors Blair Brown, Arielle Wilson and Alyssa D?Errico contributed to from 2007-2010?
A lot can happen during a span of four years, but Ali Frantti and Haleigh Washington, the National Freshman of the Year and Big Ten Freshman of the Year, respectively, have not even fully realized their talent yet. But they already have a banner headed for the rafters in Rec Hall. Add in Simone Lee, as well as Nia Reed and Bryanna Weiskircher, to the mix, and many would predict the Penn State dynasty to continue.
The Nittany Lions will start 2015 ranked No. 1, although voids will need to be filled at setter, libero and in the middle, but with the return of this freshman class in combination with Courtney and Aiyana Whitney, Penn State will contend again.
However, the most important factor is the guidance and coaching of Rose. With the Nittany Lion legend at the helm, we may not have witnessed the end of the Penn State dynasty; we may have just passed the midway point.
| | |
| --- | --- |
| About Mike Wolf | Mike Wolf is a BTN announcer and calls Big Ten volleyball matches on the Big Ten Network. His Volleyball Reports will appear on BTN.com every Tuesday for the rest of the Big Ten volleyball season. You can also follow our extended volleyball coverage on Twitter with @BTNvolleyball. |