BTN.com staff,

December 21, 2014
Every Big Ten school has produced leaders who have reached the pinnacle of their professions, whether business, government, science and technology, medicine or education. High Profile takes a look at how these alums rose to the top of their field.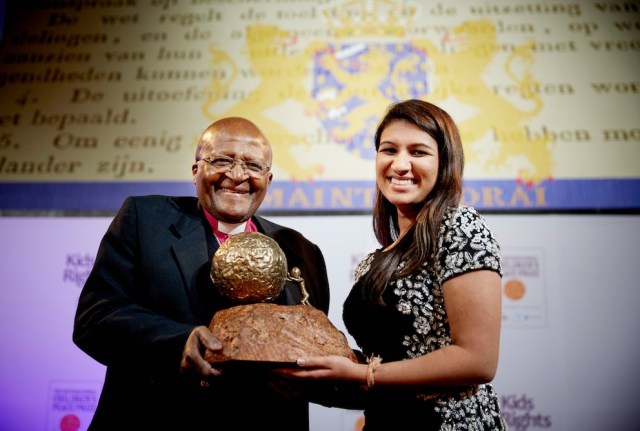 Not many 18-year-olds can say they?ve led a charity that?s raised more than $1 million and helped 25,000 children. But Penn State?s Neha Gupta has done just that - and a lot more.
Most recently, she was given the 2014 International Children?s Peace Prize. A student at Penn State?s Schreyer Honors College, Gupta accepted the prestigious award on Nov. 18 during a ceremony in The Hague, Netherlands.
The person who handed her the trophy? Nobel Peace Prize winner and social activist Archbishop Desmond Tutu.
?It really was a great privilege to meet the epitome of inspirational individuals,? she said. ?Winning this award has offered me the opportunity to have an international platform to advocate for the rights of vulnerable children and encourage others - youth and adults - to engage in the world.?
Gupta, who hails from Yardley, Pa., is no dilettante in that respect. Inspired by the volunteer work of her relatives and disheartened by the grim realities of the poverty she witnessed during family trips to India, she started doing charity work while in elementary school. And she hasn?t stopped since.
?When I was 9, I came to fully comprehend what it meant to be poor in the truest sense: to have no one to give you unconditional love and no place to call home,? she said. ?Although these children and I were of the same age and of the same ethnicity, we lived completely different lives. For the first time, I considered the real implications of these children?s reality - not being able to go to school or receive medical attention.
?What upset me the most was to learn how devoid of hope their lives were. The future that likely awaited these children terrified me. In that moment, I knew that I had to take action.?
That realization led Gupta to form her charity, Empower Orphans. The goals of this 501(c)(3) non-profit organization are two-pronged, she explained. The first objective is to help vulnerable children break the cycle of poverty by providing them with foundational education and basic health care. The second aspiration is to inform other youth around the world about these struggles and unite them around the purpose of empowering vulnerable children.
Over the years, Empower Orphans has conducted many projects to improve the education and medical care of underserved children in both India and the United States. To that end, the organization has established five libraries, four computer facilities, a science lab and a sewing center.
?We also sponsor the education of 100 children,? she said. ?Empower Orphans has conducted three health camps, sponsored surgeries for polio victims, installed water wells and filtration systems, and provided more than 200 van loads of home furnishings to improve the standard of living of families living in and around my hometown of Yardley.?
Gupta was quick to note the non-material gains she?s witnessed from her charity work - the ?ripple effect,? she calls it - of getting other youth to support and engage in the efforts of her charity. She recalled this particularly inspiring anecdote:
[btn-post-package]?A few years ago, an 18-year-old in India enrolled in a class at our sewing center,? she said. ?Her father had just lost his job, and the family had no other source of income. This young woman felt it her responsibility to step up and help her family. With the sewing machine she was given and the skills she acquired, she started her own tailoring business. She now supports her entire family. As a way of paying her good fortune forward, [she] has come back [to Empower Orphans] ? not as a beneficiary, but as a volunteer. She now mentors other young women on how to establish their own businesses and seize their destinies.?
Given her history, it?s clear that Gupta is a born leader. However, she also considers herself a learner. And as a Penn State student, she?s pursuing a career path that corresponds with her charity work: She plans to enter pre-med and become a pediatrician.
?My career aspiration is to combine my two greatest passions,? she said. ?As a pediatrician, I will be able to more effectively expand and deepen the footprint of Empower Orphans.?
Though she hasn?t been there long, Gupta has already received a great deal of support from the university - for her charity, academics, and international recognition and awards.
?The Penn State community is truly remarkable,? Gupta said. ?I love the feeling of family, especially within the Schreyer Honors College. I have had the privilege and pleasure of making very good friends in a short period of time.?
By Elisabeth Lisican