BTN.com staff,

December 20, 2014

Students at Big Ten universities aren?t waiting until they get out into the ?real world? to make a difference. Find out how they?re working together to create positive, meaningful change in this BTN LiveBIG series: the Student Section.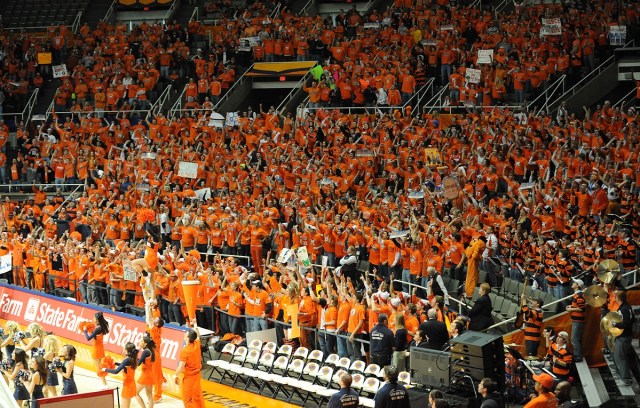 Before she even arrived at the University of Illinois, Hannah Taylor knew she wanted to be a member of Orange Krush.
Although she didn?t fully understand what being part of the University of Illinois? basketball cheering section entailed before she came to Champaign, Taylor sensed it would be a meaningful experience. And today, she couldn?t be happier with her decision to join the boisterous bunch.
?It was one of the reasons I went to the University of Illinois,? said Taylor, 20, a material science and engineering student from Pawnee, Ill. ?I really liked Illinois basketball and thought it was really cool to see on TV.?
Orange Krush is, in fact, cool to see both on television and in person as they cheer for the Illinois basketball team in bright orange T-shirts right next to the court. The basketball cheering section has its own identity, although Illinois has dedicated fan bases for each of their varsity sports under the Illini Pride umbrella.
There are a couple of membership levels within the organization, and the higher you go, the greater the benefits (with the best game-day seating and a private reception with players and coaches being among the top perks). But basic Orange Krush membership includes tickets to all home games and one trip to a road game. (And the organization?s ability to get good seats in opponents? venues is legendary.) And all members have access to the seemingly endless supply of bright orange T-shirts to wear at games and other events.
?There is nothing like it,? Taylor said. ?You get into the games, cheering loudly and supporting Illini basketball. Because of the layout of the arena, we are right in the action, and we can see everything personally. For an in-game experience, we are the closest fan group to the court in the country.?
There?s also a charitable arm of Orange Krush, and Taylor currently serves as its president. The Orange Krush Foundation provides funds for charities throughout Illinois, and all members of the cheering section donate to the Foundation as part of their membership fees.
Since 1998, the Orange Krush Foundation has donated more than $2.7 million to local and national charities, raising funds through membership fees and other programs. During the 2013-14 academic year, Orange Krush Foundation donated $150,000 to over 50 other philanthropic groups in the area.
[btn-post-package]In addition, the Foundation gave $1 million in March to the university for planned renovations to State Farm Center, the former Assembly Hall that?s been home to the Fighting Illini basketball team for more than 35 years. Those plans include an Orange Krush Club inside the building, which the organization plans to use for charity group functions as well as basketball game preparations.
Ten Orange Krush students make up the Foundation board, and a big part of their job is to go over the many grant applications they receive in order to determine where they are going to distribute funds.
Orange Krush members also work with area children?s groups, forming relationships with area youngsters who are yearning for someone to show an interest in their lives. Camp New Hope, Special Olympics, Safe Kids Champaign County, Make-A-Wish and several other groups benefit from both the time and funds provided by Foundation members. And in the past, the organization has paid the fees for area children to participate in summer and winter camps.
When they?re asked about their time in college, one question students and alumni often get is what made their experience special. For Taylor, the answer is Orange Krush.
?Not only are you supporting your school but you are also supporting the community,? she said. ?Personally, I think it is one of the best experiences you will have in your college career.?