BTN Communications,

December 18, 2014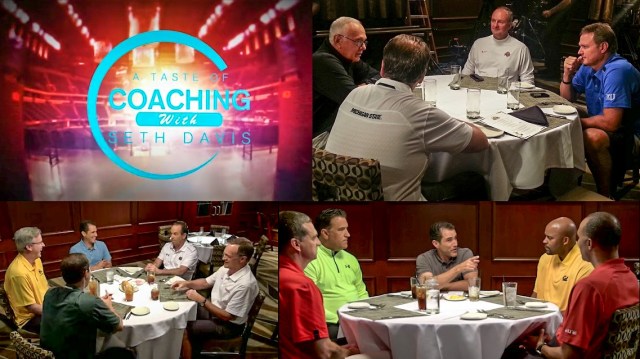 CHICAGO – With BTN set to open men?s basketball conference play with a New Year?s Eve tripleheader, the network?s basketball coverage boasts its most-ever original programming with the addition of A Taste of Coaching with Seth Davis. The six-episode series will debut on Jan. 4, and air Sunday nights following The Journey after its debut on Jan. 11.
Host Seth Davis, a veteran college basketball writer for Sports Illustrated and well-known analyst and author, is joined around the dinner table by some of college basketball?s finest coaches to discuss the hot-button issues surrounding the game today.
?These coaches are all men I?ve gotten to know over the years and have had these types of discussions with regularly,? Davis said. ?Our goal was to create an entertaining show where the coaches would feel like the cameras disappeared.?
The coaches included are Michigan State?s Tom Izzo, Ohio State?s Thad Matta, Kansas? Bill Self, Iowa?s Fran McCaffery, Maryland?s Mark Turgeon, Notre Dame?s Mike Brey, Southern Methodist?s Larry Brown, Baylor?s Scott Drew, California?s Cuonzo Martin, Stanford?s Johnny Dawkins, Oklahoma?s Lon Kruger and head coach at St. John?s, Steve Lavin.
?Seth is one of the country?s top college basketball experts, so for him to break bread and candidly talk hoops with 12 coaches from some of most successful programs in the country is something our viewers will enjoy,? said Bill Friedman, coordinating producer of BTN Originals.
BTN Originals also returns its signature series, The Journey, and two new episodes of Big Ten Elite this winter. The Journey: Big Ten Basketball 2015 will debut at 10:30 PM ET on Jan. 11. Big Ten Elite: 2013 Michigan Basketball will debut at approximately 10:15 PM ET on Jan. 17, following the Northwestern at Michigan men?s basketball game. Big Ten Elite: 1989 Illinois Basketball will debut at 9 PM ET on Feb. 28, following the Northwestern at Illinois men?s basketball game.
About BTN: A joint venture between the Big Ten Conference and Fox Networks, BTN is the first internationally distributed network dedicated to covering one of the premier collegiate conferences in the country. With more than 1,000 events across all platforms, the 24/7 network is the ultimate destination for Big Ten fans and alumni across the country, allowing them to see their favorite teams, regardless of where they live. BTN2Go is the digital extension of the Big Ten Network, delivering live games and on-demand programming to Big Ten Network customers via the web, smartphones, and tablets. Events include football, men?s and women?s basketball games; dozens of Big Ten Olympic sports and championship events; studio shows; and classic games. Original programming highlights activities and accomplishments of some of the nation?s finest universities. The groundbreaking Student U initiative provides real-world experience for students interested in careers in sports television. The network is in more than 60 million homes across the United States and Canada, including carriage by all the major video distributors, such as DIRECTV, DISH, Verizon FiOS, AT&T U-Verse, Charter Communications, Comcast Xfinity, Time Warner Cable, Cablevision, Cox Communications, Mediacom, RCN, WOW!, and approximately 300 additional video providers across North America. For additional information, go to www.BTN.com.
###