Jess Settles, BTN Basketball Analyst,

December 17, 2014

This week, I'm giving my take on Penn State's surprising start, Nebraska's inconsistent play and Minnesota's big man Mo Walker.

[btn-post-package]

D.J. Newbill has Penn State rolling early

Penn State?s 10-1 start is its best since the 1995-1996 season, when the team started 13-0 and advanced to the NCAA tournament. D.J. Newbill has been the main reason for the success, leading the league in scoring at 21.9 points a game. Wisconsin?s Frank Kaminsky is still my Player of the Year up to this point, but Newbill is probably the most valuable player to his team right now. He's moved up to No. 2 on my Player Rankings.

Not only is Newbill efficient offensively, but he is guarding well at the defensive end. The top players in the Big Ten are so equally talented, so Newbill will have to keep up his torrid pace to remain near the top. The emergence of freshman Shep Garner at point guard has allowed Newbill to thrive at his natural shooting guard position.

The question is, can Newbill and Penn State keep winning once conference play starts and the competition skyrockets?

A lot of that depends on the play of Brandon Taylor and Ross Travis. Travis is once again one of the league?s best rebounders, averaging eight boards per game. He will have to raise that average against the tough Big Ten front lines. At only 6?7, Travis continues to come to rim and outwork opponents. Taylor?s play is probably the key for Penn State during conference play. He is averaging 10.4 points while shooting just 39 percent from the field and 30 percent from distance. Those numbers won?t cut it when the Big Ten battles start, though. If he can improve his aim, Penn State might make some noise.

***

Taking a look at Nebraska's inconsistent start

Whenever a good team struggles, at least one of three components are going awry. Number one, a key contributor is inactive due to injury, suspension or other reasons. Number 2, a key piece to the puzzle is not playing up to his potential. Number 3, point guard play is inconsistent.

In the case of Nebraska, all three components are affecting the team. The results have led to a roller coaster start. Nebraska played great in a win at Florida State, couldn?t guard in a home loss to Creighton, fell apart in the final minute in another home loss to Incarnate Word, and gutted out its most important win of the season against a physical Cincinnati squad in double overtime. It?s a stretch that has given head coach Tim Miles a few grey hairs.

Nebraska entered this season ranked and with high expectations, and rightfully so. Jim Jackson, my BTN teammate and two-time Big Ten Player of the Year, picked the Huskers to finish second in the conference behind Wisconsin. Nebraska returned seven of its top eight players from last season?s NCAA tournament team, has one of the Big Ten?s best players in Terran Petteway, and proved last season that home wins were almost automatic in its new Pinnacle Bank Arena, losing only once, which came at the buzzer to eventual Big Ten champ Michigan.

And then reality set in. Leslee Smith, the 6?8, 254 pound enforcer, suffered a torn ACL this summer. Last year, Smith averaged close to five points and five rebounds off the bench and was second on the team in blocked shots (20) and steals (29) in only 16 minutes of play. He was expected to be a major contributor inside and Nebraska has suffered dearly without him at both ends of the court. Moses Abraham, a transfer center from Georgetown, suffered a broken metacarpal and was sorely missed in Nebraska?s ugly loss to Incarnate Word. He will be out until conference play.

The domino effect of injuries has affected forward Walter Pitchford the most. A key contributor during last year?s explosive second half of the season, the 6?10 Pitchford has not been himself. Ranked among the Big Ten leaders in both field-goal percentage (47%) and 3-point percentage (41%) last year while hitting 48 bombs, Pitchford, this year, is shooting 31 percent and 29 percent, respectively, in addition to an unacceptable 35 percent from the free-throw line on only 17 attempts. Pitchford is too good to be putting up those types of numbers, and I expect him to assert himself over the next few games.

Finally, Tim Miles has to play the hand he has been dealt, and the Nebraska point guards are once again struggling to find the basket. Tai Webster, a former four-star recruit, has not been able to score at the Big Ten level with any consistency. His shot selection is suspect and he is shooting only 18.5 percent from behind the arc. Benny Parker is as tough of a defender as there is and he continues to improve, but he is not known for his scoring. Tarin Smith has shown glimpses of his bright future, but like most freshmen, he has struggled to adjust to the physical play of college basketball. The more experience he gains, the better he will become. Against Cincinnati, the point guards did come up big during winning time. Parker?s floater with 1:14 left in the second overtime was clutch, and Tai Webster scored seven of the Huskers? 12 points in the two overtimes. Those performances could be the confidence boosters Parker and Webster needed.

Petteway and Shavon Shields are putting up big numbers, but are taking close to 50 percent of the team's shots, the most of any tandem in the Big Ten. Every defensive game plan focuses on them, and without much rebounding, they have to knock down open jumpers, defend and rebound on both ends. Petteway is averaging 20 points a game, but is pressing some nights and is only shooting 32 percent from distance.

Mike DeCourcy, the best college basketball writer in the country for the Sporting News and also a BTN teammate, says that despite the Huskers? inconsistencies, Petteway is having an excellent season.

?There are times he has to carry that team,? he told me in the green room at BTN studios. ?With Pitchford struggling and no inside help, Petteway has to do so much. He is one of the country?s top players and could be Player of the Year in the Big Ten if they win.?

Nebraska plays seven of its first nine conference games at home. If the Huskers can heal up, get Pitchford back on track, and get consistent play from their point guards, they can still compete for a Big Ten title and back-to-back trips to the NCAA tournament.

***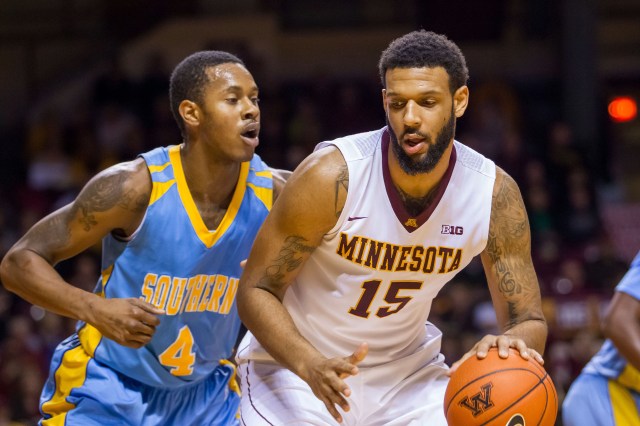 Big man Mo Walker getting it done for Minnesota
With all of the talented guards in the Big Ten this season and with the impact the 3-point line and shot clock has had on the college game, it?s hard to be an ?old school? center and get any love these days. Most coaches are using their inside players to set ball screens away from the basket, pass, rebound and defend the rim. By the time post players establish position on the block, a 3-pointer has been launched over their heads. Big Ten legendary centers like Minnesota?s Kevin McHale, Michigan?s Phil Hubbard, Indiana?s Kent Benson, or Purdue?s Joe Barry Carroll wouldn?t have known what to do with themselves in this fast-paced era. True centers find themselves running up and down the court rarely touching the ball. It can be a frustrating and lonely existence.
That?s why it was very rewarding to see Minnesota?s Maurice ?Mo? Walker named the Big Ten Player of the Week for the first, and probably the last, time of his career. It all came together for Walker last week as he averaged 16.5 points, 6.5 rebounds, 2.5 blocks and 1.5 steals per game on 81.3 percent shooting in Minnesota?s wins over North Dakota and Southern. Granted, the wins weren?t against powerhouse teams, but Walker has had a productive season, averaging 11.2 points, 5.3 rebounds, 1.8 blocks and 1.3 steals, while shooting 63.5 percent from the field and 72 percent from the line. At 6?10, 255 lbs., Walker has solid back to the basket moves and a soft baby hook shot.
Minnesota had a great run to the NIT championship last season, but if it wants to dance in the NCAA tournament this March, Walker is going to have to continue to play well inside. Walker gets on the floor for loose balls, sets hard screens and disrupts shots. He does a lot of dirty work that doesn?t show up on a stat sheet.
Last season, the Gophers were extremely triple-heavy, and I asked head Coach Richard Pitino earlier this year if he had to get Walker and fellow post Elliot Elliason more touches if the Gophers were going to survive the Big Ten grind.
?Yes,? he said, without hesitation. ?But it?s also up to Mo and Eilliot to set ball screens and then post harder and demand the basketball.?
Last week, Walker did just that and he was finally recognized for his effort.