Mike Wolf, BTN volleyball announcer,

December 16, 2014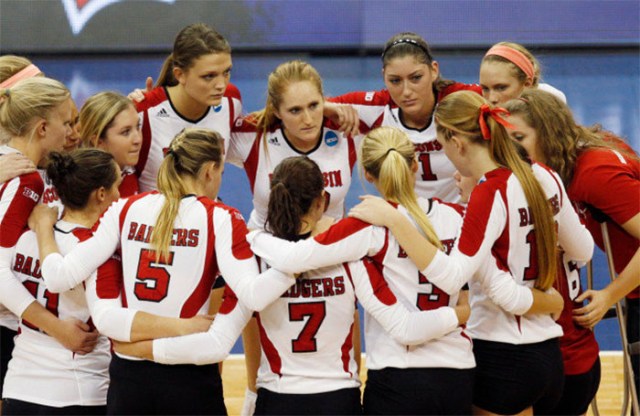 While reigning national champ Penn State is headed to the national semifinals, four of the Big Ten's other top teams saw their impressive seasons come to a close this past weekend.
[ MORE: View the official interactive NCAA bracket ]
Illinois, Nebraska, Ohio State and Big Ten champ Wisconsin, along with Penn State, made up a collection of teams that, once again, affirm why the Big Ten is the best conference in the nation. While all four fell short of their goal, each team?s performance in regional play illustrated why the Big Ten is the toughest league in all of Division I.
Editor's note: Check here Wednesday for Mike Wolf's Penn State-Stanford national semifinal preview.
Ohio State proved the doubters wrong by being points away from upsetting Big Ten champ Wisconsin in the regional semifinals last Friday. The Buckeyes were two points from winning the match in set four and would fall in five after not taking a single set from the Badgers during the regular season. Ohio State showed a glimpse of what next year holds for a team that returns a lot of talent, even with the departures of Taylor Sherwin, Erin Sekinger and Alyssa Winner.
Illinois was one of two Big Ten teams last weekend to have its tourney run drastically altered by injuries. Even after setter Alexis Viliunas was hobbled by a turned ankle, she still set the Illini to a 2-1 lead over Florida and ran the attack well enough for her team to be in position to win. Add to it an injury to outside hitter Morganne Criswell, who amazingly did not come out of the match, and the Illini were playing without two of their best players at 100 percent for sets three, four and five.
Kevin Hambly?s team fought the entire way, turning a 7-2 deficit in the fifth into a 14-14 tie before losing 16-14 to the Gators. No team wants to consider what if, but it?s hard not to think that a healthy Illini team could have finished off a 2-1 lead against Florida. It?s an unfortunate end to a season in which the Illini were fixtures in the Big Ten title race and pulled off two victories at Nebraska and Penn State, where road teams rarely win. Seniors Liz McMahon, Anna Dorn and Criswell leave the program having been a part of NCAA championship match appearance and elevating Illinois to a regular contender in both the Big Ten and NCAA tournament.
Nebraska had what seemed like the insurmountable task of taking on the No. 3 seed Washington on its home floor for the regional semifinal last Friday night. However, the Huskers would turn in their best performance of the season, led by junior middle Cecilia Hall, and become the third Big Ten to reach the final eight. The win over the Huskies was Nebraska?s most complete performance of the season. The Huskers had balance throughout the match, based on a productive middle attack and contributions at the pins. All of the expectations for this Nebraska team were met in the win and the Huskers appeared ready to return to the Final Four for the first time since 2008.
BYU would disrupt the Huskers' plans. Continuing a trend this season, Nebraska followed a big win with a disheartening loss. The middle production that was such a lift against Washington was mostly absent against the Cougars, and while the Huskers slowed 6?7? Jennifer Hamson to just nine kills, three other hitters contributed eight kills or more for BYU. The best blocking team in the country made life difficult for all of Nebraska?s pin hitters and the Husker season came to a close in a straight-set loss. While disappointing, Nebraska loses just one starter next season, setter Mary Pollmiller, and the youngest team in Husker history will build off this postseason performance.
This is not how Wisconsin?s season should have ended. Two things happened this weekend that contributed to the end of the Badger season that should not have taken place. For starters, Lauren Carlini suffering an ankle injury in set one against Penn State was unavoidable, but still not how you want to see a matchup of two of the best team?s in the nation unfold. Secondly, what could have been avoided was Wisconsin facing Penn State in a regional final. Not because the Badgers could not beat the Nittany Lions, but because two of the best teams in the nation, out of the same conference, should not have been playing in the same regional.
This was a match that should have taken place in the national semifinal, or for the second year in a row, in the championship match. It has been discussed at length but watching Saturday?s match, even with a hobbled Carlini, illustrated why both of these teams deserved to be playing on the final weekend. That might have been a likely reality if they had been playing in different regionals.
Coaches and players will not dwell on what could have been like those of us in the media, and, unfortunately, we have to discuss the end of a historic year for Badger volleyball. Despite playing on a bum ankle, Carlini still ran a solid attack for Wisconsin and had her team in position to beat Penn State. The third and fourth sets would come down to the Nittany Lions gaining separation at the 15-point mark and the Badgers staying close but not being able to put together a run to overtake Penn State.
The loss on Saturday ended a 22-match winning streak for the Badgers and kept them from returning to the national semifinal for the second straight year. A Big Ten title and a 19-1 conference record, as well as taking home all but one of the major league awards, makes this year one of the best in program history. Unfortunately, a senior class that led the resurgence of the program has played its last match. A class led by Courtney Thomas, Dominique Thompson, Ellen Chapman and Deme Morales leave behind a program that is drastically improved from the one they entered.
As disappointing as it may be for Wisconsin fans to see this season come to a close, they know there are still two more years remaining for arguably the best setter in the nation. Carlini was hobbled Saturday but will drive herself even harder next season to get Wisconsin back to the championship match. This situation cannot help but recall 2012, when Penn State?s setter Micha Hancock suffered an ankle injury in the national semifinal against Oregon and the Nittany Lions season was unjustly cut short. Hancock would come back in 2013 and lead her team to the national title. Do not be surprised if Lauren Carlini takes that script and makes it her own.
| | |
| --- | --- |
| About Mike Wolf | Mike Wolf is a BTN announcer and calls Big Ten volleyball matches on the Big Ten Network. His Volleyball Reports will appear on BTN.com every Tuesday for the rest of the Big Ten volleyball season. You can also follow our extended volleyball coverage on Twitter with @BTNvolleyball. |