Tom Dienhart, BTN.com Senior Writer,

December 14, 2014

There were no gasps. No screams of shock on Saturday night when the Heisman Trophy winner was announced. Everyone knew it was going to be Oregon quarterback Marcus Mariota.

The only question: How big would his winning margin be?

It was big, over No. 2 man Melvin Gordon of Wisconsin and No. 3 Amari Cooper of Alabama. See the final tally.

That finish almost mirrored my ballot. I had Mariota No. 1; Gordon No. 2; TCU quarterback Trevone Boykin No. 3.

The argument for Cooper being No. 3-or even higher-was a good one. The guy may be the best wideout ever produced by the SEC. He led the nation with 115 catches for 1,656 yards with 14 TDs for the No. 1 seeded team in the playoffs.

But I went with Boykin, as he was axis on which a dominant Big 12 co-champ Horned Frogs team turned. Boykin finished No. 3 in the nation in total offense (363.0 ypg).

You could have made a case for Gordon to win. The Badger set a Big Ten single-season record with 2,336 yards rushing and led the nation with 26 rushing TDs. He also set the FBS single-game rushing mark with 408 yards vs. Nebraska, which was topped the next week. Still, Gordon had a singular spectacular season for the ages in leading Wisconsin to the Big Ten West title.

But then there was Mariota, the ultimate dual-threat quarterback. He?s No. 1 in the nation in passing efficiency, completing 254-of-372 passes for 3,783 yards with 38 touchdowns and just two interceptions for the Pac-12 champ Ducks who are in the playoffs as a No. 2 seed. Want more? Mariota is No. 5 in the nation in total offense, averaging 342.5 yards.

If I had a 4-6 on my ballot, it would have been: Cooper, Ohio State?s J.T. Barrett and Indiana?s Tevin Coleman.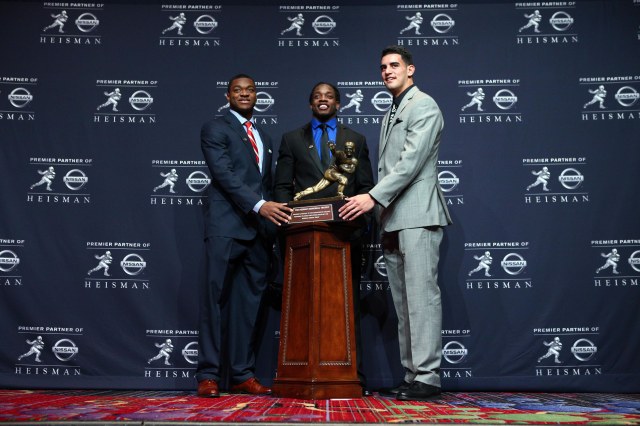 | | |
| --- | --- |
| About Tom Dienhart | BTN.com senior writer Tom Dienhart is a veteran sports journalist who covers Big Ten football and men's basketball for BTN.com and BTN TV. Find him on Twitter and Facebook, read all of his work at btn.com/tomdienhart, and subscribe to his posts via RSS. Also, send questions to his weekly mailbag using the form below and read all of his previous answers in his reader mailbag section. |
And if you want to leave a comment on this post, use the box below. All comments need to be approved by a moderator.