Jess Settles, BTN Basketball Analyst,

December 10, 2014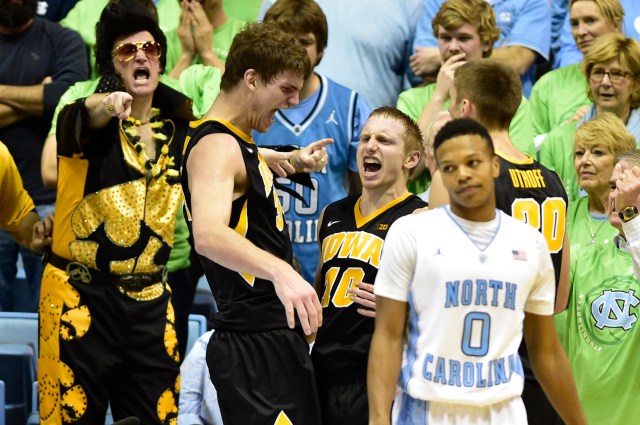 This week, Jess Settles takes a look at Iowa's win over its longtime nemesis, its huge rivalry game Friday night and Michigan's recent struggles.
Iowa beats its No. 1 nemesis
It?s hard to quantify the significance of Iowa's win at No. 12 North Carolina last Wednesday night. Roy Williams was 86-3 in the Dean Dome against non-conference opponents before gutsy Iowa point guard Mike Gesell scored the final five points of the game and sealed a rare win for the visiting team.
Yes, Iowa needed a signature win. Yes, the Big Ten won another ACC/Big Ten challenge. And yes, Iowa?s defense continues to be dominant, holding teams to 33.7 percent shooting, which is currently sixth in the nation.
But for most Iowa natives the win was personal. Iowa coach Fran McCaffery told me matter-of-factly a few days ago in the Iowa locker room that it was a ?good win, and now we move on to get ready for the next one.? His ability to ?move on to the next one? is one of the reasons he has now led four different programs to the NCAA tournament. But most Hawkeye fans don?t want to move on quite yet. They want to savor a rare victory over Roy Williams that has been a long time coming.
You see, whenever Williams is spotted walking through the Des Moines or Cedar Rapids, Iowa, airports, people cringe. It?s not that Iowans aren?t hospitable, it?s that history indicates Ole Roy isn?t in Iowa vacationing. He is coming to steal away another Iowa blue chipper to his already loaded arsenal of talent.
You have to go back 20 years now to reopen the wound that is still festering. Center Raef LaFrentz, a McDonald?s All-American from Monona, Iowa, and a sure-fire NBA talent, chose Williams and Kansas over Dr. Tom Davis and the home state Hawkeyes. It was a decision that altered the careers of both fine coaches. LaFrentz would dominate at Kansas, becoming one of three players to be named a two-time first-team American in the 1990?s. The other two players were Tim Duncan and Shaquille O?Neal. He recently completed a prosperous NBA career.
Iowa would struggle to fill the void without its enormous home grown talent. Five years later, another McDonald?s All-American, life-long Hawkeye fan Nick Collison, from Iowa Falls, Iowa, would have every coach in the country knocking on his door. The explosive power forward and coach?s son was leaning toward the Hawkeyes, but Iowa decided not the renew Coach Davis? contract, leaving a lame duck coach and a recruiting vacuum in Iowa City. Williams pounced again and signed Collison to the Jayhawks. To pour more salt on the wound, Collison?s good friend, point guard Kirk Hinrich from Sioux City, Iowa, had committed to play for Iowa State and coach Tim Floyd. Floyd ended up taking the Chicago Bulls coaching job and Hinrich ended up signing with? you guessed it, Roy Williams.
Collison and Hinrich led Kansas to the NCAA championship game in 2002 and were both NBA lottery picks. All three Iowa natives have their jersey?s retired in Phog Allen Fieldhouse in Lawrence, Kansas. That?s a bitter pill for most Hawkeye and Cyclone fans to swallow.
It gets worse. As both Iowa and Iowa State struggled to find victories and rebuild their programs, two other McDonald?s All-Americans from Iowa rose to the top of national recruiting lists. Ames, Iowa shooting guard Harrison Barnes was rated the No. 1 player in the nation by Scout.com. His hometown Cyclones were losing games and his decision came down to Kansas, Duke, and North Carolina. By this time, Williams was leading the Tar Heels. Again, in a nationally televised press conference, Barnes chose Williams. Barnes stayed at Chapel Hill for two seasons and was the 2012 7th pick of the NBA draft.
Finally, when close friends and Iowa AAU teammates Adam Woodbury, Mike Gesell, and Marcus Paige were blowing away competitors around the Midwest, as expected, Roy Williams and the rest of the top college coaches came calling again. By this time, Iowa head coach Fran McCaffery had just begun the arduous task of rebuilding the Iowa basketball program and Ames native Fred ?The Mayor? Hoiberg had recently returned home to bring the magic back to Hilton Coliseum. Roy Williams wanted Woodbury and the McDonald?s All-American Paige. He got Paige. McCaffery landed Woodbury and Gesell, and Hoiberg has returned glory to Ames by signing many of the best transfers in the nation. Last year, Hoiberg and the Cyclones upset Williams, Paige, and the Heels to advance to the Sweet 16.
So in the last 20 years, if you include academic excellence, high school dominance, college success, and NBA accomplishments, arguably, the five best Iowa born and raised players of all time (Raef LaFrentz, Nick Collison, Kirk Hinrich, Harrison Barnes) and now Marcus Paige, who is expected to be a top draft pick as well, all played for Roy Williams.
So, as you can imagine, the victory in the Dean Dome was more than a signature win for most Iowans; it was monumental. Although the past can never be altered, Iowa kids wearing black and gold delivered a victory against one of Iowa?s biggest nemesis.
***
Iowa has another big one Friday night on BTN
Speaking of Iowa, the Hawkeyes face off against their in state rival #13 Iowa State Friday night at Carver Hawkeye arena in Iowa City. I?ll be in the Big Ten Studio with Mike Hall breaking down all of the action during the game. Kevin Kugler and Shon Morris will be broadcasting what was one of the top non-conference games of the year last season.
Something is going to have to give. Iowa enters the contest as one the better defensive teams in the country, holding teams to 33.7% from the field, which ranks 7th in the nation. The Hawkeyes are holding opponents to only 54.9 points a game, which currently ranks 16th. Iowa State is a scoring juggernaut, averaging 83.6 points a game. That?s an impressive 12th in the nation. The Cyclones have led the Big 12 in scoring the past two seasons. Iowa State passes the ball as well as anyone, currently ranking 9th in assists, nationally.
The Hawkeyes haven?t faced the scoring punch Iowa State brings to the table, and Iowa State hasn?t faced the length Iowa?s front line possesses. Jared Utoff, Aaron White, Adam Woodbury, and Gabe Olaseni have long wing spans for Iowa and close out on smaller guards better than any front line in the Big Ten. Iowa is ranked 29th in the country with 5.8 blocks per game. They will need to have their best defensive game of the season. Olaseni has 55 points and 33 rebounds in his last three games to go with his stellar defense. He is already in the running for the Big Ten's Sixth Man of the Year.
The Cyclones have five starters who will contend for all Big 12 honors, including two All-American candidates in George Niang and Bryce Jones, who can each score 30 on any given night. Iowa State is an Elite Eight contender when they are hitting its 3-pointers.
Iowa?s guards have not been shooting the ball at a consistent pace and will need to have a big game Friday to keep up with Clones. Mike Gesell and Anthony Clemmons scored 12 of Iowa?s first 14 points at North Carolina in what was their best stretch of the year. Gesell finished with 16 points and made BTN.com?s ACC/Big Ten Challenge team. White is also a big key for Iowa. The senior is listed on my Top 10 Player Rankings and had the best game of his career last year in Ames, with 25 points and 17 rebounds.
Maryland upset Iowa State in Kansas City earlier this year because it held the Cyclones to only 29.7 percent from the field and 6-of-27 from downtown. If Iowa can do the same, they will find themselves in the Top 25 next week. Something has to give.
***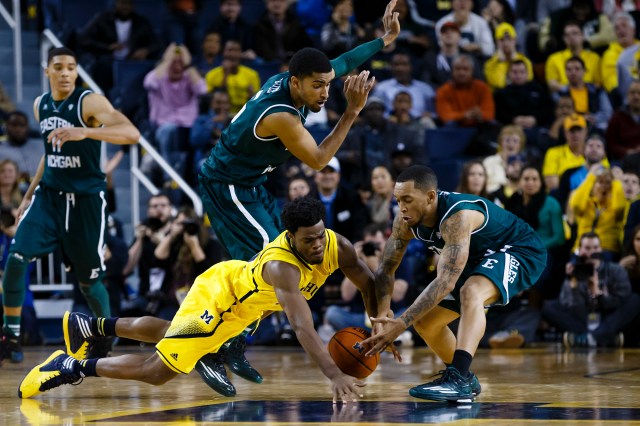 What to make of Michigan's recent struggles?
It?s been a really rough week for Michigan. The Wolverines, fresh off their quality home win against Syracuse a week ago, lost consecutive stunners to NJIT and Eastern Michigan, snapping their Big Ten-best 59 game streak with no back-to-back losses.
After the 72-70 stunner to NJIT, Michigan was upset in a 45-42 brick fest to crosstown opponent Eastern Michigan. The loss to NJIT wasn?t quite the 1982 version of Chaminade upsetting Ralph Sampson?s No. 1 ranked Virginia team, but it?s a game Michigan has to win. In what could end up being the quote of the year, NJIT?s coach Jim Engles said, ?Coming into the season, I sort of penciled this one in as an ?L.? I have to readjust my whole process here, as to, ?We just beat Michigan. I don?t know, maybe we should be in the Top 25.??
NJIT had never played a Top 25 team, and their gym is also the campus fitness center. NJIT was missing its best player, Terrence Smith. Against Eastern Michigan, the Wolverines played hung over from the embarrassing loss to NJIT and couldn?t solve Eagle?s 2-3 zone on their way to only 42 points.
What?s wrong with Michigan?
First of all, Michigan is getting very little production from its inexperienced bigs. At media day, I asked Coach Beilein about his inside guys and, always an optimist, he replied, ?I like our inside players. They have a lot of upside.? He then went on to build up senior forward Max Bielfeldt, and his freshman Mark Donnal, Ricky Doyle, and D.J. Wilson. Wilson is injured and expected to red shirt. Beilein was also very excited about the potential of freshman forward Kameron Chatman, the highly recruited lefty who has shown scoring glimpses in practice and a few games. For the most part, though, Chatman has played like a freshman and had three total points in the two losses. In fact, in the two losses, Bielfeldt, Donnal, Doyle, and Chatman combined for only 21 points in 115 minutes of play.
I was at practice earlier in the week, and assistant coach Bacari Alexander, one of the most passionate and personable coaches in the Big Ten, was pushing his young bigs hard with drill after drill. ?You had one dunk against Syracuse and you think you?ve arrived,? he challenged his latest project Ricky Doyle. Alexander is very excited about Doyle?s future, but he knows all too well the fine line between winning and losing with such inexperience in the paint. All-American candidate Mitch McGary was supposed to return this year from his back surgery but was forced to leave early for the NBA due to a probable suspension. 6-10 Jon Horford inexplicably gave up 35 minutes a game to transfer to Florida before the season. And so, instead of learning from the upperclassmen, the Michigan forwards have been thrown to the fire.
Secondly, as talented as Michigan?s guards are, they will have to bring their "A" game every night while the young forwards develop. Caris LeVert is an elite guard and is ranked #3 on my Top Ten Power Rankings. Zak Irvin is a leaper who can shoot the triple as well as anyone, and Derrick Walton is a capable point guard who is fighting off a foot injury. Spike Albrecht is capable of taking over games for small stretches. The Michigan guards have a lot of pressure on them to score. LeVert and Irvin combined for 20 points in the loss to Eastern Michigan. One of these two stars has to have 20 points individually for Michigan to win. Also, the Michigan guards have to stay in a defensive stance for longer stretches and get stops.
Is the ship sinking on Michigan this year? No. They have a quality win over Syracuse and they battled a very talented Villanova team to the final minutes. Coach Beilein has taken Michigan to the Final Four and the Elite Eight the last few years and will have his team ready to compete for another high finish in the Big Ten. And he?s never one to give up on his teams. ?I?m not ever going to throw my guys under the bus,? he said.
I?m not betting against Michigan, but it doesn?t get any easier this week. Up next, at Arizona.