BTN.com staff,

December 7, 2014
Every Big Ten school has produced leaders who have reached the pinnacle of their professions, whether business, government, science and technology, medicine or education. High Profile takes a look at how these alums rose to the top of their field.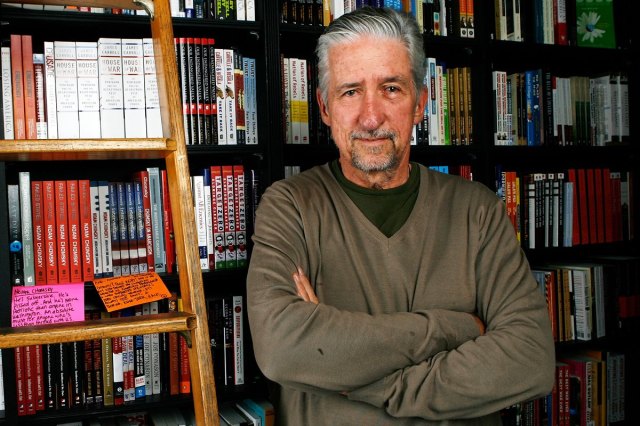 It sounds like the set-up for a punchline: What do philosopher Albert Camus, civil rights leader Dr. Martin Luther King Jr. and actor James Dean have in common?
But for legendary activist and University of Michigan graduate Tom Hayden, it?s no joke. He cites those figures as major influences on his career, which covers more than a half-century and continues to this day.
Hayden was born in Detroit in 1939, but after that city?s race riot in 1943, his family moved to Royal Oak, Mich. Though his background was lower-middle class, he described the experience of growing up there as largely ?sheltered.? Consequently, as a teenager he was deeply affected by the 1955 film ?Rebel Without a Cause,? and identified with the protagonist portrayed by Dean.
?What you go through in adolescence will influence your outlook,? he said. ?In high school, I was drawn to what became my lifetime calling, which was asking questions and writing.?
In 1957, Hayden arrived at Ann Arbor and came into contact with some of the Freedom Riders shortly thereafter, which he said was another turning point.
?I started meeting people from the Southern civil rights movement,? he said. ?That was really eye-opening. Here was a cause worth dying for. [The civil rights movement] was the catalyst for me, and I think the principle catalyst for my generation.?
While at Michigan, Hayden served as editor of the Michigan Daily, the student newspaper. In that role, he traveled across the country to document the burgeoning civil rights movement as a writer who was sympathetic to those causes. He began making a transition from sympathizer to participant in 1960, when he traveled to Los Angeles for the Democratic National Convention and met and interviewed King - who, like Hayden, was not yet an iconic national figure.
?I was still trying to make a name for myself,? Hayden said of his reason for interviewing King. ?He was very nice and reasonable, but his message [to me] - which was mostly unspoken - was, ?Why don?t you put down the notebook and pick up a picket sign???
Around that time, a somewhat organized student activist movement began to get off the ground. Representing an evolution of sorts from the ?Beat? scenes found in places like San Francisco, New York and Ann Arbor, it was fueled by a variety of concerns that ranged from frustration with paternalistic, intransigent university leadership to inequities based on racial and class differences.
[btn-post-package]Hayden played a key role in two events in the early years of that movement. The first was in 1960, when he helped start Students for a Democratic Society (SDS), an activist organization that held its first meeting that year on the University of Michigan?s campus.
The second was in 1962 when, as field secretary, he drafted a 25,000-plus-word manifesto that would eventually be known as the Port Huron Statement. Presented that summer at a United Auto Workers retreat in Port Huron, Mich., this became a ?founding document? for student activism across the country and influenced similar movements internationally.
Though it?s sometimes cited as inspiring the turbulence that characterized the mid- to late-1960s, Hayden said he didn?t write it to stir up conflict and unrest, but rather to expand the idea of a truly representative democracy.
?The Port Huron Statement was not a declaration of protest,? he explained. ?It was a visionary strategy that built on the student and civil rights movements. It was something like what James Joyce tried to do when he talked about expressing the ?unconscious consciousness? of the time. It was written for students and young people, but it was also for the older generation.?
Hayden said the noble intentions of those movements reached an apogee in 1963 with the famous March on Washington, which included King?s historic ?I Have a Dream? speech. While that event is largely remembered as a milestone in the expansion of the liberties of African-Americans, he pointed out that it also included public works improvements, job creation and a national minimum wage among its goals, which were shared by labor and student activist groups that participated in the march.
However, two other things took place that year that changed the spirit of activism considerably from that of the March on Washington: the assassination of President John F. Kennedy, and the expansion of the U.S. military presence in Vietnam. And soon after the former, new President Lyndon B. Johnson sped up the latter, which led to an explosion in youth protests.
?It was extraordinary, because no one in the older generation had predicted this uprising of young people,? Hayden said. Their dissatisfaction was exacerbated by the fact that the legal voting age at the time was 21. (It was lowered to 18 when the 26th Amendment to the U.S. Constitution was passed in 1971.)
?They could be drafted but couldn?t vote,? he added.
Johnson also unveiled his ?Great Society? - in a speech delivered at the University of Michigan, incidentally - in 1964, which included new and expanded government programs in areas like education, poverty and healthcare. Though Hayden acknowledged that the initiative ?borrowed heavily? from ideas in the Port Huron Statement, he and his colleagues were skeptical.
?At the time, we didn?t think the Great Society was democratic enough, and didn?t have enough emphasis on poor and working people,? he said. ?We didn?t believe it could be effective with our involvement in foreign wars.?
In sheer numerical terms, activism of the political left reached its height in the late 1960s, but Hayden viewed this period as a low point in his career. For one thing, there was the infamous, violent clash between police and protestors in the streets of Chicago during the 1968 Democratic National Convention and the subsequent ?Chicago Eight? trial (in which Hayden was a defendant). Additionally, King and Robert Kennedy - a Democratic presidential candidate - were assassinated that same year.
?It cut off the possibility of a leader coming to power through elections that would bring our movement to victory,? Hayden said. ?[Those leaders] don?t just come back naturally. When they?re gone, they?re gone forever.?
Given those turns of events, Hayden could have easily been excused for becoming disillusioned and pessimistic about the prospect of changing American politics and society. But that?s not how he thinks. Like Camus, he rejects the notion of surrendering to despair, no matter how grim things may seem.
?Camus basically said that you have to rebel to be human,? he explained. ?Everything has to be a heroic creation. In his novel ?The Plague,? he wrote that when you?re faced with a plague, you go to the front lines to fight. You don?t ask whether you?ll win or not.
?That doesn?t mean to battle mindlessly,? he added. ?You should evaluate your strategies and try to win, but you need to be driven by the fact that you?re a human being. Read, study, argue and keep finding your way toward a better society.?
Since the heady days of the 1960s, Hayden has been an ardent activist for causes ranging from world peace to animal rights, run for public office several times, served in the state legislature of California (where he?s resided for the past few decades), and written dozens of books and essays. He?s also seen an evolution in the national discourse, and many of the once-radical principles espoused in the Port Huron Statement are now mainstream.
?It?s always a victory of sorts when you change norms,? he said. ?I?ve been blessed to see many important milestones and victories.?
Today, Hayden leads the Peace & Justice Resource Center, an advocacy organization based in Culver City, Calif. Additionally, he recently donated his collection of personal papers to the University of Michigan library and arranged to return to Ann Arbor periodically for the next several years to help scholars, faculty and students sift through the archived documents and photos in order to make those materials more useful to future historians.
Hayden said he enjoyed coming back to the place where, in many important respects, his career began. That first trip, which included a number of interactions with young people, guest lectures and even a Wolverines football game, reminded him of how much he loves the place.
?We had a great reception,? he said. ?It gave me a renewed feeling that Michigan is my second home state.?
By Brian Summerfield