Jess Settles, BTN Basketball Analyst,

December 3, 2014

Why's Illinois so improved? What does Branden Dawson need to do to get back to last season's late form? And, what will it take for a Bo Ryan assistant to get a head gig?

BTN analyst and former Iowa forward Jess Settles offers his takes on all of these questions below.

Transfers making difference at Illinois

I climbed out of my Ford Expedition and into the brisk, Champaign, Illinois, wind, feeling a little uneasy and needing an answer to the first question I always have whenever I park near a college arena. I hustled toward the State Farm Center as a few cars of players, all decked out in Illinois Orange practice gear, came rolling in. In all seriousness, I asked one of the guys my important question. ?Will they tow me?? ?Nah,? he said, ?You should be all right.? He seemed confident. Relieved, I left my SUV in the empty ?permit only? lot and followed him. Strangely, we entered a metal shack not connected to the arena. He must be a manager, I thought, as I observed his short frame covered by a winter jacket, military boots, and gym shorts. Sure enough, down a flight of steps we went, through a tunnel and right to the court.

That was easy.

Last season at Illinois, nothing came easy. Like all John Groce-coached teams, the Illini played extremely hard, fought for loose balls, and guarded. But they couldn?t hit the broad side of an Illinois barn. Illinois lost eight games in a row early in the conference season. In two of those losses, they couldn?t break 50 points on their way to finishing 11th in The Big Ten in scoring.

?That was the worst shooting and passing team I?ve ever coached,? Coach Groce is on record for saying.

It was hard to imagine that brutal stretch ever happened as I watched a mic'd-up Groce and his assistants Dustin Ford, Paris Parahm, and Jamall Walker enthusiastically run practice. Sophomore Kendrick Nunn was automatic in the shooting drills. Rising star Malcom Hill?s shot had great arch and rotation, and he scored with ease. Rayvonte Rice looked chiseled and was flying up and down the court, making the extra pass and hitting the open shot. Even center Nnanna Egwu was hitting the 10-footer. And then I zeroed in on the new guards.

Desperate for perimeter fire power, Illinois landed Seton Hall transfer Aaron Cosby and former Oregon State point guard Ahmad Starks. Cosby was automatic when left open and is a career 39-percent 3-point shooter. And Starks? Turns out the undersized kid who led me to the court was Ahmad Starks. He?s only 5?9, but was fearless attacking the bigger defenders, and his leadership is the reason Illinois has soared to a 6-1 start after a hard-fought loss at No. 15 Miami in the ACC/Big Ten Challenge.

?He really takes care of everyone, makes sure everyone knows where they?re going on the court,? Egwu said earlier this season.

Or in my case how to find the court.

Starks, Oregon State?s all-time leader in 3-pointers made, is shooting close to 35% from deep, compared to the 27 percent Tracy Abrams, now injured, shot last season. Starks has the rare ability to hit the mid-range jumper. With Egwu and freshman force Leron Black setting hard ball screens, Starks is almost impossible to consistently defend when he makes wise decisions. If defenders go under the screen, Starks will drill the 3. If they go over the screen, he will pull up and hit the jumper or assist a now full stable of capable shooters on the wings.

The days of sagging defenses against Illinois are over. The biggest beneficiary has been Rice, who is now getting open looks and not worried about having to force shots on every possession. The senior is in beast mode averaging 18.4 points on 56% shooting and has climbed onto my top 10 player power rankings this week. Did I mention he pulls down eight boards a game and steals 2.5 balls per game?

The 24th-ranked Illini won the Las Vegas Invitational Championship last weekend, and Rice was named MVP. They are the most improved team in the early Big Ten season, and will be very tough to beat at home. Their biggest weakness is shot selection. Most of their guys can shoot, but against Miami, everyone on the floor was launching low percentage shots. Illinois forced up 14 triples in the first 13 minutes and let Miami?s smaller defenders off the hook. Even Egwu bricked three 3-pointers. That should be his total for the year, not in one half. Illinois finished with one assist in the first half against the Hurricanes. Illinois can score, but they will have a great season if they make the extra pass and take quality shots. They are very capable of knocking them down this year.

***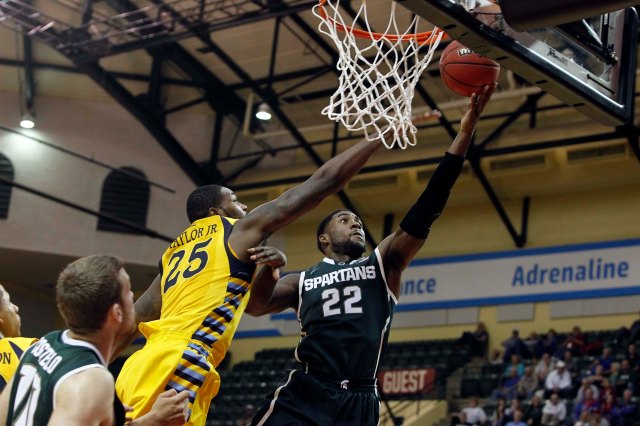 Time for Branden Dawson to focus on rebounds
My wife, Joanna, and I sat in the Wisconsin hotel lobby in Indianapolis last March on the eve of their semifinal matchup against the suddenly healthier Michigan State Spartans. An exhausted looking Greg Gard came walking over to say hello. Bo Ryan?s long-time assistant, Gard was in charge of the Spartan scouting report, and he had a dilemma he couldn?t solve. His first words to me were, ?How are we going to stop Branden Dawson from getting to the rim?? The Badgers couldn?t. No one could. Dawson went on to lead MSU to a Big Ten Tournament title and was named MVP.
Fast forward to last Sunday. Just under a minute left in the championship game of the Orlando Classic against Kansas and down three points, Tom Izzo did what he does best and drew up an isolation play for Dawson, his star player, on the right low block. Dawson made two nice power dribbles into the paint, used his quickness to get around the slower defender, went up soft, and blew the left handed layup as the Spartans went on to fall to the Jayhawks. The All-American candidate?s line on the day: 8 points and 9 rebounds.
It?s still early in the season, but Dawson is not off to the dominant start Tom Izzo needs if Michigan State is going to compete for a Big Ten title; he's averaging only 10.2 points and 7.8 rebounds per game. Not too many players have been through the physical and psychological struggles the humble Dawson has in his career. A blown out knee and a busted hand have sidelined the high-flyer for many critical months in his young career. He was expecting to be cashing NBA paychecks at this point in his life, like his buddies Adreian Payne and Gary Harris from last year?s Elite 8 squad.
But life offers harsh realities. Due to the injuries, the talented Dawson is still paying rent and eating cafeteria food in East Lansing. It?s the type of psychological warfare only a few injured star players can truly understand. The question is always, how do you get your mind to focus on the task at hand, instead of what could?ve been? That?s the war within for Dawson. He is overthinking the process. Last year, other guys made the plays and took the big shots while Dawson rebounded and defended. He has to get back to being that guy.
I sat at his table at Media Day and many of the questions being thrown at the unselfish senior involved what the NBA scouts were telling him he needed to improve upon. Dawson answered, ?jump shots, putting the ball on the floor, passing," all the things you would expect him to say. But that?s not his game. And that?s not who Izzo and his assistants Dane Fife, Dwayne Stephens, and Mike Garland need him to be. They want him to get a hand on every rebound, defend, and come up with 50-50 balls. Whatever else he delivers is a bonus.
The truth hurts, especially for such a highly talented and high-character player going through such trials.
?I?ve tried to get Branden to realize how good he can be, but he doesn?t really understand it? Tom Izzo told me at Media Day in Chicago. ?It?s frustrating for me, because he is finally healthy and he can do so many things, yet he doesn?t go hard enough all the time.?
Izzo wants more than anything for all of his players to realize their full potential. Most of them do. His face tightens up when he speaks of the torment his senior has been through and the toll injuries have taken on his team the last few seasons. But this season is now at hand, and Dawson has to deliver. The cold reality is that, yes, the injuries have changed the course of his career, but the next game is Wednesday night at Notre Dame, and the Irish aren?t concerned with what he has been through.
Dawson has to stop thinking about expanding his game, showing the scouts his new moves or making mistakes. He needs to concentrate on one thing and one thing only: rebounding. I would advise him to write the word on his mirror, in his locker, and on his shoes. He needs to take a hiatus from interviews for a few weeks and concentrate on rebounding every ball in his area in practice and games. Rebounding will restore his confidence and get him back to doing what put fear in Greg Gard and the Wisconsin staff last March.
I?ve studied the tapes, and Dawson is not coming to the rim every time as if his career depended on it. He?s trotting up the floor too much instead of sprinting to the rim. Spartans don?t trot. He?s leaning on opponents and using his hands instead of using his legs to get inside position. The tapes don?t lie. He is leaving five to 10 rebounds on the floor each game, in my opinion.
That?s the difference between winning and losing. If he rebounds, he will get tip dunks. If he rebounds at a high level, Michigan State will win. And if he rebounds, he will get paid.
His goals against Notre Dame tonight should be 15 rebounds and the win. He should have his hand on every close ball. If he does, he will dominate, fill the stat sheet and his joy will return.
Travis Trice has been clutch this year. Denzel Valentine is now one of the most complete players in the Big Ten. Matt Costello has been solid in the paint. Bryn Forbes and Alvin Ellis III are going to knock down the open shots, and freshman Marvin Clark and Tum Tum Nairn are improving. Michigan State played really inspiring basketball for long stretches against Duke and Kansas, both games they could?ve won. But the motor has to be Dawson. Can he do it? Yes. Will he do it? It?s up to him.
***
Bo Ryan's assistants don't get enough respect
Wisconsin assistants Gary Close, Greg Gard, and Lamont Paris are arguably the Big Ten?s most successful coaching staff. Following the lead of Bo Ryan, they continue to take Wisconsin to new heights.
The Badgers have never finished lower than fourth place in the Big Ten during the Ryan era and have been in the NCAA tournament every year in his tenure. Last year, the staff was rewarded with a trip to the Final Four.
Gard, Close, and Paris are able to develop players and have them ready to go in the biggest moments. Not only do they recruit smart and versatile athletes to Madison, they know what to do with them when they arrive. Has there ever been a committed Ryan player not max out their potential?
From Kirk Penney to Alando Tucker to Frank Kaminsky, Bo knows player development. That?s because the veteran assistants work smart at their craft and know how to develop a player's strengths. Last week in the Battle 4 Atlantis title game, Kaminsky was in foul trouble and had to sit most of the first half against a really good Oklahoma team. Coach Close told me earlier in the season when I visited practice that dribble penetration and/or Kaminsky getting in foul trouble could be the Achilles heal of the veteran Badgers.
?Someone else will have to step up if that happens,? said Close. ?The good thing is, every guy on our team is capable of scoring 15 points, but we don?t need the same guy to do it every night.?
Senior Duje Dukan, who has averaged six minutes of playing time and only two points in his career at Wisconsin, came off the bench, scored 13 big ones, and the Badgers didn?t miss a beat. In the second half, Kaminsky and Traevon Jackson went to work and led the Badgers to the title.
?I?ve been pretty fortunate over my career having players who understand the points-per-possession, because we do it every day at practice,? Ryan said. ?They understand that there?s not a trip up and down the floor where we?re not trying to do the right thing. And I think our guys stay in the moment at practice, which then kind of goes over into the games.?
The truth is, most players in the country have never heard of points-per-possession. The coaching staff has to drill that mentality every day. From national championships at Wisconsin-Platteville to Big Ten titles in Madison, Gard has been preaching that system for the 20 years he has been with Ryan, and results have led to titles and ring ceremonies. Bleacher report named Gard the No. 3 assistant coach in America in 2012, and he should have a head job next season. Close has been in Division I for 28 years, working for Dr. Tom Davis at Stanford and Iowa and now with Ryan at Wisconsin. He is an expert at player development and scouting and is loved by his former players. I spent many late nights with him in the gym and video room working on my game as a player at Iowa. Paris has averaged 26 wins in his six years in Madison and has the personality and passion to connect with today?s athlete. His coaching future is extremely bright.
I sat with a veteran NBA scout at a Wisconsin practice and he said matter-of-factly that ?Bo Ryan is one of the top 5 coaches in America, and he runs some of the best practices I?ve watched in my 25 years scouting college players. But there?s a false stigma out there that Wisconsin doesn?t score a lot of points, that they?re boring, that they?re all about defense. Many uninformed AD?s don?t respect Bo?s style or hire Bo?s staff for that reason. It?s ridiculous, but it?s true,? he said.
That myth has been shattered the last few seasons as the 2nd-ranked Badgers head into their showdown Wednesday night with No. 4 Duke in the marquee ACC/Big Ten Challenge matchup.
The entertaining Badgers made 297 3-pointers last season, play in front of packed houses every night and graduate their players. Many D-I programs who made so-called ?splashy hires? recently are still waiting for the type of results the Wisconsin program delivers. Did I mention Coach Ryan and his teams are 22-6 against top 15 teams?
AD?s and search committees should be flying their private jets into Madison this spring to interview this staff. Don?t count on Gard, Close or Paris all being on the Wisconsin sideline next season. Top 5 rankings and Final Fours have a way of changing the perception.