BTN Communications,

December 3, 2014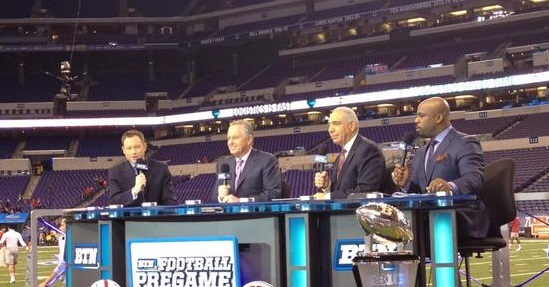 BTN will provide extensive coverage surrounding the Big Ten Championship Game in Indianapolis this weekend, when Wisconsin takes on Ohio State.
Leading up to the action, BTN will air the Big Ten Football Championship team press conferences Friday, with Gary Andersen at 3:30 ET and Urban Meyer at 4 PM ET. Later, BTN Live, with Dave Revsine, Gerry DiNardo, Howard Griffith and Glen Mason, will air live from the Big Ten Fan Fest at 6 PM ET.
Game-day coverage begins live from Fan Fest with Revsine, DiNardo, Griffith and Mason on BTN Live at 11 AM ET. Following a basketball tripleheader on BTN, the same four return with the Big Ten Championship Pregame Show presented by Auto-Owners Insurance at 6:30 PM ET from Lucas Oil Stadium. They?ll also have extensive analysis, highlights and on-field interviews during the Big Ten Football Championship State Farm Postgame Show, airing at approximately 11:30 PM ET.
Also, BTN talent Stanley Jackson, Shawne Merriman, Brandon Williams, Chuck Long, Marcus Ray, Derrick Mason, Tyoka Jackson, Jim Miller, and J Leman will join Rick Pizzo and Mike Hall at Fan Fest to preview the game and mingle with fans between shows. In addition, select former Ohio State and Wisconsin student-athletes as well as current Big Ten award winners from a variety of schools will appear on the BTN set at Fan Fest.
On Sunday, BTN will have three BTN Football & Beyond shows to preview and discuss each Big Ten bowl matchup. The shows are scheduled for 4 PM ET and 6:30 PM ET, followed by the Big Ten Bowl Selection Special at 9 PM ET. Revsine will host the shows alongside DiNardo, Griffith and Mason, and a number of coaches will be interviewed during the 60-minute Selection Special.
Overall, the Big Ten has 10 teams bowl-eligible. In addition to Wisconsin and Ohio State, Michigan State, Minnesota, Iowa, Nebraska, Maryland, Penn State, Rutgers and Illinois are poised to receive post-season invitations.
The Journey team will also be in Indianapolis to capture behind-the-scenes footage leading up to, during and after the championship game. The season finale of The Journey: Big Ten Football 2014 will debut at 11 PM ET on Wednesday, Dec. 10.
About BTN: A joint venture between the Big Ten Conference and Fox Networks, BTN is the first internationally distributed network dedicated to covering one of the premier collegiate conferences in the country. With more than 1,000 events across all platforms, the 24/7 network is the ultimate destination for Big Ten fans and alumni across the country, allowing them to see their favorite teams, regardless of where they live. BTN2Go is the digital extension of the Big Ten Network, delivering live games and on-demand programming to Big Ten Network customers via the web, smartphones, and tablets. Events include football, men?s and women?s basketball games; dozens of Big Ten Olympic sports and championship events; studio shows; and classic games. Original programming highlights activities and accomplishments of some of the nation?s finest universities. The groundbreaking Student U initiative provides real-world experience for students interested in careers in sports television. The network is in more than 60 million homes across the United States and Canada, including carriage by all the major video distributors, such as DIRECTV, DISH, Verizon FiOS, AT&T U-Verse, Charter Communications, Comcast Xfinity, Time Warner Cable, Cablevision, Cox Communications, Mediacom, RCN, WOW!, and approximately 300 additional video providers across North America. For additional information, go to www.BTN.com.
###