Tom Dienhart, BTN.com Senior Writer,

December 2, 2014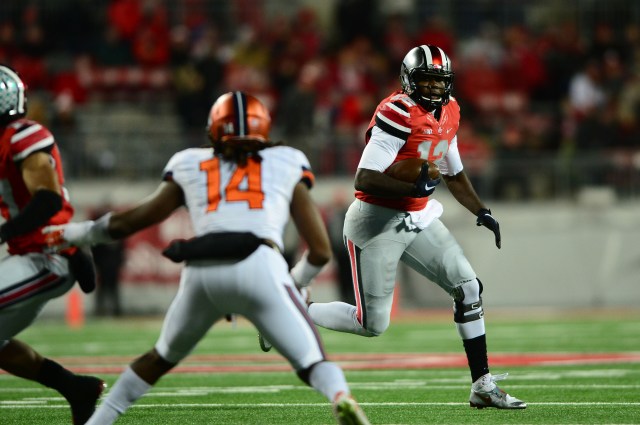 Who is Cardale Jones? Good question. We all want to know.
The kid sits squarely on the hot set as he makes his first career start Saturday night in the Big Ten title game vs. Wisconsin in Indianapolis after J.T. Barrett suffered a season-ending broken right ankle last week vs. Michigan.
[btn-post-package]
It?s one of the biggest games the school will have played in the last decade or so, with the Big Ten title and a possible berth in the first College Football Playoff on the line.
No pressure, kid.
"From what I've seen on him, he's very talented obviously," Wisconsin coach Gary Andersen said. "It doesn't change how we prepare. I'm sure Ohio State will use him to the best of his abilities and the young men around him will allow their offense to be at its best."
Jones is a redshirt sophomore who, at 6-5, 250, is built more like a tight end or defensive end. Quarterback-wise, an apt comparison may be Daunte Culpepper. Sounds right.
Jones prepped at famous Glenville High in Cleveland, which has produced the likes of Ted Ginn, Jr. Donte Whitner, Pierre Woods and 2006 Heisman winner Troy Smith, among other football luminaries.
Coming out of high school, Jones was a three-star recruit and the No. 24 player in Ohio, according to Rivals.com. And he had offers from the likes of Illinois, Iowa, Penn State, Michigan and West Virginia, among others.
As far as experience goes, Jones has little. He hit 1-of-2 passes for 3 yards last year and rushed 17 times for 128 yards and a TD. This season, Jones has completed 10-of-17 attempts for 118 yards with two touchdowns and rushed 26 times for 206 yards.
Jones has played in seven games this season, with his best outing being vs. Illinois, when he hit 5-of-9 passes for 82 yards and two touchdowns and rushed seven times for 47 yards in a 55-14 win vs. the Fighting Illini.
Wisconsin certainly will be a monster step up in completion, as the Badgers are No. 2 in the nation in total defense (260.3 ypg).
?He?s certainly ready for the moment,? offensive coordinator Tom Herman said. ?He?ll be ready when it comes game time.?
Hard to doubt Herman, who did a whale of a job getting Barrett ready after Braxton Miller suffered a season-ending shoulder injury in August-back when Barrett was an anonymous third-stringer.
Jones isn?t as athletic or mobile as Miller or Barrett, but he can run the Buckeyes? zone-read plays. He also has a strong arm. Jones must caution against forcing things and play within Herman?s system, which has OSU atop the league in scoring (44.1 ppg) and total offense (503.4 ypg).
If Jones gets hurt on Saturday, who will take snaps? It figures to be true freshman Stephen Collier, who the staff wants to redshirt. Or Jalin Marshall, a redshirt freshman sensation who played quarterback in high school and has worked from the Wildcat formation often in 2014. But for now, the spotlight shines on Jones.
"(J.T.) was very unique and the ultimate grinder as far as the preparation," Urban Meyer said. "You hear stories throughout college football history and pro football history about the guys that are gym rats, and that's what J.T. was. Is Cardale that type? I'll let you know. It would be a great bonus for all of us, but he'll certainly put in a lot of time getting ready to go."
| | |
| --- | --- |
| About Tom Dienhart | BTN.com senior writer Tom Dienhart is a veteran sports journalist who covers Big Ten football and men's basketball for BTN.com and BTN TV. Find him on Twitter and Facebook, read all of his work at btn.com/tomdienhart, and subscribe to his posts via RSS. Also, send questions to his weekly mailbag using the form below and read all of his previous answers in his reader mailbag section. |
And if you want to leave a comment on this post, use the box below. All comments need to be approved by a moderator.